If you're thinking about purchasing a digital signage solution, you're probably curious as to what exactly you'll be getting. You want to know what's provided, and what you'll need to supply. In other words, what are the components of a digital signage solution? It's another common question our clients ask us, and we're happy to answer it here on this blog.
Not all digital signage solutions are the same, but they all tend to have the same basic components. This article applies to cloud-based digital signage, a solution in which your digital signage provider handles the servers hosting your content. Here are the five components of a complete digital signage solution (click to jump).
#1: Digital Displays
#2: Digital Signage Player
#3: Content
#4: Content Management System
#5: You
Component #1: Digital Displays
The most obvious need when implementing a digital signage solution is the need for displays. Anything with an HDMI port will work, with TV screens being the most popular choice. Most digital signage solutions are compatible with any HDMI-equipped digital display at any resolution, from HD up to 4K/Ultra HD or more.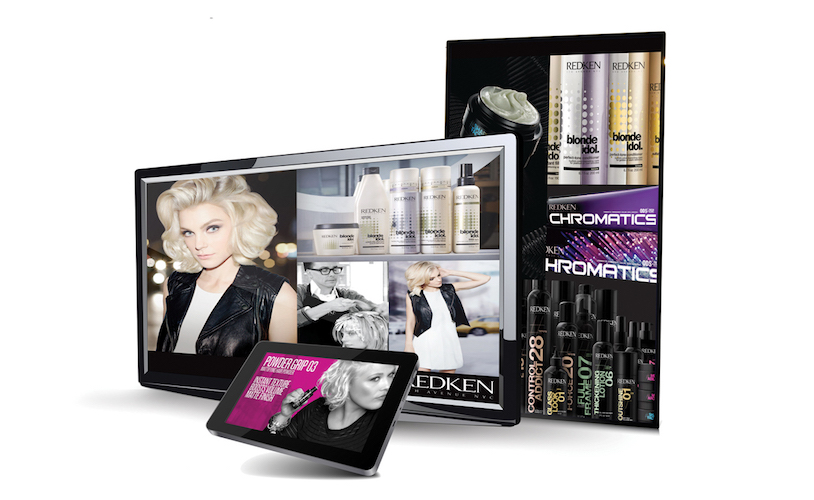 By default, most digital signage companies don't provide you with displays unless you ask. Fortunately, selecting and purchasing them isn't difficult these days, considering the many high-quality yet affordable options out there.
First, you'll want to choose which type(s) of display to use. Some options are:
Tablets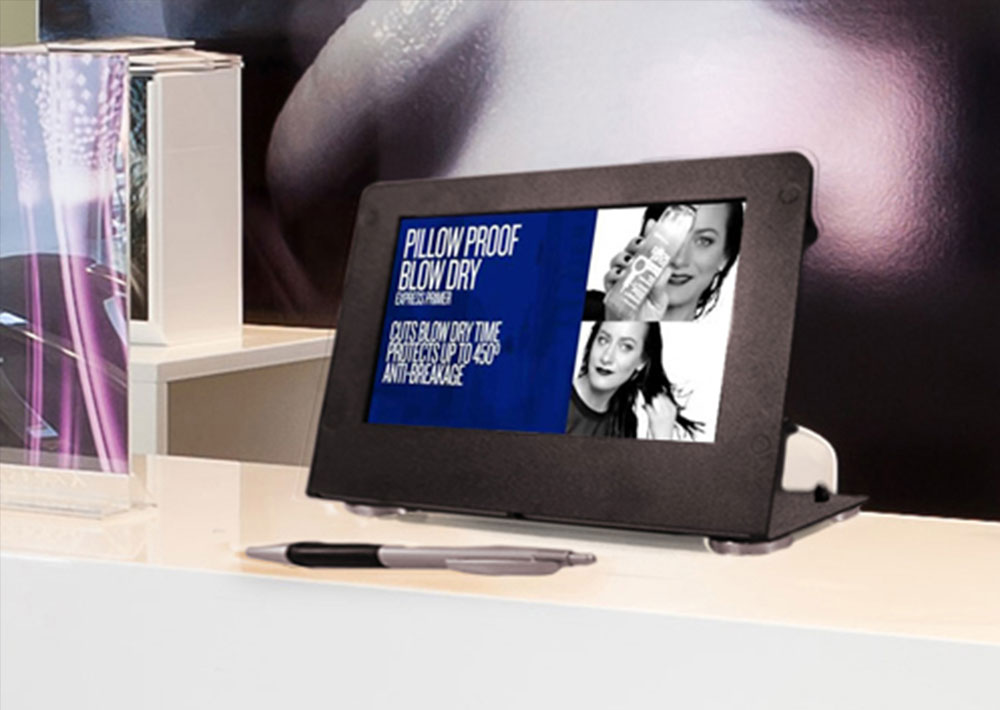 Tablets are your smallest display option. They're good for saving space, if that's an issue. They can be mounted on a wall or propped up on a flat surface using a stand. Usually with this option, the tablet functions as your digital signage player (we'll get to this shortly) and display, making it a built-in, portable solution. You'll need to make sure it's adequately charged at all times.
TV screens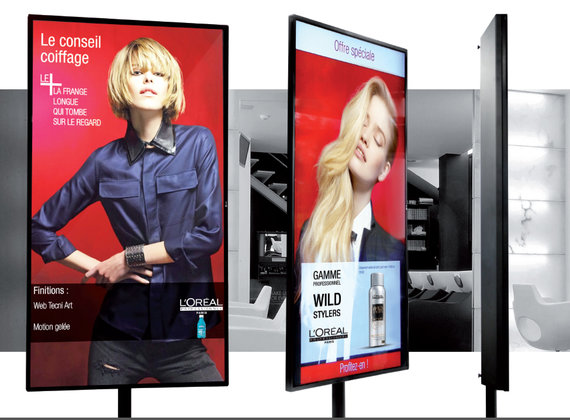 TV screens are the most common digital display choice. They're widely available in many different brands, sizes and resolutions, and easy to set up. In certain configurations, they can be very cost-effective. They may be mounted on a wall or attached to a stand.
Computer Monitors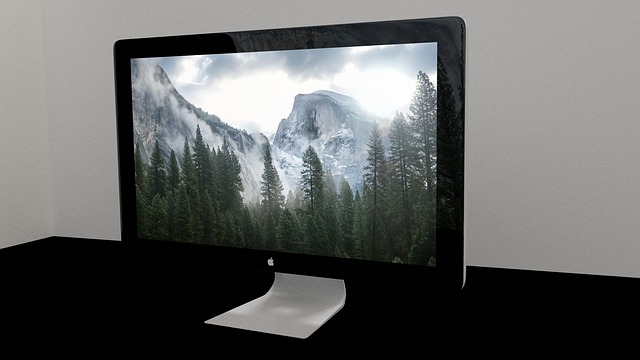 Computer monitors are available in a smaller range of sizes than TV screens. Most come with a built-in stand, making them most practical for placing on a flat surface.
Video Walls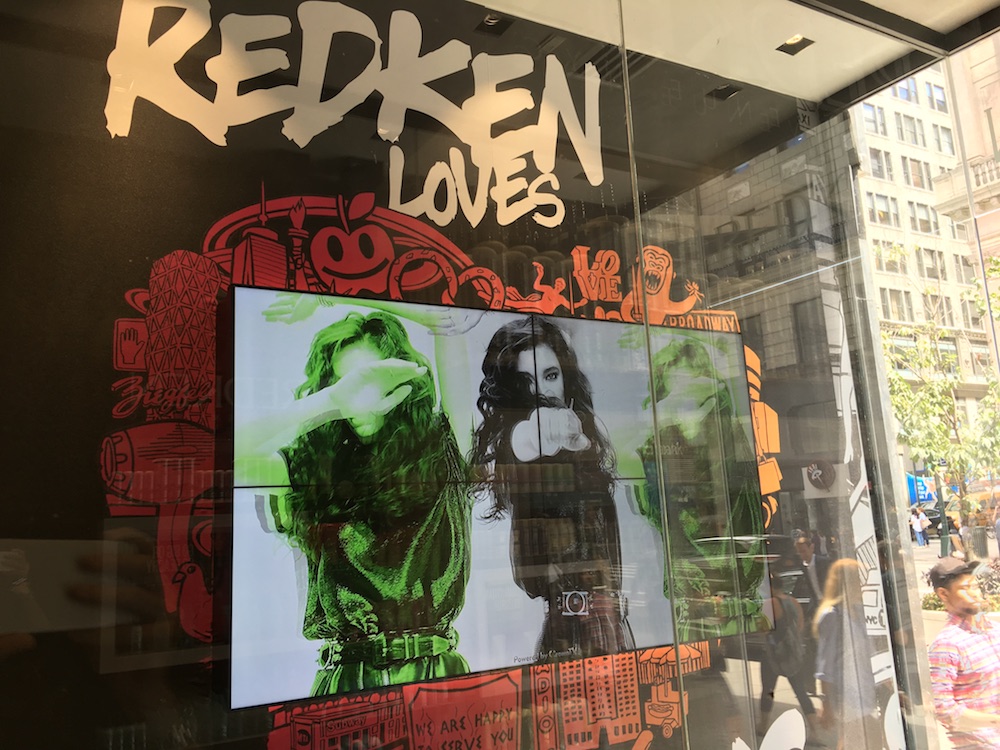 A video wall is made up of multiple displays placed together, creating one image. Each display shows a specified portion of the image called a zone. The displays making up the video wall must be commercial displays, because they must have a very thin bezel – the plastic frame surrounding the screen – to minimize the gap between each screen. Additionally, consumer displays don't have the ability to display zones. Not all digital signage solutions are compatible with or practical for video walls.
BONUS: Consumer vs. Commercial Displays
If you decide on TV screens, you'll want to decide between commercial or consumer displays. Commercial displays are meant for longer-term, more continuous usage by businesses and other public-facing operations. Consumer displays are meant for home usage by consumers. Either will work for digital signage, but it's important to know the differences between the two on certain factors. We've prepared a chart comparing what we believe are the differences most relevant to digital signage, without getting too technical.
| | | |
| --- | --- | --- |
| | CONSUMER | COMMERCIAL |
| Brightness | Typically reach up to 300-350 nits | Can reach up to 1,000 nits |
| Operation | Not engineered to withstand long hours of operation, but may work fine in such a capacity anyway. | Engineered for more longevity of use. Can operate for long periods of time without overheating. |
| Aesthetics | Older ones may have a thicker bottom bezel (the plastic frame around the screen). If so, the display will look lopsided when placed in portrait orientation. Newer ones are very sleek and have a thin, even bezel on all sides. | Very sleek and minimalist design. Bezel is thin and even on all sides. |
| Cost | Depending on size and resolution, prices range anywhere from $100 to several thousand dollars each. | Up to 3x as much as consumer displays |
| Warranty | Only covers consumer usage | Longer and more extensive, covering commercial usage |
| Use Cases | Consumer home usage, or commercial operations with limited budgets | Commercial or public-facing operations with larger budgets |
Keep in mind that these are just differences, not necessarily pros and cons. What's a "pro" and what's a "con" depends on your needs and preferences.
Component #2: Digital Signage Player
A digital signage player is a device that connects to a digital display and delivers content to it. Think of it like a Blu-ray player or Roku box.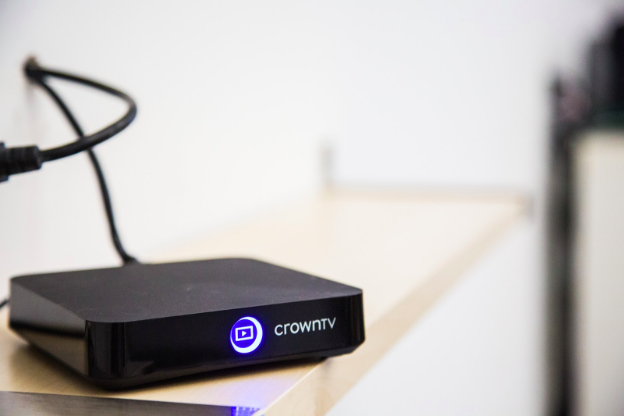 To better explain the ins and outs of digital signage players, let's break it down by common questions about them.




How does a digital signage player connect to a display?

A digital signage player usually connects to a display via an HDMI cord and is plugged into an electrical outlet. Some players also have VGA, DVI or RCA (those old but familiar red, white and yellow plugs) connection options, but HDMI is most common.

Does it connect to the internet?

Most digital signage players connect to the internet in order to fetch your content. Many connect to wifi, while others also have the option of using an ethernet cord (cable option). Players that don't connect to the internet store your content on the device itself, acting as a hard drive (more on this in the next answer).

Is my content stored in the player?

It depends. With a cloud-based solution, your content is stored on the internet (or "the cloud") and the player retrieves it from there. You access your content via the internet using a web-based content management system. Some players store content "locally" on the device itself, like a hard drive would. Other solutions, like CrownTV's, have both these functionalities. If you'd like to know in more detail how the CrownTV digital signage player works,

contact us

.

Do I need to provide my own player?

Many digital signage companies make their own player that they provide to you when you purchase their solution. Other companies require you to purchase your own player.

How many players do I need?

One player delivers content to one display, unless you use an

HDMI splitter

, which enables one device to connect to multiple displays. If you're planning to have

multiple displays

, it's best to purchase a package that includes multiple players. This is never a problem, as modern digital signage players are very cost-efficient to buy and produce.

How big is the average player?

Most are box-shaped and can fit in the palm of your hand.

CrownTV's player

, for example, is about three inches wide and long.

Component #3: Content

You have your software and players connected to your displays, but what do you show on them? This is where content comes in. Content is what you put on your displays, and it can take many different forms. It's the most exciting component of a digital signage solution and the one you have the most control and freedom over. It's also the component that has the most impact on your audience and allows you to communicate with them.

Most digital signage solutions support images and dynamic, interactive content like social media feeds, RSS feeds and weather. Many players also support video, with or without sound. Digital signage software enables you to display these kinds of content through apps, like the ones on your smartphone. Apps are crucial for delivering real-time, dynamic content, which is highly attention-grabbing and engaging for audiences. There's nothing wrong with displaying attractive static images, but if you're not going to mix in dynamic content, why not just use traditional signage?

So who provides the content? Your digital signage company provides you with the tools to display certain content, but you're the one who customizes it. It's up to you to upload graphics and video, and input things like your social media account info and desired RSS feeds to display. Some companies, like CrownTV, provide stock photos and custom-branded templates to work with. Content is where your business and its creativity really comes through and shines, so it's a component that you want to be the main provider of.

For more on creating captivating content, read our blog How to Create Digital Signage Content That Rocks.

Component #4: Content Management System

We've gone over the hardware components, so now it's time to explain the software side of things. A digital signage content management system (CMS) is a platform for managing and configuring your content. It's the "back end" through which you control what displays on your screens.

CrownTV's dashboard, where users can control their digital signage content from anywhere.

With a cloud-based digital signage solution, your CMS consists of an online dashboard or interface. You can access your dashboard from anywhere, as long as you're on an internet-connected computer, smartphone or tablet – no matter where you are in relation to your displays. This is called remote content management. Other CMS features may include content scheduling, automatic updates or multiple user accounts.

Full-suite digital signage companies make proprietary software that clients usually purchase on a monthly or annual subscription basis (the "Software-as-a-Service/SaaS" model). There are free, open-source CMS options out there, but you may run into compatibility, usability and security issues.

Component #5: You

That's right: the final component of a complete digital signage solution is you. "You" meaning the user. Like a business, digital signage doesn't run itself. Digital signage companies provide the equipment, but you provide the messaging, management and customization.

Make sure your content reflects your business, its branding and its culture. Find a way to make your business shine through in your content, whether it's by casting the spotlight on your employees, using your brand color scheme or sharing your company's values.

Ultimately it's you who makes the most of your digital signage and makes it work for your business. The other components just give you the tools to do so.

Want to experience all five digital signage components for yourself? Request a demo of CrownTV's solution today.

Get our hot blog posts and insanely useful resources delivered straight to your inbox.

No sales pitches, no games, one-click unsubscribe.

Talk to a digital signage specialist about your specific needs

Contact us