With Holly Zalenski, Account Executive, STAK Design and Suavek Olesky, Creative Director, STAK Design
We spoke with Holly Zalensku and Suavek Olesky from STAK Designs about their opinions on the retail kiosk industry. As an industry leader in kiosks, STAK Design missions is to "provide industry-leading design, product quality, and customer service at an economical price while conducting business in an open, honest manner and treating every client, employee and supplier with dignity and respect." (From STAK Design's website)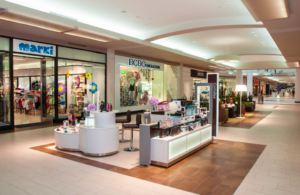 Why do you think retail kiosks should invest in technology?
HOLLY:
"Investing in technology gives retailers the opportunity to stay current with their buyers, stay on top of trends, and interact with shoppers. In today's world, almost every shopper has a cell phone within arm's reach. Integrating technology into your business gives you instant access to buyers who may otherwise pass you up. Kiosk retailers can offer incentives for Social Media tags, or even offer exclusive sales to buyers via Social Media. With technology partners such as CrownTV, retailers can update digital signage ads or campaigns at their kiosks with the click of a button, making them current on a moment's notice. Many shoppers, especially younger generations, are constantly on Social Media and love when their pictures are "liked" or "shared". We have seen an increasing trend in kiosk retailers connecting Social Media to their digital signage so buyers can tag them and then be seen on the monitors at the kiosk. This also offers easy advertising for the retailer because it shows up on the buyer's Social Media for all of their connections to see where they are at and what they are enjoying. "
SUAVEK:
"Main reason to invest in technology is to stay relevant and current with customer's shopping habits and keeping them engaged through the use of smartphones, online shopping or reviews and prices. Not many people are aware of promotions that a kiosk may have unless they are actually at the mall walking right by, therefore limiting yourself to a small audience. "
What steps should kiosks take in order to create their technology strategy plan?
HOLLY:
The best way to create a technology plan would be to begin with determining what your main goals are. Do you want to run ads and specials at your kiosk? Update menus? Incorporate Social Media to connect your buyers? Collect data? Determine your technology priorities and then find a strong technology team to partner with, or do thorough research to find an app or media device which helps you hit your goals.
SUAVEK:
Start by collaborating and asking your team about business goals, i.e. user experience, analytics capabilities. Do lots of research and strategic planning, and also make sure to hire a reputable company with proven track record of successful execution of technology. This is where "You get what you pay for" comes into play.
How can kiosks measure success in their marketing/technology/communications efforts?
HOLLY:
Kiosk retailers can measure success in their marketing and technology efforts through analyzing data. Technology can track how people are engaging with your company which would help measure successes and identify target markets and audiences.
SUAVEK:
Success can be measured by several different ways. One example is that kiosks with touch screens can analyze marketing data based on interaction and feedback gathered by devices. Studies have found that people prefer self-service tools.
Do you have any advice for retail kiosk owners who want to incorporate digital signage?
HOLLY:
With technology today we strongly encourage kiosk retailers to incorporate digital signage. It is a simple and convenient way to keep your marketing current and connect to your buyers.
SUAVEK:
In order to stay competitive, integrating technology is part of evolving with your customers while sticking out from the clutter and giving you an edge. At the same time "Omnichannel" planning is a crucial part of making everything cohesive.
Integration is a key part of incorporating new technology into any business. How can kiosks be sure to integrate new technology into their business, both physically and strategically?
HOLLY:
Integrating technology into your kiosk can be as simple as adding digital signage. Adding a monitor with a CrownTV device allows you the ability to instantly update your marketing campaigns. Get your company involved in Social Media and use Social Media to target audiences.
SUAVEK:
The key here is to work with someone locally in the USA, experienced in integration of both technology and kiosk – a company that has partners with solutions and options available for any scenario needed.