Although it's been a business practice since the late 19th century, the art of internal communications is growing and rapidly evolving. It's a vital component of any business, but it's only worth the effort if employees are adequately getting the message. How can you make sure they are?
The way we consume information has changed with the advent of technology and the internet, requiring companies to be more creative in reaching employees. If you're struggling to find internal communications ideas, don't fret – you have a wealth of options when it comes to packaging and delivering your messaging. Here are eight creative ideas to help you maximize the impact of your internal communications (click to jump).
1. Create an internal blogging platform
2. Launch an internal newsletter
3. Conduct an employee survey
4. Provide incentives
5. Use digital signage to circulate messages
6. Appoint an internal brand ambassador each month
7. Harness the power of video
8. Mix internal communications into your social media content

1. Create an internal blogging platform
If you have the time and ability, consider building an internal blogging platform where employees can publish blogs and comment on each other's blogs. You can make it private or public, but be sure there are guidelines in place preventing employees from publishing sensitive information.
Nokia's BlogHub provides a real-life example of a successful internal blogging platform. According to Molly Schonthal, Nokia's former North American social media communications representative, the BlogHub is a "dynamic community that is ruled by members, not executives."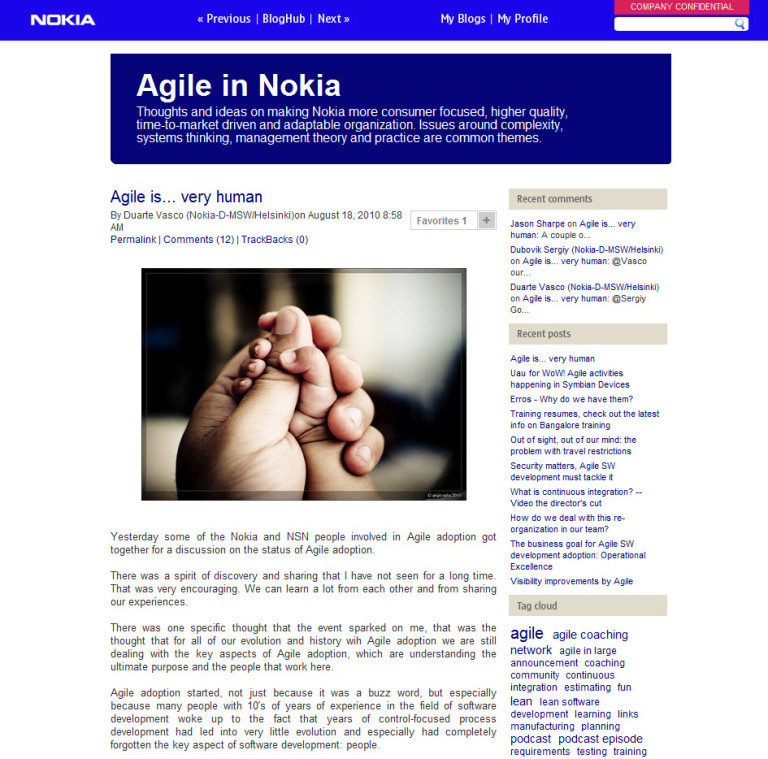 Whatever platform you build, make sure it fosters the free exchange of knowledge, ideas and feedback on matters relevant to the company and its employees. You'll help staff and management alike address issues and harness innovation.
2. Launch an internal newsletter
The internal newsletter is one of the earliest forms of internal communications, believed to be first implemented between 1840-45 by the New England Lowell Cotton Mills. It's just what it sounds like: a newsletter for internal purposes, with employees being the recipients. They began in print, but now most often take the form of email blasts. They're so commonplace now that many of them could use some more creative content, such as:
Company news and announcements
Product updates
Industry news and trends
Upcoming events employees may be interested in – both internal and external
The latest company blogs (and be sure to acknowledge whoever wrote them!)
Motivational quotes, affirmations, mantras, etc.
Shoutouts to employees who have gone above and beyond
Updates for each department, such as metrics, accomplishments and new projects
Employee-generated content (photos, video, words of wisdom, etc.)
Messages from the CEO or other members of upper management
Funny GIFs for comic relief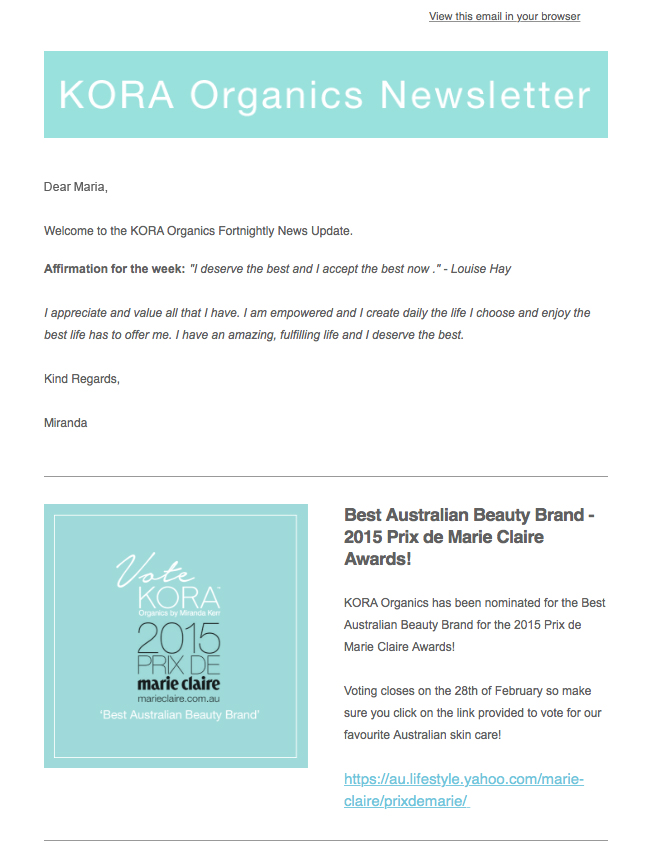 Whatever content you choose to include, make it clear, concise and easy to consume. You want to ensure your busy team will actually read it. Keep sentences and paragraphs short, leave adequate white space, and balance out text with visuals.
3. Conduct an employee survey
One of the best ways to optimize your internal communications is by asking your team for feedback. Do so by conducting a regular survey. It can be a simple questionnaire sent via email, or a more in-depth survey created with a program like SurveyMonkey.
How many of your employees read the internal newsletter? How engaged are they feeling at work? Are they using the internal social network? What would they like to see more (or less) of? These are the types of questions you should attempt to answer through the surveys you conduct. Analyze the results and adjust your internal communications strategy accordingly.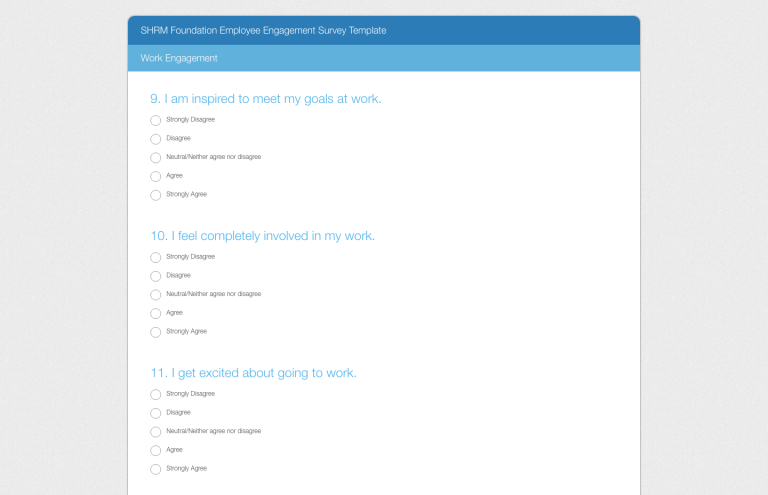 Your team is busy, so keep questions short and quick to answer. Make most of the questions multiple choice, and only require one or two sentence answers for open-ended ones. How often you conduct it is your choice, but once a month should be adequate.
4. Provide incentives
A little competition and incentive can go a long way in motivating employees. As economist Steven D. Levitt wrote in the famous book Freakonomics, "An incentive is a bullet, a key: an often tiny object with astonishing power to change a situation." You may think a paycheck is plenty of incentive, but that's expected and taken for granted. There are other types of incentives that you can work into your internal communications, and they can work wonders.
Gamification, or the use of traditional game-playing elements in non-game contexts, is one creative internal communications practice that provides incentive. Simply award employees or teams with points for things like reaching sales goals, generating new leads, completing projects or helping out around the office.The competition provides extra motivation. Make the reward for the winner something worth going the extra mile for, like a spa day, a team outing of their choice or a gift card.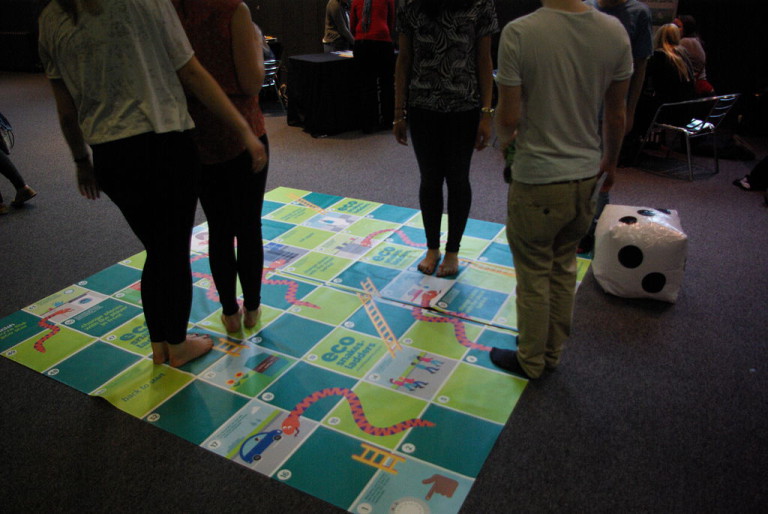 Other incentives to work into your internal communications include:
Sharing an employee's work in the internal newsletter or company chat software
Calling out well-performing employees during meetings
Doing an employee spotlight every month for the internal blog or newsletter
Incentives aren't always monetary in form, and such incentives can have a similar, if not more powerful effect than money.
5. Use digital signage to circulate messages
Knowing what you want to communicate to your employees is one thing, but how will you communicate it? Through what medium? Enter digital signage.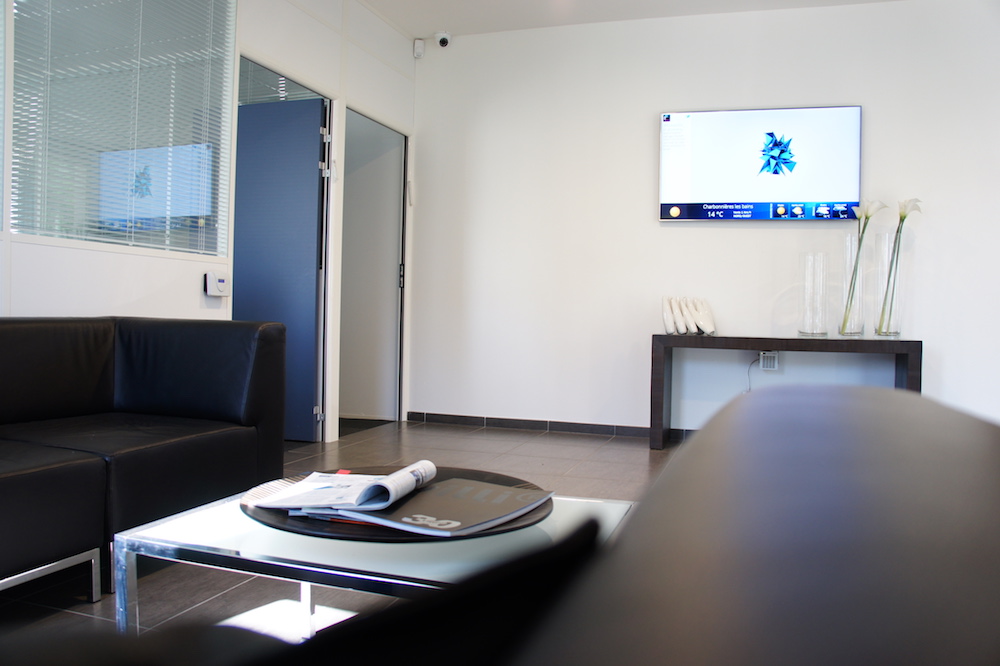 Place digital displays throughout your office where the most employees will see them, like lounge areas, the kitchen, entrances and exits. Be sure to display basic housekeeping content like announcements, reminders and upcoming events, but remember to mix it up and take advantage of how dynamic, interactive and personalized digital signage can be. Do this by displaying content such as:
Live social media or RSS feeds
Beautiful photos of your locations, products, events, employees, etc.
Colorful text graphics to iterate goals and other motivational content
Metrics and stats showing how the business and its departments are doing
Shoutouts to employees and departments for their accomplishments
See our blog on workplace digital signage for more ideas.
6. Appoint an internal brand ambassador each month
Almost any marketing technique you can think of can be performed internally as well. You may have heard of the "brand ambassador" role for promoting a brand externally, but there's a place for ambassadors in internal communications as well. Appoint a different internal brand ambassador each month to fulfill the duties that an external ambassador or Director of Culture would fulfill. Have them help craft the employee newsletter, control the digital signage content, contribute to the company's social media pages or even launch new initiatives of their choice. It will help keep your internal communications fresh, and who knows your employees better than one of their trusted colleagues?
Through your internal brand ambassador program, try to create what Brandanew calls a "culture of content", where "Everybody shares ideas, everybody is behind your brand on their own social channels. There's no naming and shaming of the one person responsible for social media or content. You create a culture, where sharing ideas is the norm."
7. Harness the power of video
2015 was dubbed "the year of smarter internal communications", with video being a vital component. In fact, according to a 2011 study by Melcrum, 93% of internal communications professionals believe video has become essential. It's a wildly popular form of communication for both internal and external communications, and for good reason: it's personal, easy to consume, attention-grabbing, efficient, and accessible from a variety of devices.

How eBay uses video for internal communications.
Almost any content you usually deliver via text can also be delivered in the form of a video. Try using video for things like announcements, training, policies, introductions to new projects and initiatives, employee onboarding, product updates, and any significant company changes. Make sure all videos are personal and have a somewhat casual tone.
Other creative ideas for internal communications videos:
Birthday wishes
Words of wisdom, encouragement, appreciation, etc.
Introductions of new employees
Footage from events and team outings
Employee interviews and spotlights
To maximize the reach of your videos, display them throughout your office using digital signage. Video in emails and chats can be glossed over or forgotten about, but digital displays stay in place and are harder to miss.
8. Mix internal communications into your social media content
We all know social media is an effective tool for external marketing, but another purpose it should serve is putting a human face on your company. Customers like to see that you're a real business run by real people, which can be easy to forget in the digital age. To remind them of this, mix in internal content that puts the spotlight on your employees, company culture, office happenings, etc. into your social media strategy. It'll legitimize your business and allow you to relate with your customers on a more human level. Your employees will benefit too, as it will get them to be more involved in the company's social media presence. For this type of content, photos and videos are your friend, so be sure to capture as much as you can and encourage employees to do so as well.
ICYMI @lockheimer shares his path to Google on his 10-year Googleversary: https://t.co/hFXNPYBzX6 #mondaymotivation

— Life at Google (@lifeatgoogle) April 25, 2016
The Life at Google (@lifeatgoogle) Twitter account, which solely posts content relating to Google's employees, jobs, culture and offices, is rich with examples of content to mix in with your marketing-focused posts. Although your company culture may not be on the same level as Google's, pay attention to how they share it with the world through social media.
Summary
In your internal communications efforts, always think about finding a way to cut through the noise without overwhelming your workers. Put yourself in their shoes and imagine what would get you to take a pause from your work. There's always room for more creativity, so jot down new ideas whenever they pop up. We hope the ideas provided in this article help spark that creativity.
---