Marketing firms need marketing.
PR agencies need PR.
Branding experts need branding.
And digital signage companies need digital signage.
Digital signage companies like CrownTV inform others of the benefits of digital signage – but that doesn't mean we don't also use it ourselves. The benefits apply to any company, digital signage or not. We practice what we preach, gaining firsthand knowledge from our own experiences with the technology.
Since digital signage isn't normally sold in retail stores, digital signage companies primarily use it in their offices for internal communications. But any business, customer-facing or not, can use digital signage in the ways digital signage companies do – and they should. Here are 10 examples of how CrownTV uses digital signage.
1. To display KPI dashboards
KPI stands for Key Performance Indicator, which Klipfolio defines as "a measurable value that demonstrates how effectively a company is achieving key business objectives." A KPI dashboard, therefore, is a visual, real-time overview of a set of KPIs.
We use Geckoboard, a favorite among big-name companies like Slack, Netflix and Airbnb, to power our KPI dashboard. We display the dashboard on a screen in our Brooklyn, NY office using CrownTV's web page app, which can broadcast any web page and refresh it every few seconds. Our dashboard includes KPIs such as site traffic, social media followers, advertising spend, leads generated and digital signage players deployed.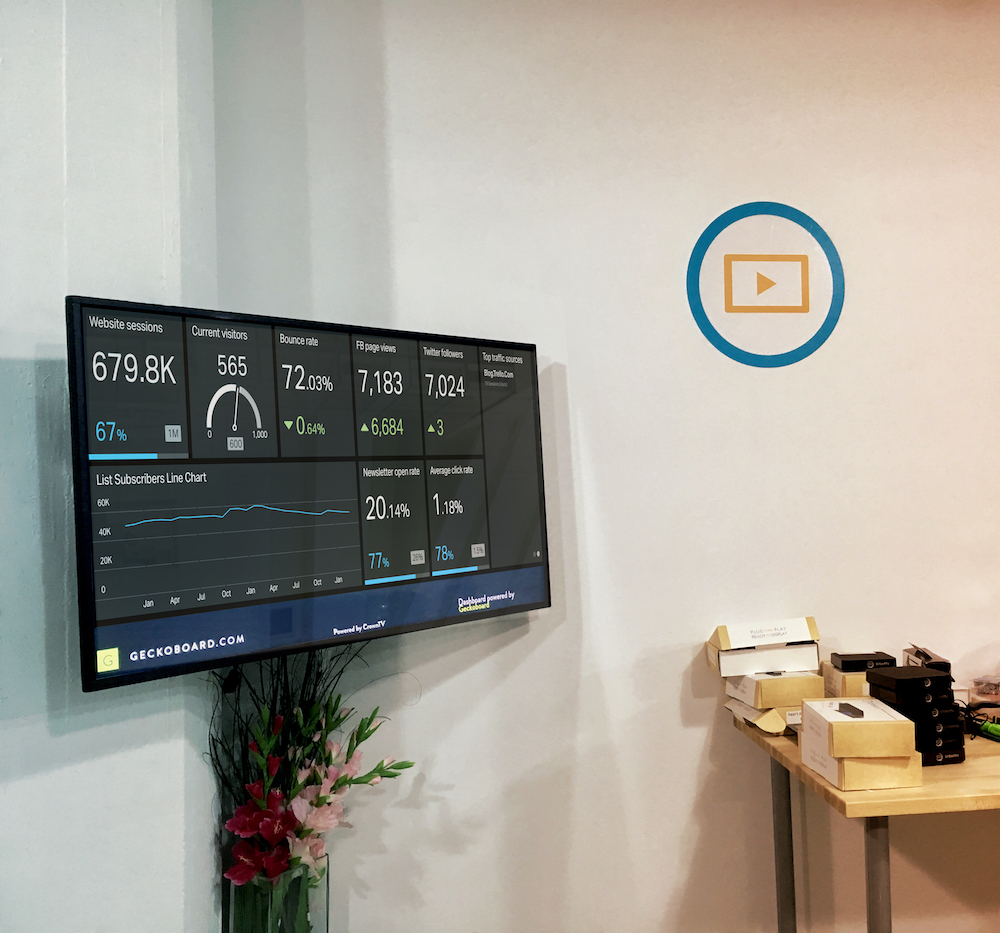 Digital signage is an effective way to display a KPI dashboard in an office, for a few reasons:
It keeps the dashboard all-present and easy to see. Employees only need to look up from their computer screens to see it. They'll lock eyes with it throughout the workday and catch a glimpse of how the numbers are doing. Compare that to keeping the dashboard open in a web browser, having to change tabs to take a look at it.
It holds your team accountable. When KPIs are up on a screen for anyone in the office to see, it creates accountability.
It's rewarding. Who doesn't love having evidence of their hard work on display?
It reminds your team of the importance of data. Displaying a KPI dashboard also tells your team that it's important to create measurable results, fostering a data-driven company culture.
KPI dashboards are an effective tool in and of themselves, but digital signage makes them even more effective.
2. To inspire employees with quotes
Quotes are a powerful form of language. They're inspiring, motivating and thought-provoking. There's a reason they're often the subject of art pieces, clothing items or social media posts.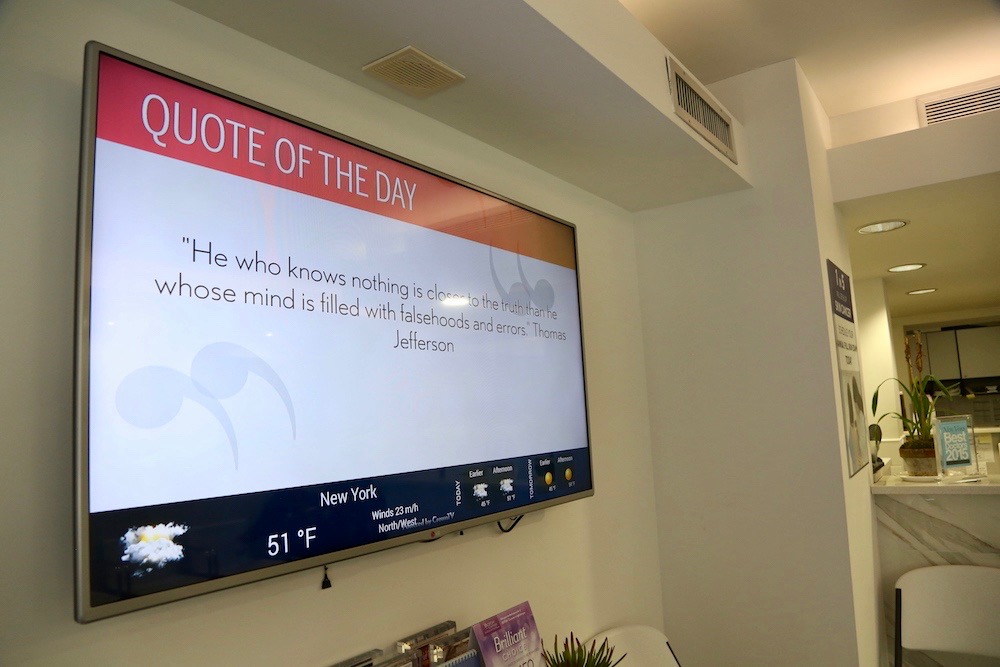 A little motivational boost here and there never hurt any company, no matter how large or small, established or growing. We use our Quote of the Day app to display inspiring quotes in our office. It instills creativity, mindfulness and determination in our team.
Check out the Startup Vitamins blog, Goodreads or Brainyquote for some quote inspiration.
3. To broadcast an Instagram feed
Displaying an Instagram feed is useful not just for customer-facing operations, but for internal communications as well. At CrownTV, we use it primarily for the latter purpose.
There are two ways to display Instagram using our app: by displaying an account or a hashtag wall. When displaying an account, posts by an account of your choice will show on the screen. With a hashtag wall, posts using a hashtag of your choice will display.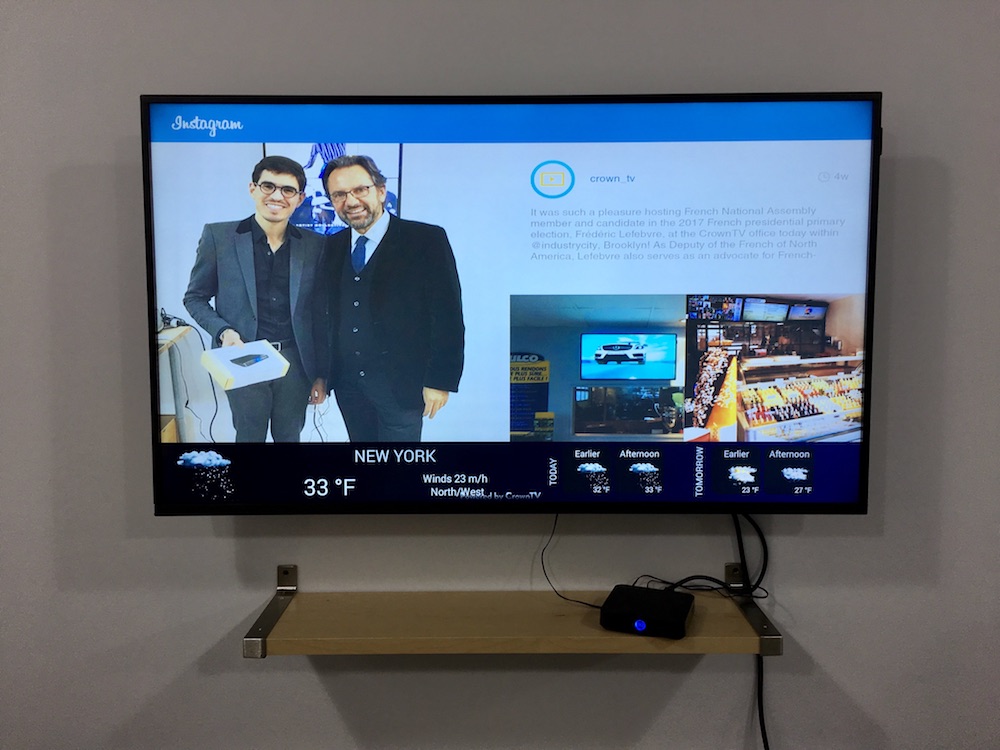 We like to display our French parent company's account, @crownheights_, to keep tabs on what they're up to. They display our account, @crown_tv, for the same purpose. At the CrownTV office we also display our own account, to stay on top of our social media presence and remind ourselves to share new posts.
When we display a hashtag wall, we choose hashtags like #digitalsignage to monitor trends in our industry. If there are events we'd like to follow or prepare for, like an upcoming trade show or a Digital Signage Week abroad, we'll choose the designated hashtags for those events.
Keep in mind these best practices when using digital signage to display an Instagram feed.
4. To keep up with the news
With so much news out there in many different formats, displaying it in a way that's customizable and easy to consume is key. Digital signage can do so.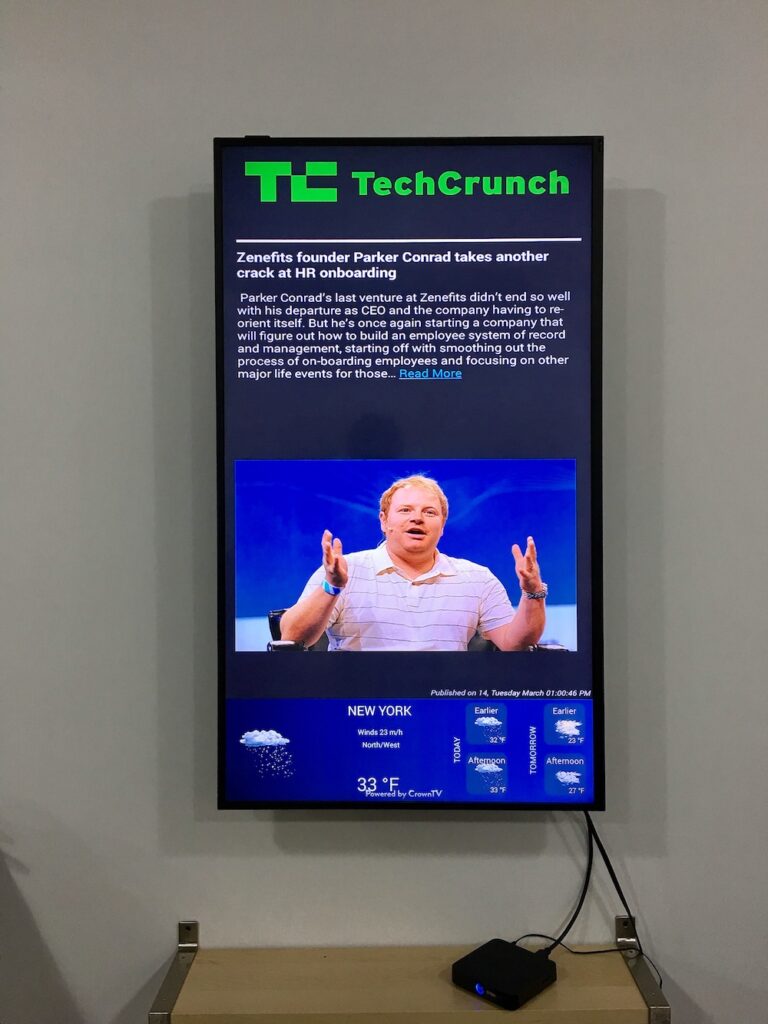 Using CrownTV's RSS app, we can put in a link to an RSS newsfeed and see a simple list of headlines and article summaries. Alternatively, we can use our News app to follow a topic of our choice, such as economics, technology of politics. Being a technology company, we often choose tech, shown in the image above. That's one less tab we need to keep open in our web browsers!
5. To share company announcements
There are a few ways to circulate announcements throughout a company, some being more effective than others. Emails often get lost in the inbox abyss, as do instant messages. Meetings are hard to pencil in. Word of mouth can quickly evolve into a game of "telephone". Digital signage, however, is a targeted, attention-grabbing, highly customizable way to disseminate messages in a physical space.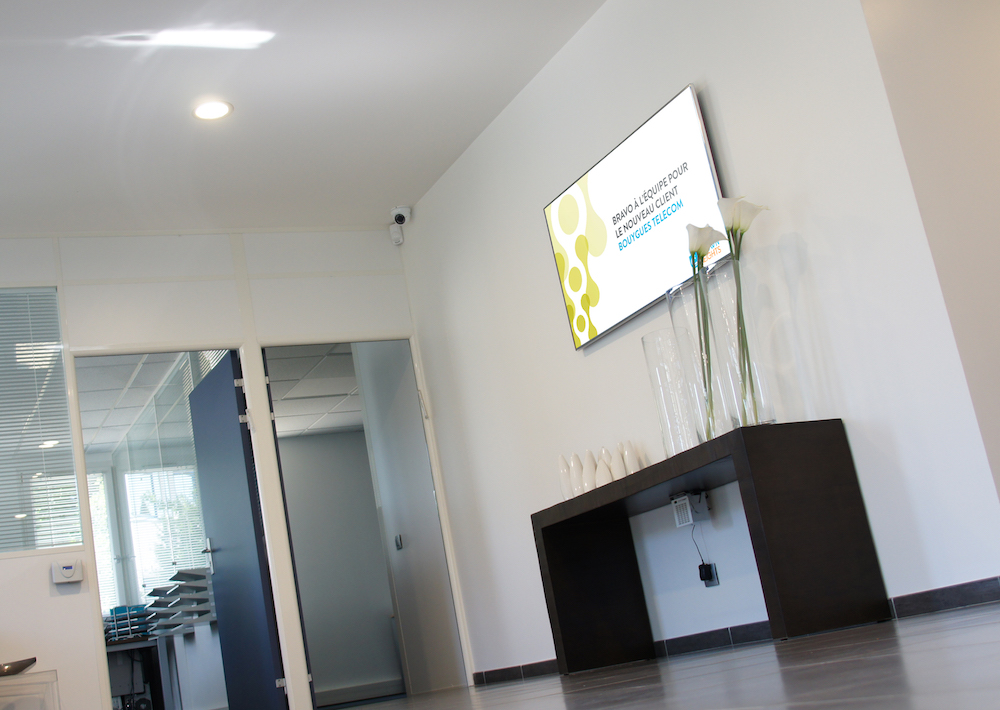 Our parent company in France, Crown Heights, often uses digital signage in their office to share announcements with the team. They create the announcements using a Crown Heights-branded template, which adds some internal marketing and branding. These announcements are quick and easy to create and push to the screen. If edits are needed, a Crown Heights employee can make the necessary changes in their dashboard. You can't un-send an email or instant message (at least not yet!), but you can modify digital signage content at any time. Additionally, announcements can be scheduled in advance, including when, where and for how long the announcement should display.
6. To celebrate birthdays
Beyond a paycheck, employee recognition can be a powerful source of motivation. According to Gallup, it's a low-cost, high-impact tool that "not only boosts individual employee engagement, but also has been found to increase productivity and loyalty to the company." It's a way of making employees feel human in an increasingly digitized workplace.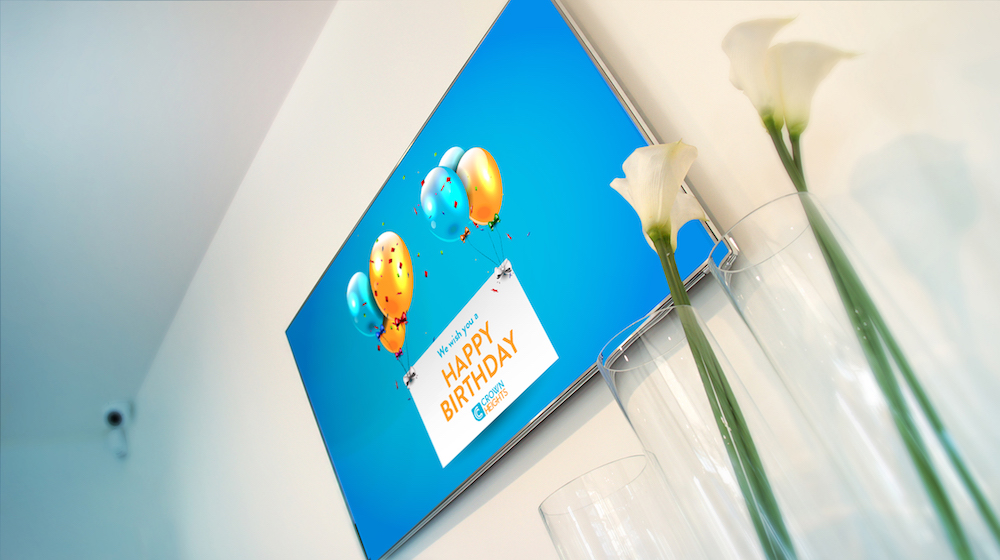 One simple way to recognize employees is by wishing them a happy birthday. Our parent company Crown Heights does this, but the standard Hallmark card signed by everyone in the office just won't fly for them. Instead, they create a special video for the employee and display it with digital signage.
Gallup is correct in that this practice is low-cost (in terms of time and money) yet high-impact. And for those who are worried about forgetting a birthday or two – who hasn't? – content scheduling prevents that from occurring.
7. To welcome guests
The office is your business' home, and you should make any guest who enters it feel welcome. When us or Crown Heights have guests in our offices, we use digital signage with tailored content to do so. It's a unique gesture that makes the guest feel significant and appreciated, without a lot of effort required on our part.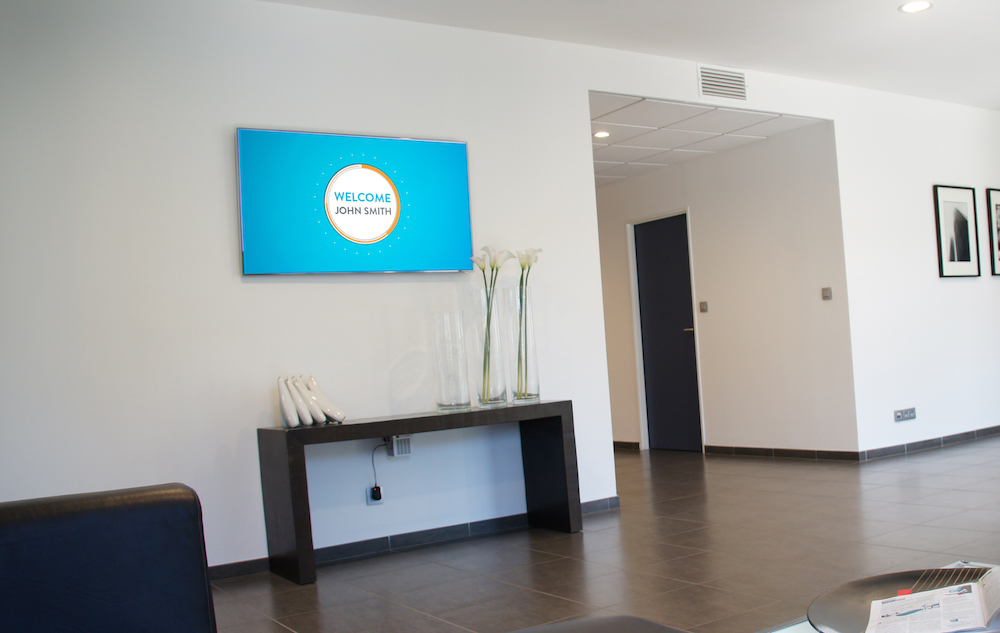 When we welcome clients to the CrownTV office, for example, we may display a simple graphic with a welcome greeting or broadcast their Instagram account. Call it a digital welcome mat, if you will. It serves a dual purpose for digital signage companies, as it also allows us to demonstrate our technology to the client.
8. To track the weather
Weather is a phenomenon everyone experiences and that we all appreciate knowing about. Rather than having to check our phones to see the forecast, at the CrownTV office we rotate the local weather into our other digital signage content. It's especially helpful during winter, when unpredictable weather patterns leave us wondering about the conditions outside.
We also enjoy the ability to display the weather as a widget instead of full-screen. This way other content can display alongside the weather widget, maximizing our screen space.
9. To showcase our latest work
Here's where we get very "meta": CrownTV, a digital signage company, uses digital signage to showcase its digital signage work. In other words, another way we use our digital signage is to display a video presentation of some of our latest installations and positive customer reviews.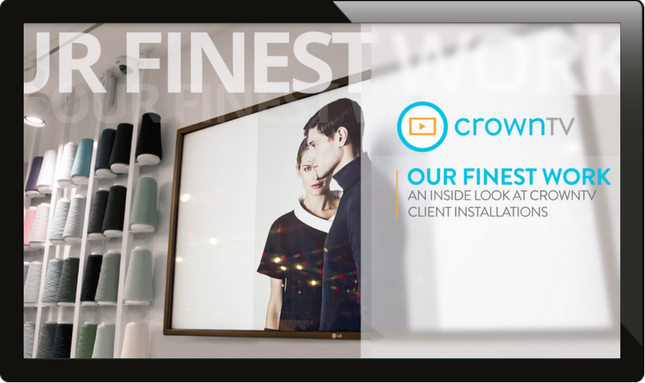 These videos keep our team up-to-date on the company's latest clients and projects while giving us a sense of pride. It's rewarding for everyone involved, and another form of employee recognition. Crown Heights uses its design team to create these showcase videos, but a simple slideshow of high-quality photos would do just fine otherwise.
10. To enhance our trade show booths
As a B2B company, CrownTV attends a small handful of trade shows every year. As one would expect, we always include our digital signage as part of our booth at the show. In this case we use it primarily to demonstrate our technology, but also in other ways that would benefit any business with a trade show booth.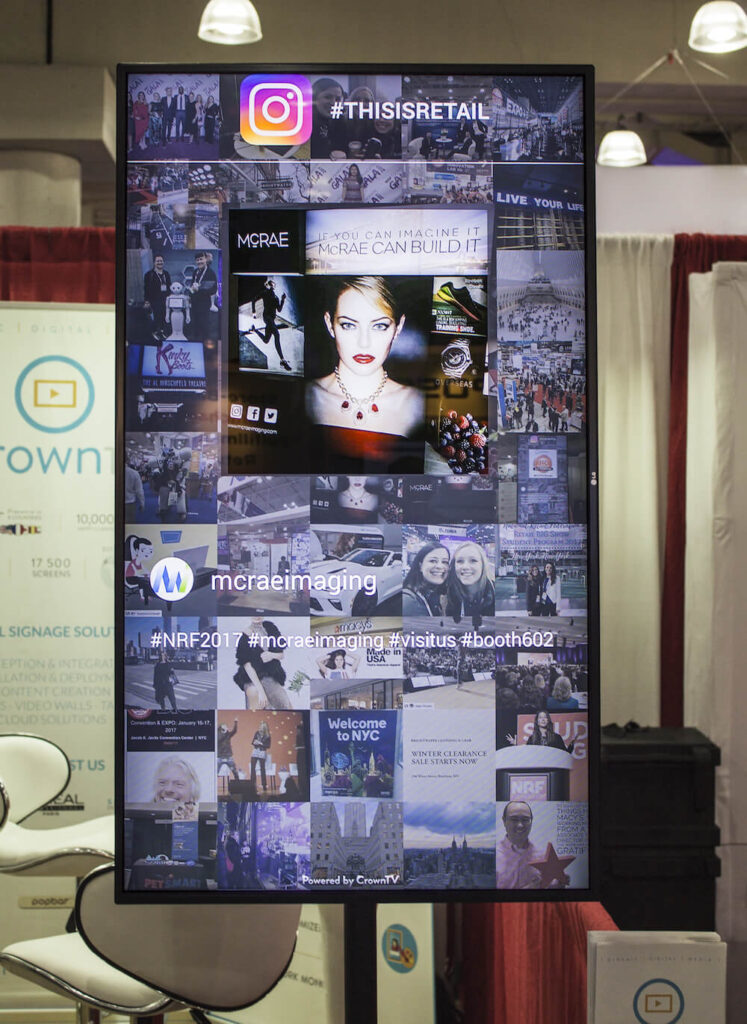 Displaying an Instagram hashtag wall using the event's designated hashtag, for example, is always a hit with attendees. It allows them to watch the very event they're attending unfold on social media, or even see their own posts on the screen. We display content pertaining to our own company and product, of course, but we also address the "What's In It For Me?", with the "me" being the attendee.
Conclusion
It turns out that most of the ways digital signage companies use digital signage are ways that any business can use digital signage. It's yet another example of the benefits of digital signage being applicable to nearly any business or industry – even the digital signage industry itself. After all, we all could use more employee engagement, better communications and a driven workforce. For more information on applying these digital signage uses to your business, request a demo of our solution.