Instagram, the wildly popular photo sharing app launched in 2010, is everywhere. In the year 2013, after being acquired by Facebook for approximately $1 billion, Instagram grew 23% while its new parent company grew only 3%. Pew Research Center found in 2015 that 26% of adult internet users are on Instagram, with 53% of adults aged 18–29 reporting they use it every day. In 2015, Mashable named it #1 on its list of "The 100 best iPhone apps of all time", calling it "one of the most influential social networks in the world."
Celebrities, "food porn" and selfies may come to mind when someone mentions Instagram, but many companies maintain a public presence on the platform. If you're one of those companies – and if not, you should be – consider integrating your feed with digital signage. You'll be able to display your Instagram photos live at events, in your office or at your retail locations on digital displays in ways that will engage both your customers and employees. It's a favorite feature among CrownTV customers, and it's a no-brainer to set up and use.
Here are seven best practices for displaying Instagram via digital signage and leveraging all it has to offer.
1. Feature branded hashtags for engagement and social proof
One of the most interactive and entertaining things to do with Instagram and digital signage is display a live hashtag feed, or "hashtag wall". Simply choose a hashtag and then every time an Instagram user posts using that hashtag, the photo will show up on your display(s). You can choose an existing hashtag that's trending, or come up with your own on the spot. To get the most marketing value out of this feature, create a branded hashtag that has your company name in it.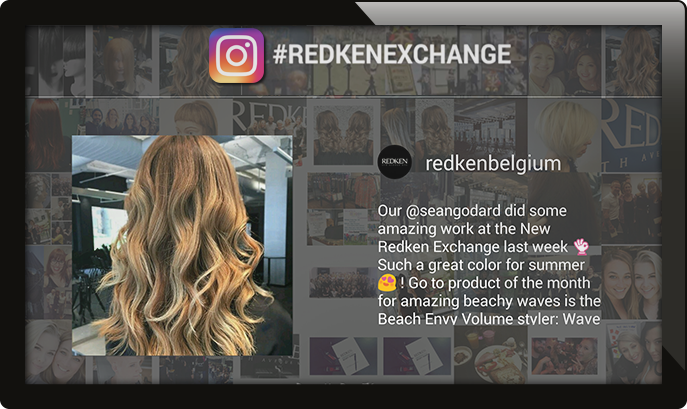 A live hashtag feed displayed at your place of business or event is also a great way to establish social proof. Social proof, in the simplest of terms, is when people follow what they see a lot of other people doing. They assume that if so many others are doing it, it must be the "right" thing to do – and they should do it too. As applied to social media, when audiences see numerous other people using a certain hashtag, following a certain account or sharing a certain post, they take it as "proof" that it's something worth doing and will follow suit.
The #theredkenexchange live hashtag wall depicted in the photo above is something that would serve as social proof. It's highly effective for this purpose as it allows the audience to see all of the other posts using the hashtag and makes them want to join in on the action. Live hashtag walls make social media contagious.
2. Show graphics advertising sales and promotions
You probably already advertise sales and promotions via your company's Instagram account, but what if you could also display those posts in-person at your place of business? Stream your Instagram account via digital display(s) at your business locations and you can do just that.
Consumers have become numb to traditional signage promoting sales, no matter how loud and colorful it is. Can you remember the last time something like that caught your eye? We thought so. Digital signage, on the other hand – especially digital signage displaying something as ubiquitous as Instagram – is something 63% of people report catches their attention.
There's nothing better for triggering impulse buys than a vibrant, dynamic digital display strategically placed near the point of sale in your retail locations – and your store will look great to boot.
3. Keep your Instagram updated
One of the most common mistakes businesses make, regardless of if they use digital signage, is neglecting their Instagram account. Posting regularly on all of your social platforms shows that your business is active, organized, on top of its marketing game and cares about its followers. How often you post is up to you, but consistency is key.
It's easy to neglect your Instagram feed when you're only reminded of it while viewing the app on your phone, but having your feed displayed on a screen really holds you accountable. Jeff Vicente, manager of Cutler Salon in New York City, says this prompted him to update the salon's Instagram more often and regularly. "Having Instagram seamlessly beamed to the display has been fantastic and reminds me to update our account on a daily basis," Jeff told CrownTV.
Get into the habit of taking photos of Instagram-worthy content so you always have something to post. Examples would be a new shipment of products, happy customers using your product or service, beautiful shots of your office, employees hard at work (or not!), team outings or special events. You'll be keeping your customers up-to-date both online and in-person.
4. Showcase your latest and greatest work
Instagram is purely a visual medium, which explains why it's so popular for selfies and mouthwatering food photos. Take advantage by featuring stunning photos of your latest work, whether it's a batch of cupcakes, a client's new hairdo or your latest clothing collection. Share photos that best capture your expertise and put your business' best face forward.
Your customers can also help you out with this effort by posting their own photos and including a hashtag. For example, a fast casual restaurant could encourage their customers to share photos of their food and hashtag the restaurant's name. You'll engage your customers, gain exposure and showcase your best work all at the same time.

Cutler Salon took advantage of Instagram digital signage to exhibit its work at Fashion Week, which had the added benefit of immersing salon guests in the latest industry trends. "Having a platform to showcase our behind-the-scenes work at Fashion Week has been a great talking point for our guests and keeps them engaged with the latest runway and beauty trends," Jeff said.
5. Display an Instagram feed at events
It can be difficult to stand out and engage audiences at events like conventions or trade shows, which often have hundreds of exhibitors and thousands of people in attendance. One solution? Digital signage.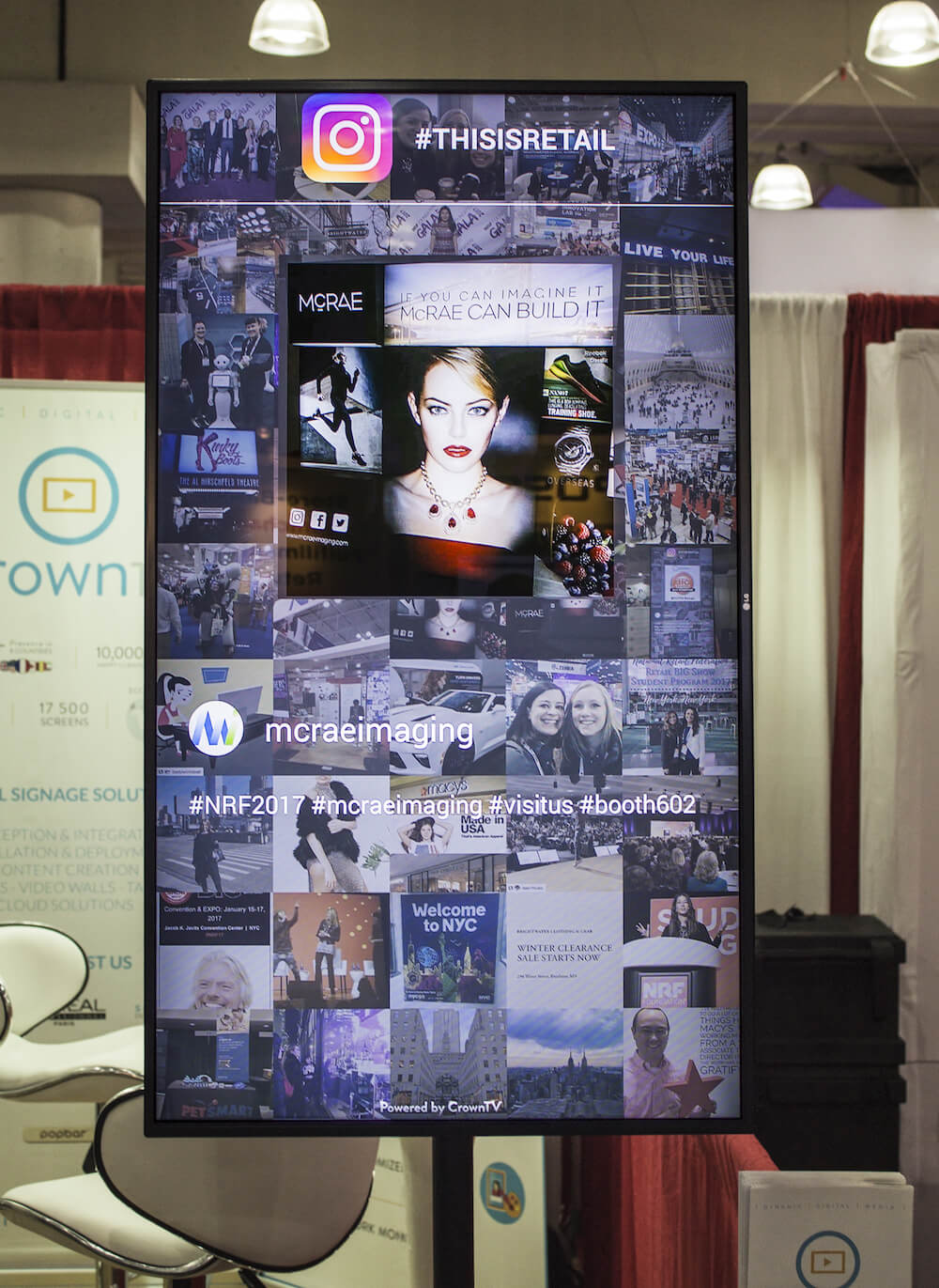 Immediacy is of the essence at events, so it's a setting where displaying an Instagram feed via digital signage really shines. Attendees want to see what's going on right then and there at the event and miss as little as possible. They can't be everywhere at once, but digital signage can help fill the gaps. Find out what the event's main Instagram hashtag is and then show that feed on your displays. When attendees unexpectedly see their Instagram post on one of your displays, it's sure to catch their attention. If you want to incorporate some branding as well, encourage attendees to use a hashtag combining your business name with the event; for example: #CutlerFashionWeek.
6. Display your company's Instagram account in the office
Digital signage is an effective tool for internal communications, and that includes social media. You may think social media has no place in the office, but it can actually help your team stay engaged and informed with their work. Instagram in particular has become a favorite medium for companies to show more down-to-earth, personal aspects like their office, employees, pets, friends and family members, behind-the-scenes photos, team outings and other company culture elements. Using it in this way can help employees feel more personally connected to the company and make them want to get more engaged.
Show your company's official Instagram feed on digital displays throughout the office to:
Update your team on the company's latest doings. You may tell your team to follow the company on Instagram so they don't miss big news and announcements, but it's easy for them to forget about checking it. Sharing your company's Instagram feed on digital displays makes it an effortless task for them. Emails and verbal communications may be ignored or forgotten about, but digital displays maintain a constant presence in your office and have a more lasting impression.
Engage your team and get them to join the conversation. Have them share photos of the office, themselves, their colleagues, team outings, events, travels, etc. to the company account or using a special hashtag. Not only will this engage your team, but it will also put a human face on the company and allow your Instagram followers to learn about your company culture.
Recognize employees. Make a shoutout on your Instagram and display it whenever an employee or division has a significant accomplishment, gets mentioned in the press, wins an award, reaches a milestone, or has a birthday or anniversary. Employees feeling appreciated is known to have a positive correlation with engagement, so it's well worth the effort.
7. Use clear calls-to-action
There's a good chance many of your customers have never encountered digital signage displaying Instagram before, and they may not know what they're looking at or how it works. Displaying a call-to-action (CTA) telling them what to do will clear up any confusion.
CrownTV client Popbar, a chain of ice cream shops serving up handcrafted gelato on a stick, uses persuasive calls-to-action on its digital menu displays prompting customers to share photos using branded hashtags. The CTA, which reads "Get on this screen! Post with #Popbar AND #PopbarTV", is highly effective because it's clear, concise and tells customers what will happen when they take action, which in this case is their photo showing up on the screen.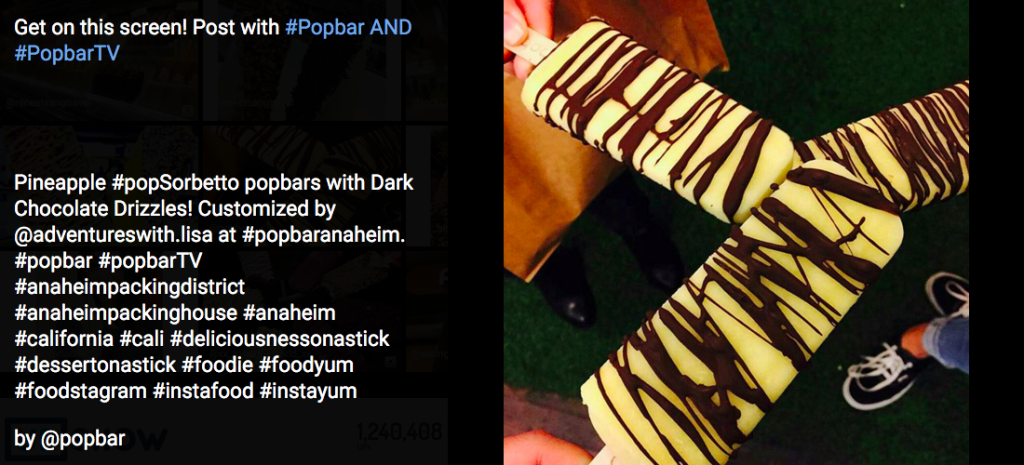 Their strategy appears to be working, as there are over 40,000 Instagram posts using the hashtag #Popbar.
It's no wonder our customers love showing Instagram on their digital displays. Follow the aforementioned best practices and you'll be an Instagram digital signage pro – #nofilter needed.