The holiday season is often accused of being too commercialized. However, digital signage – although it certainly has commercial benefits – can spread holiday cheer in ways that don't involve dollar signs. At the same time, your business will achieve valuable branding, exposure and customer engagement. So in the spirit of giving, here are seven digital signage content ideas for this holiday season.
1. Seasonal graphics
Display holiday season graphics, like the ones below, as a slideshow.
Click an image to enlarge it, then right click and save the image. All are in Full HD resolution (1920×1080).
FALL / THANKSGIVING
WINTER / CHRISTMAS
HANUKKAH
2. Yule log
A yule log is a specially selected log burnt in a fireplace during the Christmas season. It's also a chocolate cake that resembles a yule log – and we don't blame you if you immediately thought of that one!
The origins of the custom are unknown, but may date back to pre-Medieval times. In 1966, in a move that was truly ahead of its time, New York City local television station WPIX began airing footage of a burning yule log on Christmas Eve and Christmas morning. The program would air continuously for two to four hours, with classic Christmas music playing in the background and no commercials. It quickly became a beloved holiday tradition, and remains one to this day.
A fan site dedicated to the original WPIX yule log states:
"That famous and glorious 7-minute film loop of that roaring, happy, mesmerizing fire inside that festively decorated mantelpiece complemented by the majesty of some of the greatest classic Christmas music ever recorded is indeed the one and only WPIX Yule Log.

It has often been imitated, but never duplicated."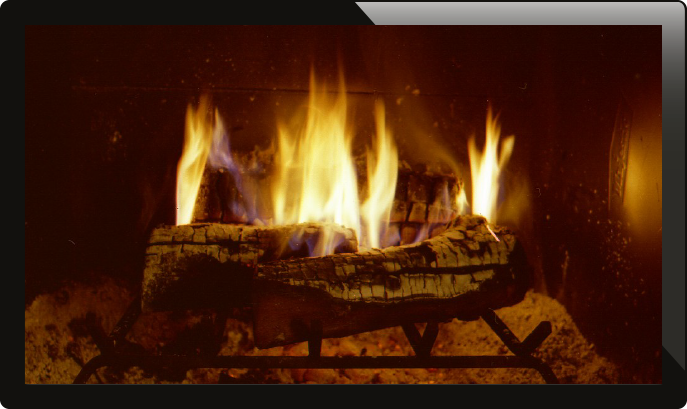 Although cult fans of the original WPIX yule log are mighty protective of it, you can easily use digital signage to broadcast your own virtual yule log – and have complete control over when and where to display it. Simply do the following (or refer to our full detailed instructions on how to upload and display video):
Download a yule log video in MPEG-4 format (find one here)
In your CrownTV dashboard, go to Content Management > Graphics and click "Add a Video".
Name the video, choose Portrait or Landscape orientation, then select the file from your computer. Click "Submit".
Go to Content Scheduling and configure when you'd like to display the video (all the time, weekdays, custom, etc.)
And there you have it! Your customers will feel warm, toasty and in the holiday spirit without even having to light a match.
3. Holiday hashtag walls
Holiday cheer is meant to be spread, and one way many people do so these days is through social media. Join the excitement and encourage your customers to participate by displaying holiday-themed hashtag walls.
Some popular Instagram hashtags for this holiday season include:
#merrychristmas (15M+ posts)
#happyholidays (5M+)
#tistheseason (2M+)
#holidayseason (1M+)
#holidayspirit (390K+)
#seasonsgreetings (180K+)
You can search for more holiday hashtags on Instagram.com.
HOT TIP: Create promotional graphics for your holiday sales and share them on your company's official Instagram. Then, display your company's Instagram feed on your screen(s). The promotional graphics will be seen both online and on your in-store displays, maximizing your exposure!
4. Weather
Fall and winter weather can be tumultuous and unpredictable. It's helpful for customers to know what the weather's like outside so they can adequately prepare with the proper amount of layers and protection. Luckily, CrownTV's digital signage software can display live weather feeds and ensure customers know what to expect when they venture out of your establishment.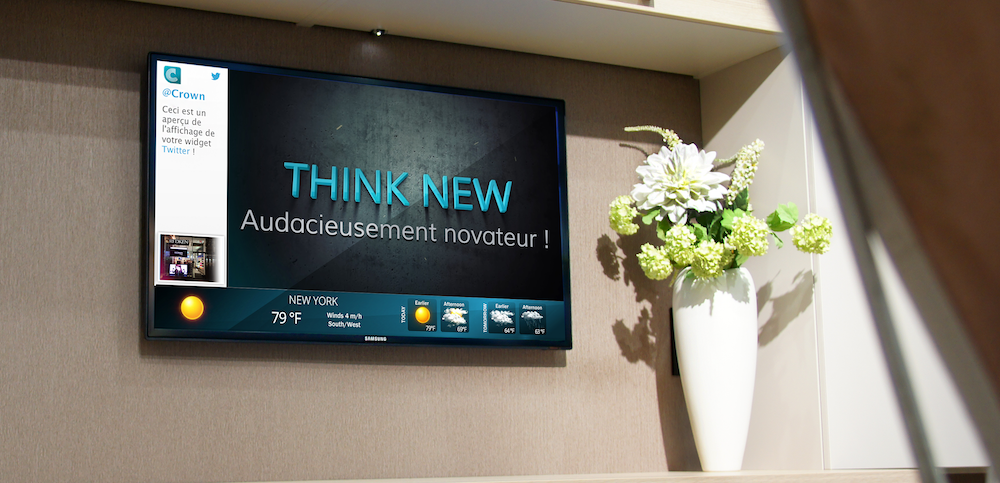 HOT TIP: Display your weather feed full screen or as a widget alongside other content (shown above), so your audience doesn't miss a beat. Choose to display the widget on the top, bottom, left or right side of the screen. More on displaying a weather feed.
5. Special operating hours
Like the weather, holiday operating hours can also be unpredictable and are important for your customers to know. Create simple text graphics telling your customers any days your business will be closed or operating outside of its normal hours. Display this information in areas with a lot of foot traffic, like near entrances and exits and in your lobby and reception areas.
HOT TIP: Did you know that your CrownTV dashboard allows you to schedule displays to automatically turn on and off at specific times? Go to Account, and under the Tools tab go to Operating Hours and follow these instructions.
6. Branded holiday wishes
You should always be looking for ways to incorporate branding into your digital signage content, and that includes during the holiday season. One simple way to do so is by creating graphics wishing your customers a happy holidays and including your signature logo, colors, font and other branding elements. It's a small gesture that goes a long way.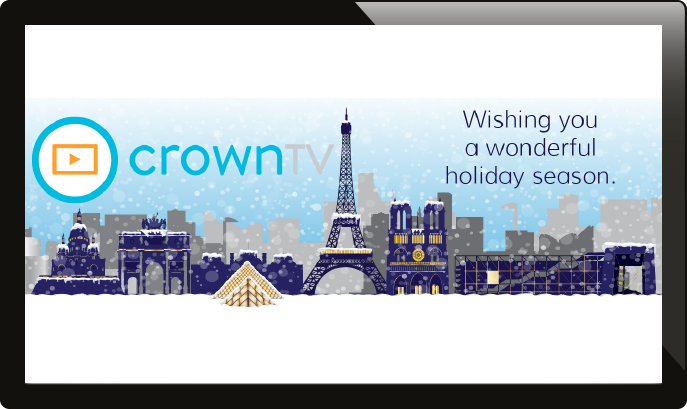 7. Holiday promotions
Okay, okay…we couldn't avoid a little commercialization at some point in this post. The holidays are undeniably a major time of year for shopping, with no shortage of bargain hunters looking for a hot deal. Tap into this audience by using digital signage to advertise any holiday sales or promotions you're offering. Simply create graphics with text giving the details of the sale, emphasizing numbers and the limited-time nature of it. Bonus if it's branded and has a holiday theme!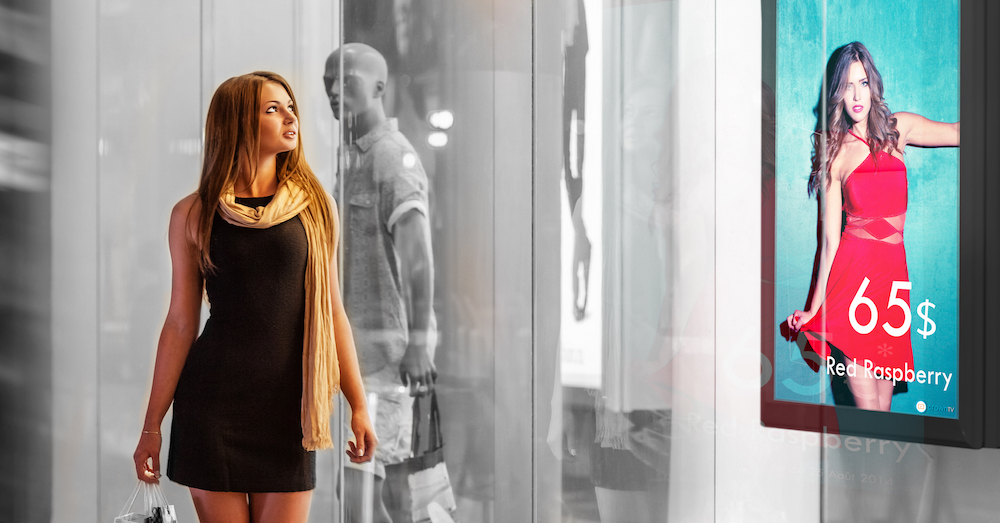 TIP: The holidays are about giving. If your business is volunteering for the needy or giving to charity this holiday season, let your customers know on your displays and encourage them to help out.
---
Give your business the gift of success by requesting a free demo of CrownTV's digital signage solutions.