Real estate agencies may manage literally thousands of properties across a country or even worldwide. That means thousands of real estate agents, property showings, sellers and eager would-be homeowners. How can real estate firms keep up with such a large inventory and demand, showcasing as many listings as they can and keeping them updated?
The most modern, simple solution is switching to digital real estate signs. We're not referring to "FOR SALE" lawn signs – those are here to stay, at least for now – but digital screens for your storefront window displays or interior office.
Digital signage has numerous advantages over printed signage that enable real estate firms to stay current, informative and abundant with their property listings while fitting in some brand marketing. As the homebuying process becomes increasingly digital, why shouldn't real estate signs become digital as well?
Let's delve into eight reasons to use digital real estate signs in this competitive, technologically evolving industry.
1. You can update listings instantly
One of the primary advantages of digital signage over printed signage is the ability to quickly and easily update content, with changes showing up instantly. For real estate, an industry where properties constantly change hands and go on and off the market, this advantage is crucial. It enables you to mimic the live, up-to-the-minute nature of online real estate listings. It also prevents potential buyers from missing out on a hot new listing, or becoming interested in a listing that's no longer available.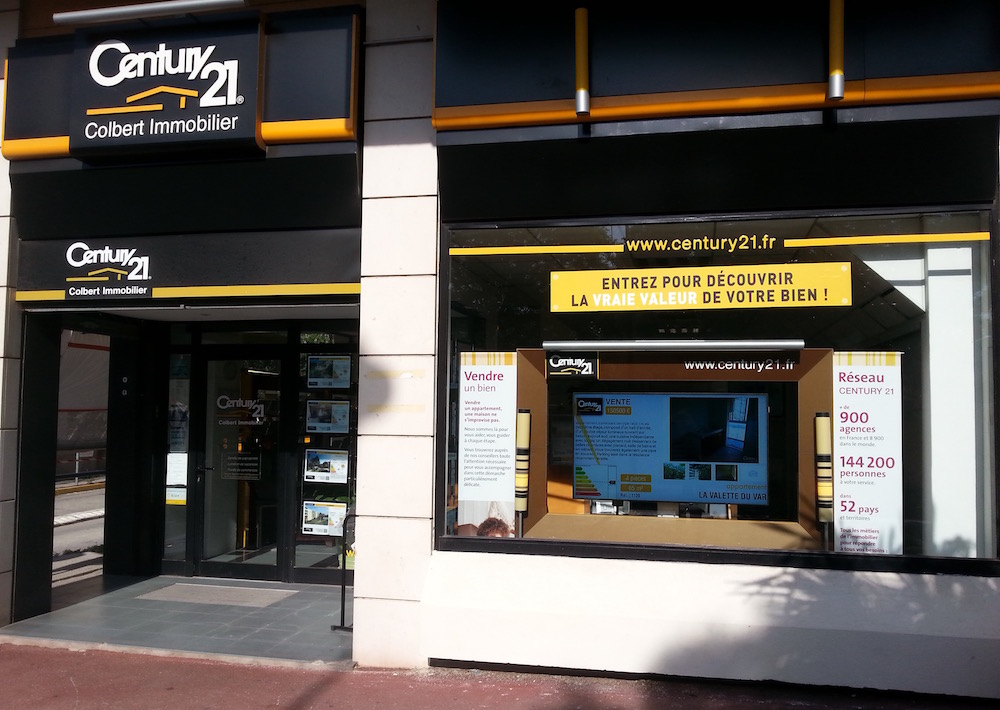 Century 21 Real Estate's France division, a client of CrownTV parent company Crown Heights, loves the ease and convenience of updating their listings in real-time, right from the cloud, using our digital signage software. Trying to do such a thing with traditional signage would be a challenge, to the point where it wouldn't even be worth the effort. Thanks to digital signage, Century 21 can ensure anyone who walks into their doors is seeing only the latest and greatest listings.
2. You can showcase hundreds of listings and photos on a single screen
A digital sign set up in your firm's office can act as a virtual directory of available properties, thanks to the ability to upload numerous graphics and other media. Traditional signage limits you by space, but a single digital sign can display multiple listings at once or in rotation. You could also show multiple photos of each listing, showcasing a property's various rooms and outdoor spaces. It's a great way to give potential buyers a more detailed look at your properties, or entertain customers as they wait in your lobby. If you really want to get creative, display a virtual tour using video.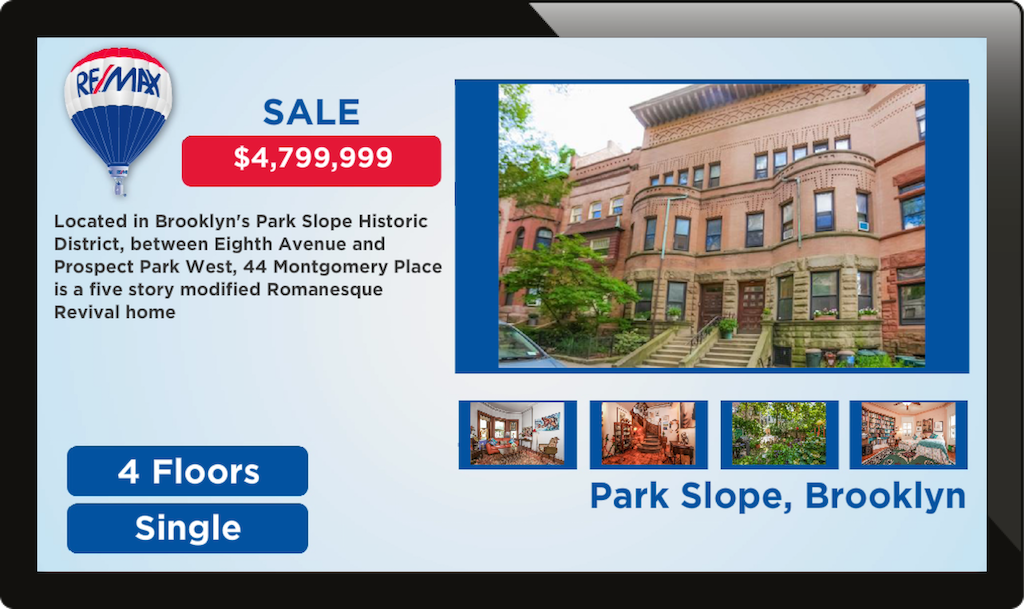 You never know when a prospective homeowner will spot a property they love, and it could very much be seen on one of your digital displays.
3. Multi-user control allows you to tailor content by location
They say real estate is all about location, location, location – and so should be its digital signage. With multi-user control on the back end, the ability to manage certain content can be allocated to different divisions and individuals within your firm, allowing users to locally tailor the content that displays in their office.
Because listings change frequently and obviously vary by location, this feature is a way to ensure all content is localized, accurate and current without agents needing upper-level approval to make updates. Real estate agents are likely to know more about what's available and relevant in their area than corporate management, so it makes the most sense to let them control the content that matters to them and their clientele.
Crown Heights/CrownTV client Orpi, a French real estate network with 1,250 agencies, was looking for digital signage software that allowed multi-user access but with differing levels of control. Our software, which allows account administrators to give users specific permissions over content, was the ideal solution. Orpi's corporate management controls all advertising and personalized content, while its real estate agents control the listings displayed on their office screens. Christelle Castor, Orpi's Manager of Internal Communications, praised the solution's flexibility and responsiveness.
However your firm chooses to manage its user access, it's a useful feature for any real estate company with various locations, agents and properties.
4. The house hunt has gone digital – and so should your signage
For obvious reasons, real estate is a highly visual commodity. Seeing high-quality images or video of a listing is the next best thing to touring it in person, which explains why virtual house hunting has become mainstream. Online real estate databases like Zillow, Trulia and Redfin are go-to sources, with Zillow boasting 124 million users as of February 2016.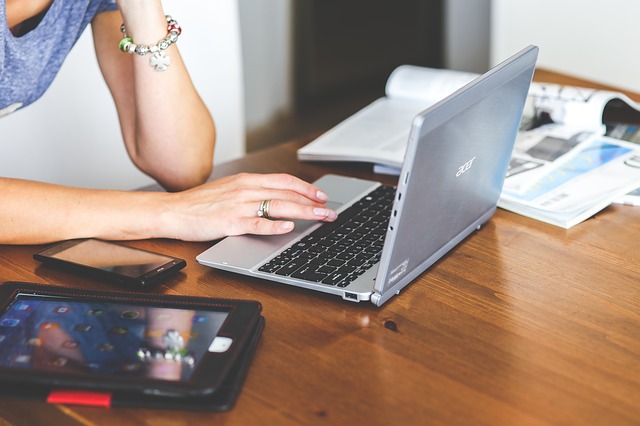 A 2013 joint report by the National Association of Realtors and Google titled "The Digital House Hunt: Consumer and Market Trends in Real Estate" revealed 90% of home buyers searched online at some point in their house hunt. Real estate-related Google searches have grown 253% over the past four years, and approximately one-fifth of all such searches occur on mobile devices.
Real estate firms that still do business in person can keep up with this trend by installing digital signage. It may not be the same experience for the user as searching an online database, but it's a digitized format that your customers will feel comfortable and familiar with. They'll perceive your brand as being current, tech-friendly and on top of house hunters' changing preferences. Real estate technology is changing, but your signage doesn't have to be left behind.
5. You can put the spotlight on your talented agents
When customers walk into your firm, you want them to feel like they're in good hands. Having a nice office and helpful staff at the front desk is one thing, but you need to dig a little deeper into what really matters to your customers, which is whether they can trust your firm and its agents. Digital signage can reassure them by displaying bios, photos and accomplishments of your real estate agents. It's your chance to make a good first impression and show anyone who walks into your offices that you hire the best and the brightest. It's also an attractive way to put a human face on your company, which customers appreciate – especially at large firms.
6. You can display customer reviews and testimonials
Another way of getting customers to trust your business and agents is by showing them reviews and testimonials from other satisfied customers. Looking for a home is an exciting but nerve-racking experience, and it's comforting for customers to hear about the positive experiences of others who've been in the same position. Like displaying information about your real estate agents, it's also something that makes a positive first impression and shows the people-focused side of your business.
Without digital signage, it'd be difficult to display reviews and testimonials in your office. If you used traditional signage, updating them would be a hassle, and it's not good practice to show the same outdated reviews and testimonials over and over. Digital signage, however, is easy to update and can feature a variety of reviews and testimonials on a single screen.
7. It can help you build lasting relationships with clients
A home is a long-term purchase, meaning your interactions with a client are often limited to a single transaction. But the relationship doesn't have to end there, and it shouldn't. Down the road, that client may have a friend or family member in need of a real estate agent, and you'll hope they recommend your firm.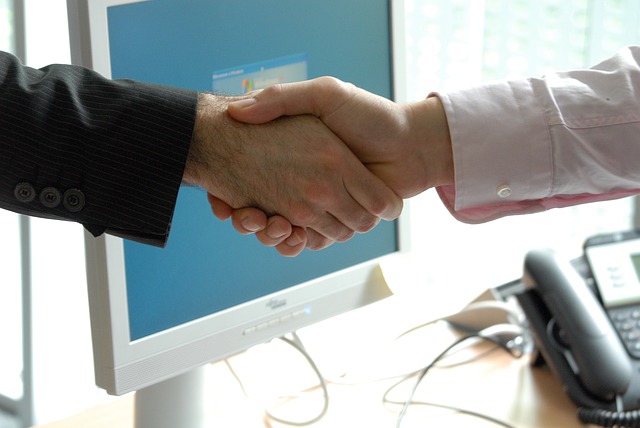 So how can you maintain that relationship, after all papers are signed and the keys are handed over? Social media, by way of digital signage, is one way. It's a powerful tool for building and maintaining customer relationships on a personal level, at all stages in the buyer's journey – including post-transaction. By displaying your firm's social media feeds or a simple graphic telling clients where they can find you, you can gather followers and begin building these relationships right in your office.
If a past client follows your firm on social media, they'll be reminded of your brand every time they check their feed. They may even expose your brand to other potential clients by sharing your content, tagging your account or using your brand name in a hashtag. You'll also have the chance to continue interacting with the client even after you're done doing business with them, showing you care about your clients no matter where they are in the homebuying process.
8. You can show fresh housing market news and data
The state of the housing market is a vital indicator of the health of the overall economy. Accordingly, it's a market that's frequently reported on in terms of numbers and percentages. Would-be homeowners appreciate being informed of these stats and knowing what kind of housing market they're entering. Why not display them using digital signage?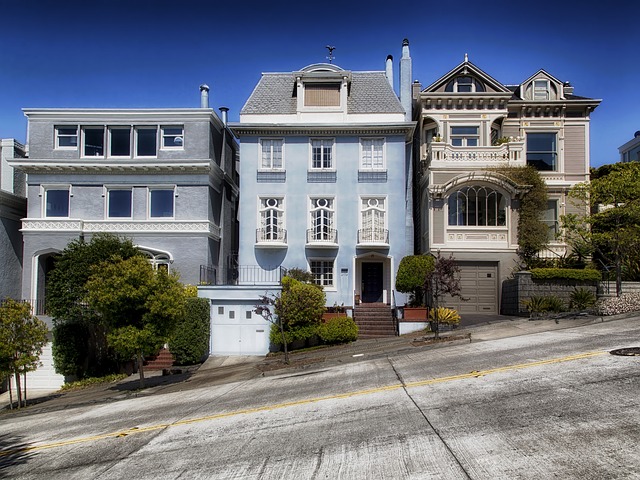 Housing market data is ever-changing and becomes outdated quickly. Keeping up with it using printed materials is a lost cause, but with digital signage you can assure it's always up-to-date – or even display live data on a webpage! For good measure, you can also throw in some numbers on your firm, like how many properties you've sold and happy clients you've assisted.
Displaying housing market data via digital signage can help you:
Persuade buyers it's a good time to buy (or sell) a home
Prove you're a firm that does its research and knows the market
Spark interest and conversation
Entertain clients as they wait
To mix it up a little, you can also display an RSS feed containing housing market news. We'd recommend the National Association of Realtors, CNBC, CNNMoney, HousingWire or the Wall Street Journal.
Summary
As the real estate industry gets more and more digitized, it's high time to abandon traditional printed signage for digital signs. Digital signage allows you to show more content using less space, and content that's more engaging, relevant, fresh and informative. You'll make your clients feel as at home with your firm as they do in their newly purchased house.
Curious to see how your firm's property listings would look on digital screens? Request a demo of CrownTV's digital signage solution today.