In the heart of New York City, where every square foot is prime real estate and every message needs to be impactful, digital signage solutions are not just an option, but a necessity. How you display your message can be just as important as the message itself. Whether you're a fast-paced retail store, a bustling cafe, or a high-end corporate office, the right digital signage solution can make all the difference.
Dive into this guide to explore a variety of digital signage solutions perfect for NYC businesses:
Why Digital Signage is a Game-Changer for NYC Businesses: Discover the compelling reasons your business needs this tech upgrade.
Window vs. Indoor Digital Signage: Uncover the unique advantages of each and why window signage is crucial in NYC.
High Brightness for High Impact: Learn why luminosity is key for window displays and how to choose the best option.
Choosing the Right Mount: Should you go with a cable mount or a floor mount? We'll guide you through the decision-making process.
Get ready to discover how each of these cutting edge technology solutions can elevate your business's presence in the bustling landscape of NYC.
Why Digital Signage is a Game-Changer for NYC Businesses
In the bustling streets of New York City, where traditional advertising struggles to make an impact, digital signage emerges as a revolutionary tool. But why is this tech-savvy option turning heads and changing the game for businesses in the Big Apple?
Standing Out in the Urban Jungle
In the vast sea of New York's billboards and storefronts, digital signage is your beacon. It's not just about being seen—it's about being unforgettable.
Dynamic Display: Captures attention with moving images and vibrant colors. Studies show that digital signage views exceed static displays by 400%.
Customizable Content: Tailor your message to fit the moment, the audience, or even the weather.
Brand Storytelling: Share your brand's journey in a compelling, visually engaging manner.
Versatility: Switch from targeted promotions to vital information seamlessly.
Pro Tip: Use CrownTV's versatile dashboard to effortlessly update and customize your digital displays, ensuring your content is always fresh and relevant.
Engagement Beyond the Surface
Digital signage in NYC isn't just about displaying information—it's about creating experiences that stick.
Interactive Elements: Encourage active engagement with touch screens or QR codes. Digital signage reaches 135 million people a week, with 8 out of 10 consumers entering an unfamiliar store after seeing a digital sign.
Feedback Opportunity: Gather instant customer feedback or conduct surveys.
Social Media Integration: Display real-time social media feeds to connect with potential customers.
Attention Retention: Keep viewers interested longer, increasing message retention.
Pro Tip: Leverage CrownTV's integration features to add interactive elements to your signage, boosting customer engagement and interaction.
Real-Time Updates, Real-Time Relevance
In a city that's always on the move, your advertising needs to keep up. Digital signage allows you to change your message at the speed of New York.
Instant Updates: React to market changes or current events immediately.
Targeted Advertising: Tailor content based on time of day or specific audiences.
Event Promotion: Update content for upcoming events or sales in real-time.
Emergency Information: Quickly broadcast vital information when necessary.
Pro Tip: Utilize CrownTV's user-friendly interface to swiftly update your digital signage signs, ensuring your content is always timely and relevant.
Cost-Effective and Eco-Friendly
Switching to digital signage displays isn't just a visual upgrade—it's a smart business decision.
Reduced Printing Costs: Say goodbye to the ongoing costs of printed materials.
Sustainable Practice: Digital signage is a greener alternative to paper-based advertising.
Long-Term Investment: Digital displays last longer and require less maintenance.
Adaptability: Easily adapt to different campaigns without additional costs.
Pro Tip: Maximize your ROI by utilizing CrownTV's sourced digital screens, offering durability and versatility for your advertising needs.
Measurable Impact
What gets measured, gets managed. Digital signs bring valuable insights to your marketing strategy.
Customer Insights: Understand what attracts and engages your audience.
Content Optimization: Digital signage has a remarkable recall rate of 83%. Refine your messaging based on viewer responses.
Increased ROI: Track the effectiveness of different content types.
Data-Driven Decisions: Make informed marketing decisions with real-time data.
In the heart of NYC, where innovation and tradition collide, digital signage is not just a trend; it's a strategic move. For businesses looking to thrive, it's time to embrace the digital revolution.
Window vs. Indoor Digital Signage: Choosing What's Right for Your NYC Business
Deciding between window and indoor digital signage in New York City is crucial. Each offers unique advantages depending on your location, audience, and business goals.
Window Digital Signage: Your Street-Facing Storyteller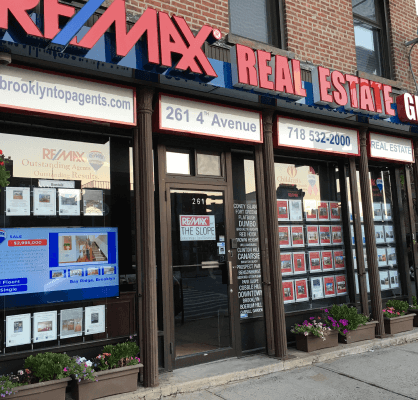 High Visibility: Window displays catch the eye of every passerby, from busy professionals to tourists exploring the city. Think of the flashy, engaging window displays on Fifth Avenue during the holiday season, drawing crowds and creating buzz.
Direct Impact: Utilize high-brightness screens to cut through the sunlight and make a bold statement. A café near Central Park, for example, could showcase daily specials and happy hour deals, luring in park-goers and nearby workers.
Brand Exposure: Increase brand awareness on busy streets. For instance, a boutique in SoHo can leverage window digital signage to showcase new collections and saw a notable increase in foot traffic.
Engagement Outside Store Hours: Keep engaging with your audience even when your business is closed. Imagine a 24/7 advertisement working for you, like the round-the-clock digital art displays in Times Square.
Indoor Digital Signage: Enhancing the Customer Experience Inside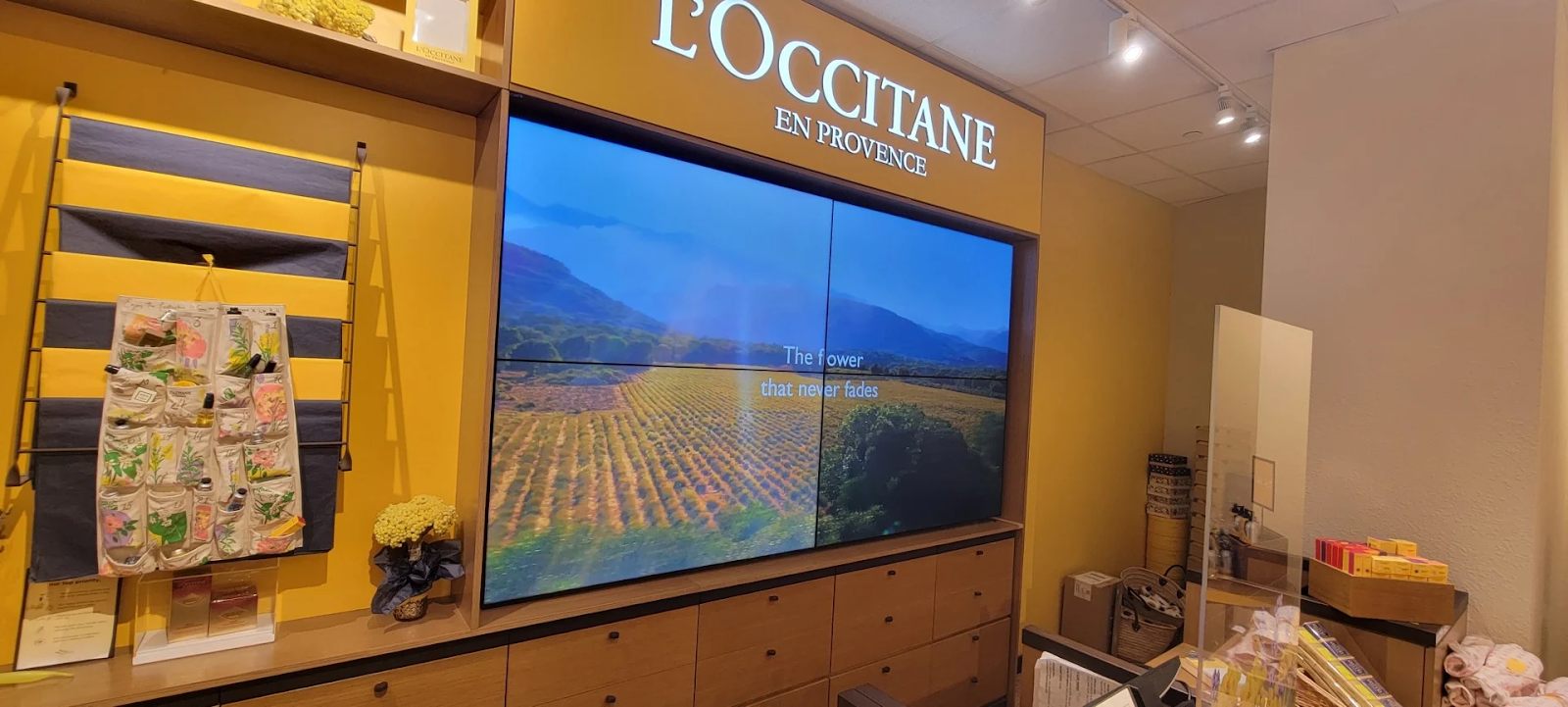 Personalized Environment: Create a unique in-store ambiance. An upscale restaurant in Manhattan uses indoor digital signage to display a digital wine list and chef's specials, enhancing the gourmet experience.
Customer Journey Enhancement: Guide customers through your store or services. Think of how flagship retail stores in NYC use indoor screens to tell their brand story, leading customers on a curated journey.
Interactive Opportunities: Set up touch-screen kiosks for self-service or information. A tech store in Midtown offers customers interactive product demos via indoor digital signage, boosting engagement and sales.
Targeted Messaging: Tailor messages to the customers inside your store. A fitness center in Brooklyn uses indoor screens to display class schedules, motivational quotes, and health tips, keeping members informed and inspired.
Pro Tip: Incorporate CrownTV's interactive apps and integrations for your indoor digital signage to create an immersive and engaging customer experience.
Both window and indoor digital signage have their place in the NYC business landscape. The key is to align your choice with your business objectives and the unique dynamics of your location and audience. With CrownTV's diverse solutions, you're equipped to make the most of both worlds.
High Brightness for High Impact: Mastering Window Digital Signage in NYC
The success of window digital signage in NYC hinges on one crucial factor: brightness. High-brightness screens are essential to ensure your message cuts through the city's glare and grabs attention.
Why Brightness Matters
Combatting Sunlight: In a city as bright as New York, standard screens can be washed out by sunlight. A high-brightness screen ensures your display remains vivid and clear, even in direct sunlight.
24/7 Visibility: High brightness makes your signage visible at all hours, crucial in a city that never sleeps. A retail store in Times Square increased its night-time foot traffic by 20% after installing high-brightness window displays.
Enhanced Readability: Clear, legible multimedia content is to effectively communicate. High-brightness screens ensure your message is readable from a distance, crucial for fast-moving NYC pedestrians.
Weather Resistance: These screens aren't just bright; they're tough. Built to withstand NYC's varying weather conditions, they ensure your message stays shining, rain or shine.
Pro Tip: Leverage CrownTV's turnkey services to get high-brightness digital screens for outdoor visibility. Their durability and clarity make them ideal for the demanding NYC environment.
Choosing the Right Mount for Window Digital Signage
The right mount for your digital signage can enhance its effectiveness and ensure it fits seamlessly into your store's design.
Cable Mounts: Ideal for a sleek, modern look. They're perfect for high-rise buildings or stores with limited floor space, like a boutique in Chelsea that used cable mounts for an airy, open display.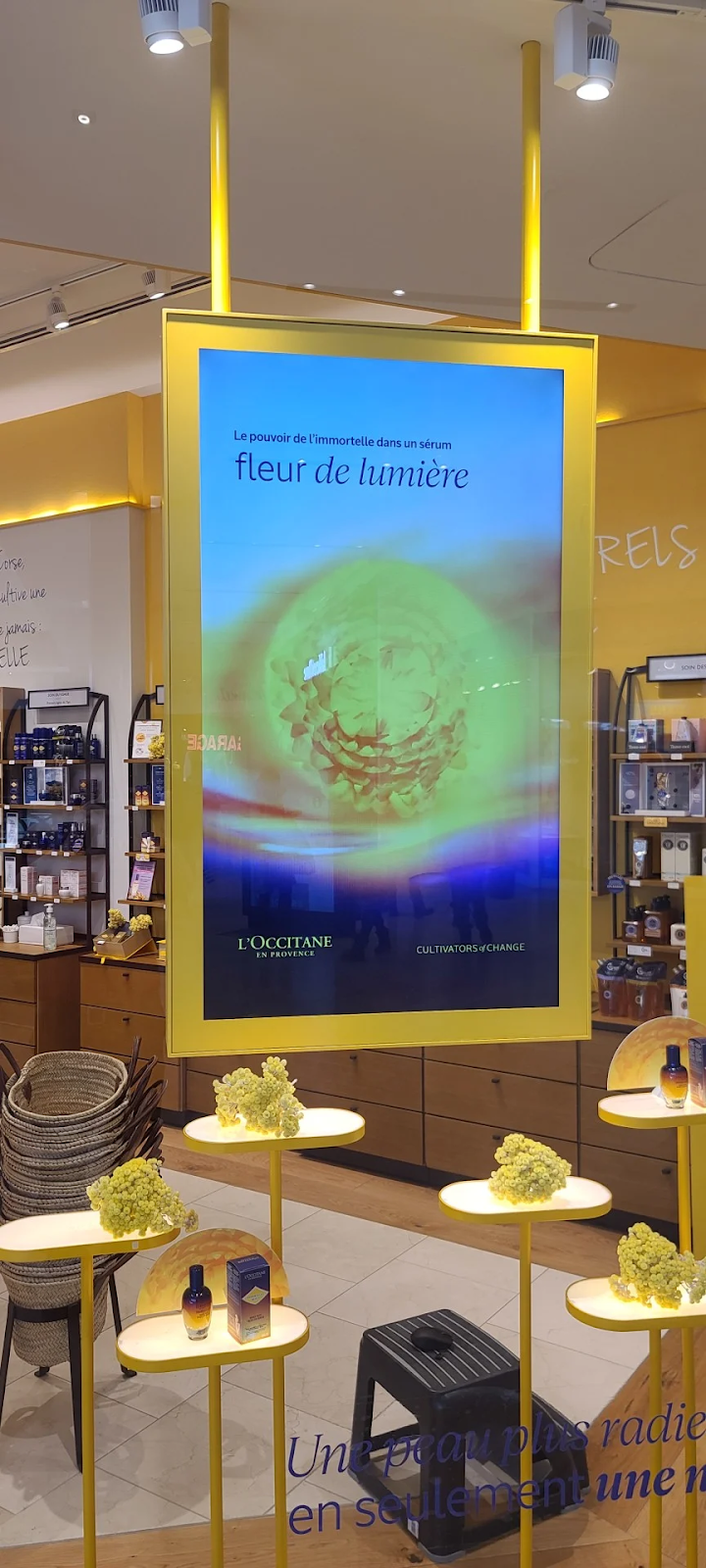 Floor Mounts: Best for stability and easy access. A restaurant in the East Village used floor mounts for their digital menu boards, allowing for easy updates and maintenance.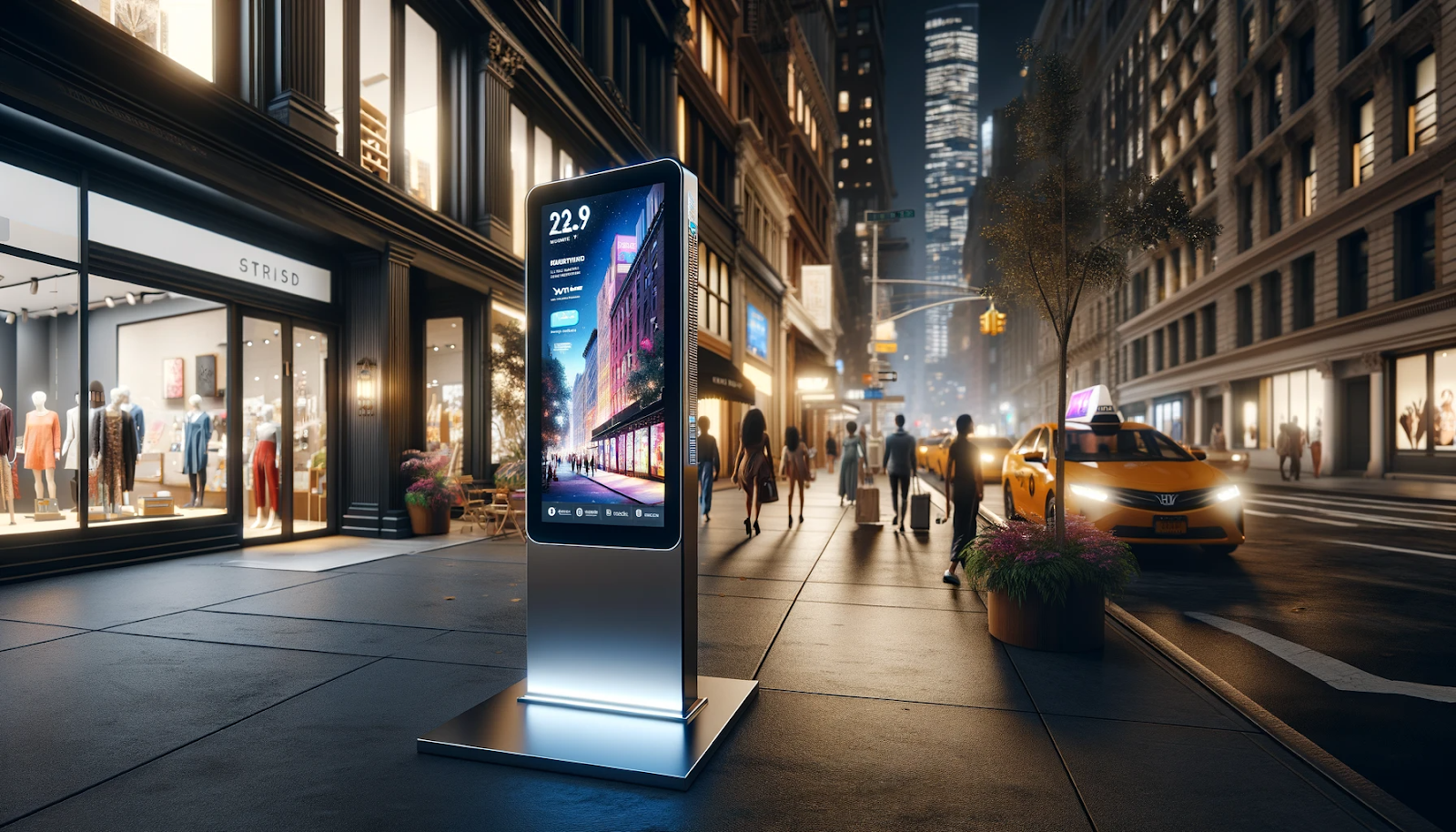 Custom Solutions: Sometimes, a one-size-fits-all approach doesn't work. CrownTV offers custom mounting video walls to fit the unique architecture and design of your NYC business.
Pro Tip: Consult with CrownTV's experts to find the perfect mounting solution for your window digital signage, ensuring a blend of aesthetics, functionality, and visibility.
With these insights and tools at your disposal, your NYC business can fully capitalize on the power of high-brightness window digital signage.
Turnkey Digital Signage Solutions with CrownTV: From Concept to Installation
Navigating the world of digital signage in NYC can be daunting, but with CrownTV, it's a seamless journey from start to finish. CrownTV's turnkey service ensures that every aspect of your digital signage project is handled expertly, leaving you to focus on what you do best – running your business.
Expert Consultation and Customized Solutions
Personalized Recommendations: CrownTV experts understand that every NYC business is unique. They provide tailored recommendations, ensuring the digital signage solution fits your specific needs and goals.
Project Assessment: Whether you're a cozy café in Greenwich Village or bustling retail outlets in Midtown, CrownTV evaluates your space and audience to suggest the most effective digital signage strategy.
Custom Content Creation: Not just about the hardware, CrownTV assists in crafting compelling content that resonates with your target audience, enhancing your brand's story and messaging.
Take advantage of CrownTV's consultation services to gain insights into the latest trends and technologies in digital signage, ensuring your business stays ahead of the curve.
Seamless Installation and Support
Hassle-Free Installation: CrownTV's team handles the digital signage software and hardware installation process from start to finish, ensuring your digital signage is set up perfectly, with minimal disruption to your business operations.
Ongoing Support and Maintenance: Post-installation, CrownTV provides continuous support and maintenance, ensuring your digital signage operates smoothly and efficiently.
Training and Education: To maximize the impact of your digital signage, CrownTV offers training sessions for you and your team, empowering you to manage and update your content with confidence.
Utilize CrownTV's ongoing support to keep your digital signage in top condition, ensuring a consistent and high-quality display for your audience.
The Right Display for Your Project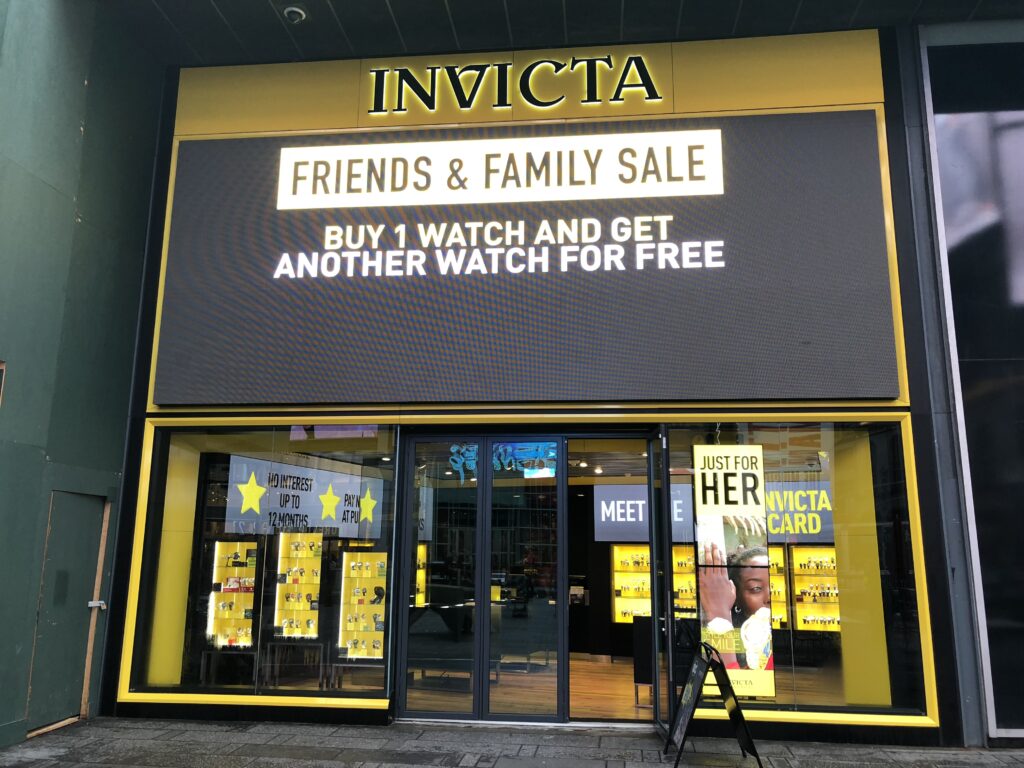 Choosing the right display is critical for the effectiveness of your digital signage.
Variety of Screen Options: CrownTV offers a range of screens, from high-brightness window displays to immersive indoor screens, catering to various business needs and environments.
Quality and Durability: In the demanding NYC landscape, quality matters. CrownTV's screens are not only visually stunning but also built to last, ensuring a worthwhile investment for your business.
Integration with Existing Systems: CrownTV's solutions integrate seamlessly with your existing systems, making the transition to digital signage smooth and stress-free.
Discuss your specific needs with CrownTV to find the perfect screen option for your business, balancing aesthetics, functionality, and budget.
Light Up Your NYC Business with CrownTV
Wrapping up, we've journeyed through the vibrant world of digital signage in NYC, unveiling how it can revolutionize your business presence. You're now equipped with the know-how to make your brand shine brighter than the city lights. Let's recap the highlights:
Key Takeaways
Digital signage is a dynamic way to stand out in NYC's urban landscape.
Choose between window and indoor signage based on your specific needs.
High-brightness screens are essential for impactful window displays.
CrownTV offers turnkey solutions, from consultation to installation.
CrownTV isn't just about the expert services for digital signage products; it's about igniting a visual revolution for your NYC business. With innovative solutions tailored to the unique rhythm of the city, CrownTV ensures your message not only reaches but resonates with your audience. Embrace the power of digital signage with CrownTV and watch your business transform into a beacon of engagement and innovation.