With the rise of online shopping, retail stores need to find ways to keep customers happy… or risk hurting their bottom line. Luckily, despite online shopping options, 71 percent of U.S. consumers say they still prefer to buy from physical stores. Why? Joseph Pine suggests in his TED talk that the economy is moving away from being customer service based and becoming more customer experience based.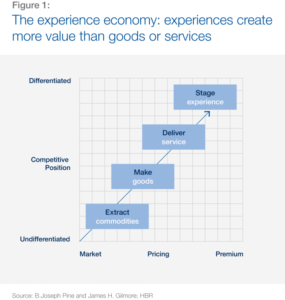 A movement toward an experience-based economy means that customers are no longer willing to pay a premium for services such as free shipping, convenience and online payment. Customers instead expect brands t0 create authentic experiences beyond traditional service. In fact, according to Oracle, businesses who don't focus on customer experience could lose 20% of revenue. Therefore, business owners need to adapt innovative ways to create these experiences to attract and keep consumers.
Retail stores need enticing in-store experiences in order to remain competitive. According to a Gartner survey, 89% (up from 36% in 2012) of companies say they are competing mostly on the basis of customer experience. However, businesses cannot simply look to their competitors to see what technology and trends they should follow. Instead, businesses should look to their customer for trends that they want to see. Mercedes Benz USA President and CEO Steve Cannon says in Loyalty360, "Customer experience is the new marketing" and marketing is about connecting with the customer. Therefore, retail stores need to listen to consumer needs and stay on top of upcoming customer wants.
1. Virtual Reality (VR)
Virtual reality is "the use of computer technology to create a simulated environment". VR can be used to create virtual experiences in-store that translate into a positive, real experience for stores' customers. Although VR may still seem like a product of the future, companies today are already using it to give customers a better experience.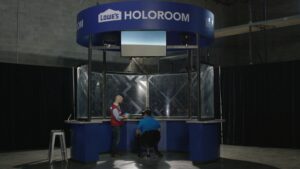 Lowe's has an innovative VR program called Holoroom where customers can design and visualize the room of their dreams using virtual reality technology. Lowe's implemented the program as a means to help customers overcome the initial fear and lack-of-vision in home improvement projects. With Holoroom, customers can design their dream room and see it virtually come alive before knocking down any walls or spending a penny. 
VR has similar implications in all retail markets. Fashion retailers can use VR to let customers virtually try on clothes. Travel agencies are using VR to let customers picture themselves on their dream vacation. Though the applications are endless, the goal with all VR is the same: provide customers with an extraordinary experience that differentiates a brand from competitors.
2. Expectations for Innovative Services
Customer service is the first stepping stone of customer experience. If customers aren't shown great service, they will not have a great experience. According to Forrester, 72% of businesses say that improving the customer experience is a top priority yet, NewVoiceMedia indicates that companies lose more than $62 billion due to poor customer service. This contradiction may be indicative of misaligned expectations for service.
The top companies today are creating technology-rich, innovative services that are setting the bar high for their customers. These customers then visit other businesses in other markets where the service pales in comparison. This creates an overall lack of satisfaction for the customer and potentially poor customer experience reviews for a company. To close this service expectation gap, companies need to be creative in their service offerings. Salespersons and staff cannot merely be friendly, they must be personable and relatable. Checkout lines must be easier and store's app must be fully integrated into the in-store experience. Consumers no longer crave these personalized services in-stores; they simply expect them.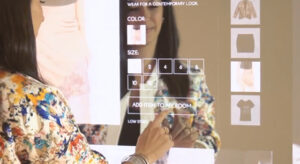 Rebecca Minkoff's NYC store has been a market-leader in providing higher levels of service to their shoppers. The store features dressing rooms that are technologically equipped to let customers do everything from virtually try on clothes to order a complimentary glass of champagne. They also have discussed further future innovations such a program for customers to instantly be greeted at the retail store with a dressing room prepared with a drink and clothing suggestions based on their individual past preferences.
3. Digital Displays and Signage
An important part of any memorable experience is a 'wow' factor; something that immediately stands out and impresses the viewer. For retail stores, digital displays and signage have become rising 'wow factors' for customers. Digital signage can be used in almost any industry to display information such as announcements, events, menu boards, and more. These digital displays are an interactive and engaging way to use technology to enhance the customer experience.
Not only are digital displays great ways to display information, they are also fun and enjoyable for customers. 60% of people view in-store shopping as a form of entertainment and millennial shoppers are 14% more likely to consider whether a store is fun to shop at when assessing customer experience. Digital screens can add to a store's entertainment-appeal and give shoppers a reason to shop more often.
"Interactive displays tend to be seen as more "fun" by consumers than traditional static displays, and being able to delight and / or amaze customers definitely helps a brand stand out and create mindshare in the marketplace." – Kurt Rudiger for Mechtronics
As Rudiger mentions, digital displays create a fun environment that fosters customer engagement and brand loyalty. Displays can engage customers through social media walls such as this Instagram wall: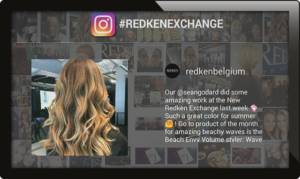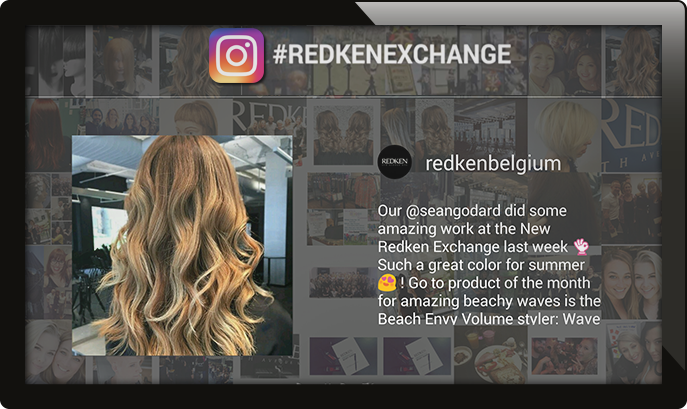 They can also feature quiz content that reduces customer pains of waiting in lines. Quiz content capitalizes on people's desire to engage with brands and adds a fun dimension to any check-out line. With quiz content capabilities like this, customers can have positive, in-store experiences where they otherwise would not. Plus, with the use of hashtags and ease of social sharing, customers can share quiz results on social media and provide stores with free online marketing.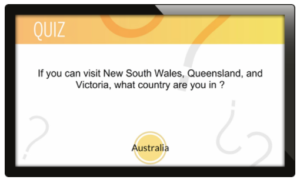 Interested in improving your customer's' experience? Check out our digital signage solutions and request a free demo with us!
Sources: