Imagine being in a waiting room before technology. How did we pass the time? Fortunately now we can wait with our smartphones and tablets, and most people do. But what if there were another form of technology to make time spent in a waiting room a little less boring?
There is, and it's digital signage. Rather than just having a TV in your waiting room and putting on the local news, you can display dynamic, engaging content that your customers will actually enjoy. It's also easy to tailor content to your specific audience and industry, displaying what's most relevant and beneficial. It won't reduce actual wait times, but it will reduce perceived wait times – how long the wait feels to your customers.
Here's how four different industries can use waiting room digital signage and make better use of their guests' idle time.
1. Medical offices: Educate patients
Waiting at the doctor's office is inevitable, but it doesn't have to feel like time wasted. Why not use the time to educate patients on health matters using digital signage? Display graphics or video giving helpful tips for staying healthy, information about common health issues, or the latest news on medical technology and innovation. Not only is it helpful to your patients, but it also gives your practice credibility, authority and the appearance of being tech-savvy.
Other content you may want to display:
Check-in instructions: where to go and what documentation to have ready
Approximate wait times
A directory of your building and doctors
Photos and mini biographies of your doctors
General information about your practice: specialties, services offered, operating hours, phone numbers, history, trivia
Instructions for using your website/online portal
Insurance information
An RSS feed of health-related news
Your practice's social media accounts
---
---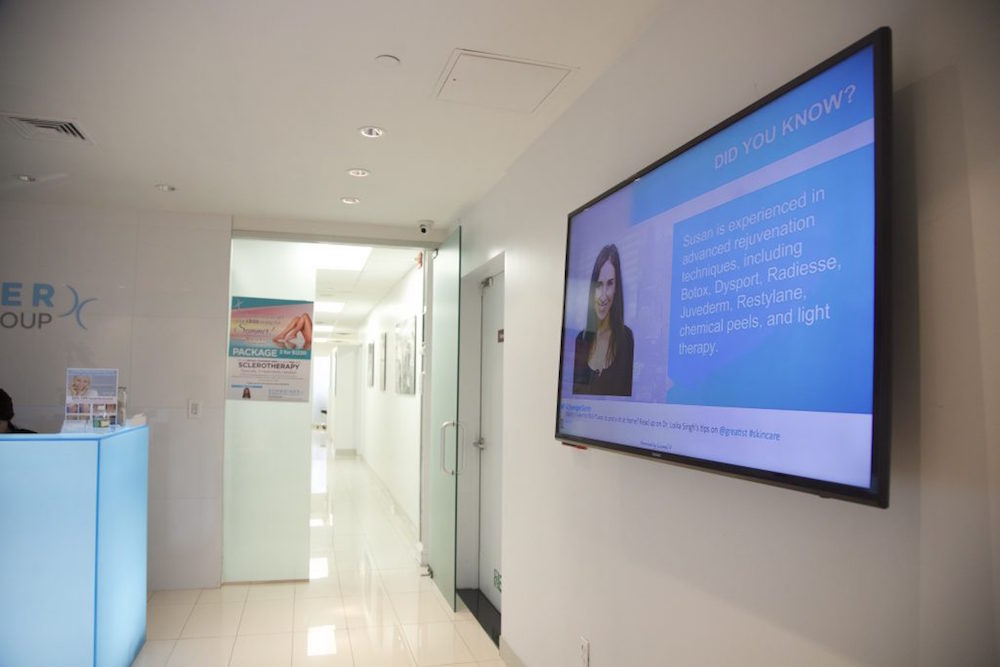 Like many industries, the healthcare industry is becoming more and more digital, especially with the advent of digital medical records and online patient portals. Digital signage is another way to continue this trend and modernize the patient experience while making wait times seem shorter.
2. Workplaces: Introduce visitors to your company
Having a visitor come to your office is an exciting opportunity to make a great first impression and put your company's best foot forward. If you have a waiting room where guests often have to wait for appointments, use that time and space to educate visitors on who you are and what you do using digital signage.
Display a simple history of your company (even if it's brand new), share mini biographies of key personnel, exhibit your latest projects, feature customer testimonials or show off positive press mentions. If what your company does is somewhat obscure, explain it in laymen's terms using simple graphics, video or animations. Use numbers as much as you can, like how many locations you operate in, how many employees you have, how many customers you've served, units sold, etc. – any potential investors that visit will appreciate it. And of course, make sure everything is branded with your logo and color scheme.
Make sure you also use the opportunity to illuminate your company culture. Show photos of your employees inside and outside the office, your key values, mission, vision for the future, relevant quotes, community impact – anything that provides a deeper look into your company's way of doing things. You'll wow potential new hires waiting to be called in for their interview and reassure them they're interviewing at the right company.
3. Banks: Give helpful finance tips
Banks are another place where waiting is expected, but like at the doctor's office, it's another great opportunity to turn time wasted into time well spent. After all, time is money.
Finances are a sensitive and personal subject, and customers want to know they're putting theirs into good hands. Use digital signage to reassure them of that by showing off your financial knowledge, trustworthy bankers and beneficial services right in your waiting room.
Offer helpful tips on saving money, investing, managing debt and planning for the future. Advertise the services your bank offers and any special promotions going on, like rewards programs or low interest rates. Introduce your bankers, their certifications and what they specialize in. Display an RSS feed of the latest financial news. You'll build trust with your customers and ensure they never miss a good money-saving opportunity.
4. Salons: Showcase your work
If your salon has a waiting room, why not use the space to inspire your clients a little? They may already know what they're looking for, but for the more spontaneous, open-minded client, they might want to see the latest trends and looks to help them decide. Use digital signage to spark some inspiration by displaying lookbooks or photos of looks you've created for previous clients. It'll showcase the skills and talents of your hairdressers and let clients know you're current on the hottest trends.
Displaying your salon's social media feeds is another effective way to show off your handiwork. Make sure your feed includes before-and-after photos of clients and their hair, and feature user photos where your salon is tagged or mentioned in a hashtag. Create a hashtag for your salon and tell clients to use it when posting photos of their look. You'll create online visibility and exposure for your salon with little effort on your part.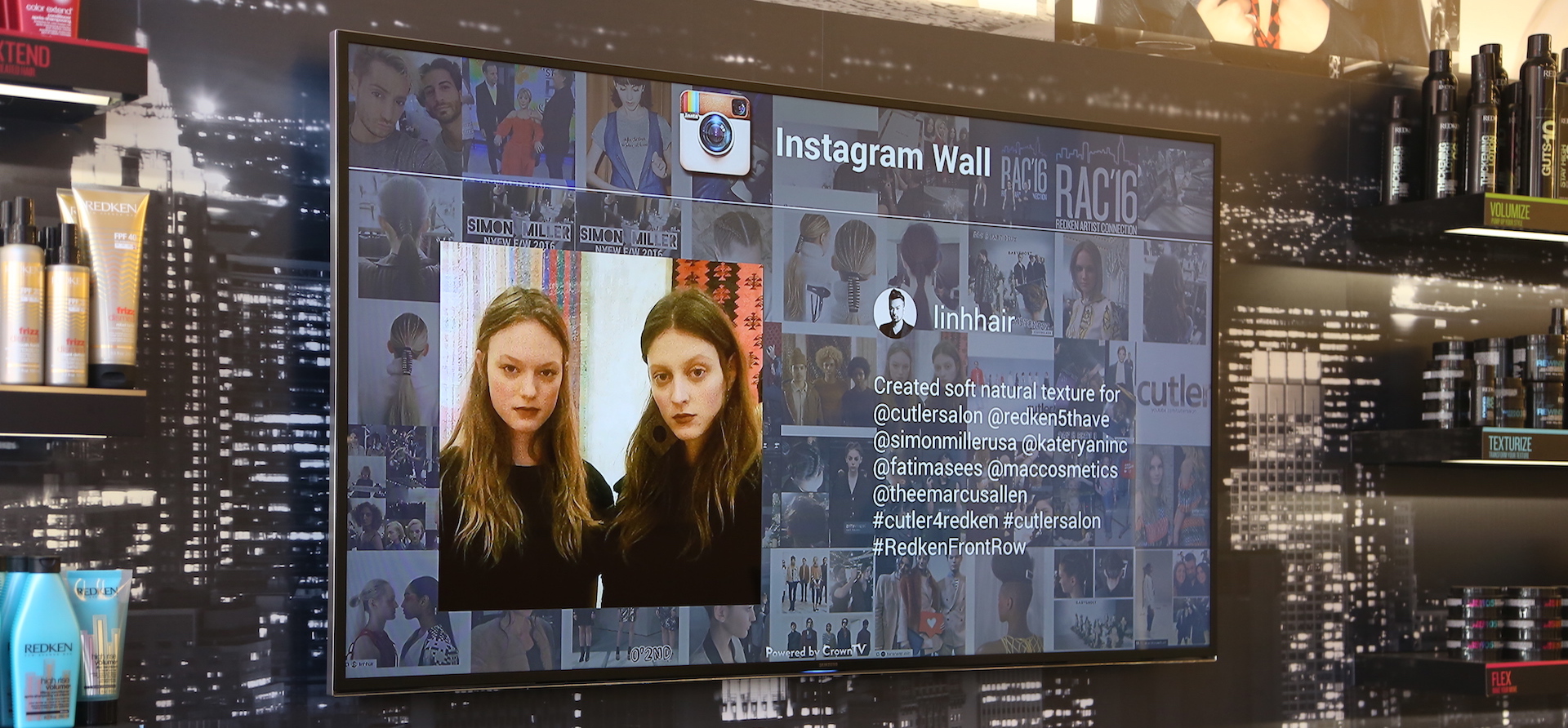 While you're at it, you may want to include a list of your services and prices, introductions to your stylists, special promotions, client reviews, press clippings or advertisements for products you sell.
You make your clients look great. Make your waiting room look great too using digital signage.
Conclusion
Digital signage doesn't just make waiting less dull for your guests – it can actually help your business grow at the same time. You're making productive use of the time on both ends, by establishing your company's credibility and educating your customers on relevant matters. Who knows, maybe they'll even put their phones down for a few minutes and consume your content instead.
Start transforming the patient experience. Request a demo of our digital signage technology.