Although 90% of today's home buyers report searching for real estate online, the traditional real estate window display containing printed property listings remains a common sight. Those in the market for a new place to live can't help but stop and look, especially in walkable cities like New York, Chicago or Boston. But what if we told you that adding digital screens to your real estate window displays can make them even more of a magnet for would-be home buyers?
Using digital screens to display content, like property listings in this case, is called digital signage. Any screen will work, from consumer TVs to professional monitors. A special media player attaches to the screen to broadcast the content, and you manage your content from a web-based dashboard accessed on a laptop, tablet or smartphone.
There's no need to completely replace your printed listings with digital signage – in fact, many of CrownTV's clients have their screens alongside illuminated paper listings. However, you show your clients how to make the most of the square footage they can afford, and you should do the same with your window displays. Here are a few reasons why your real estate window displays need digital signage.
One screen can display hundreds of listings
As a real estate firm, you should be making the most of your own real estate – your window real estate, that is. A window display can only fit so many printed listings, but a single digital signage screen can showcase hundreds of properties.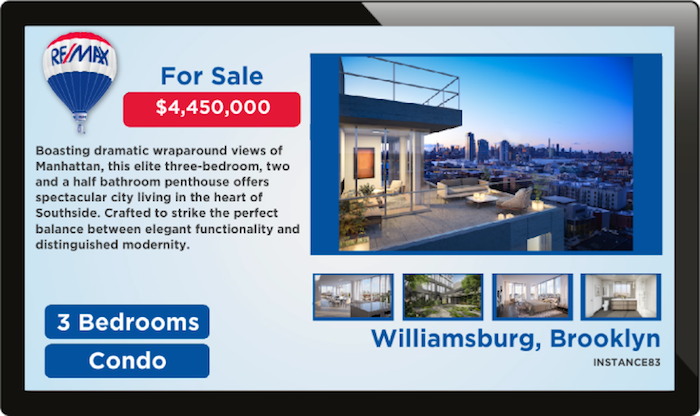 Using a slideshow function, you can rotate as many digital property listings (like the one above) or photos as you'd like. In addition to saving space in your window display, you'll save paper and printing costs.
CrownTV can even make you custom-branded templates, like the one for RE/MAX shown above, for your real estate firm. Just fill in the text and photos and they're ready to display. RE/MAX tells us their templates "have been eye-catching, informative and have gotten great reviews," as we wrote about in their case study. Contact us for more information!
It makes updating listings easy and fast
Real estate moves fast, meaning property listings need to be constantly updated. Updating them quickly to reflect any changes ensures your potential clients are seeing the most accurate and recent information.
With printed listings, it can be a challenge to keep them up-to-date. In most cases, it requires manually updating them or even taking them down and replacing them with new ones. That's a lot of paper, printer ink and time you could be using otherwise.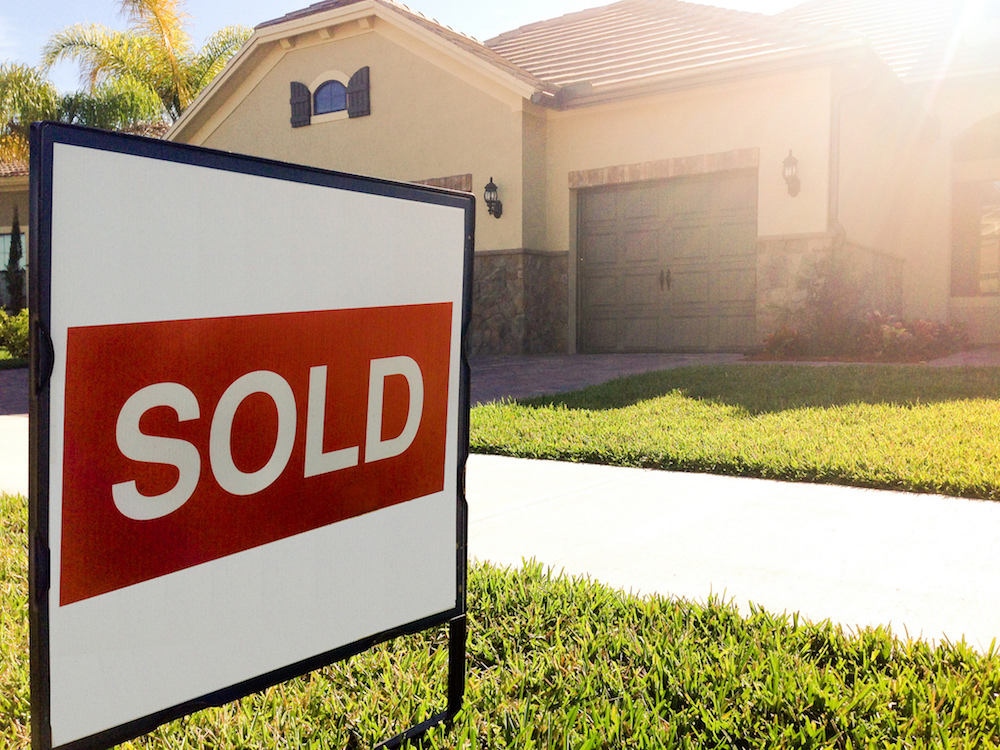 Digital signage is much faster and simpler to update, thanks to online content management. It involves nothing more than logging into your dashboard, making the changes to your content and hitting 'update'. You can easily add, remove or edit listings, allowing you to keep up with any changes in price, availability, photos, etc. What's more, you can do this remotely from an internet-connected device, even if you're nowhere near the screens.
You can display interactive content beyond listings
Real estate firms shouldn't limit themselves to displaying property listings, and they don't have to. Digital signage is used in many industries outside of real estate, meaning it can display other types of content that are interactive and dynamic.
Here are some ideas:
Social media – Digital signage allows you to display apps like the ones on your smartphone or tablet. One of those apps is social media, particularly Instagram or Twitter if you're using CrownTV's digital signage solution. Real estate firms can display their latest Instagram posts, or a feed of posts containing a hashtag of their choice. For example, you could tell clients to use a certain hashtag when they share photos of their new house, and then display a feed on your screen of all of those posts. It's a great way to show that you bring real satisfaction to real clients.
Promotions – Create graphics and use them to promote open houses or invite agents to list their home with your firm.
Introductions to your agents – Earn trust by displaying nice photos and background information on your real estate agents.
Video tours of properties for sale
RSS feeds on housing market news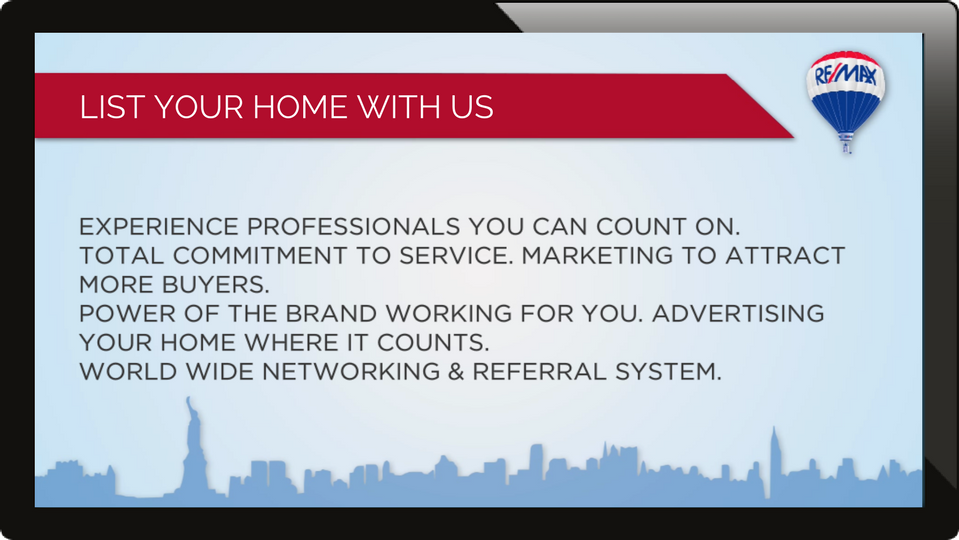 Slideshows of listings are great, but these ideas will make your window displays stand out even more.
It attracts more foot traffic
As we mentioned in the introduction, plenty of people still stop and look at real estate listings in person. In pedestrian cities like New York, where CrownTV is based, it's an important source of leads. Backlit paper listings are plenty attractive, but 63% of people report that digital signage attracts their attention. It keeps attention, too, because when you're displaying a slideshow of listings or other content, people are curious to keep looking and see what's coming up next on the screen.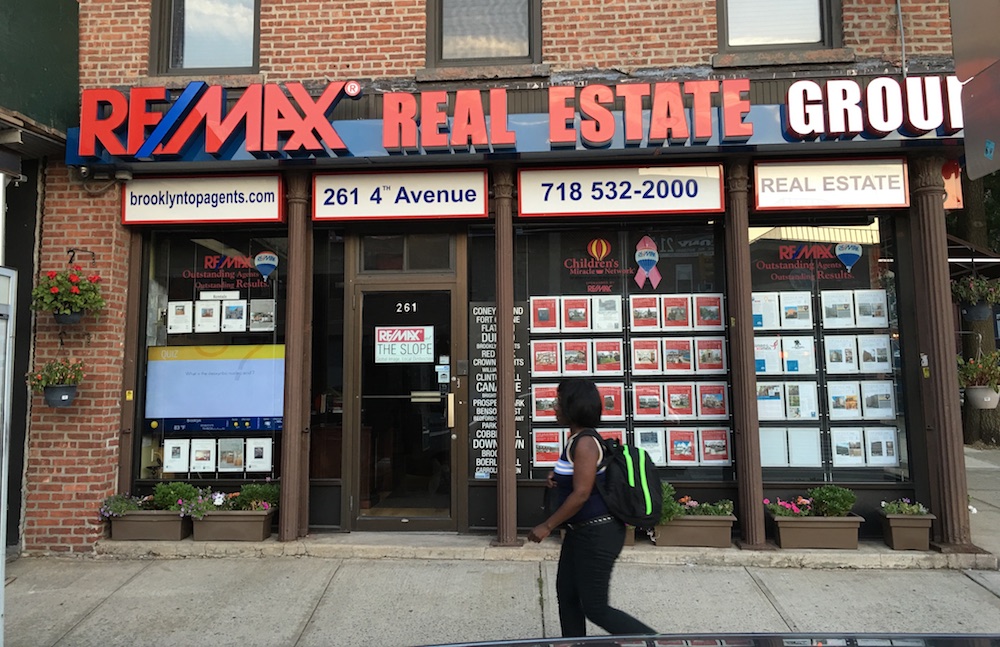 "Our displays have been eye-catching and informative. It shows that we do have 'Million Dollar Listings'. People love to stand and watch our displays," CrownTV client RE/MAX told us in a testimonial.
It gives your business a modern look
"Your first impression is the last impression," claims an old saying. Whether or not this is true, first impressions are undoubtedly important, and there's no better place to make one than in your window displays.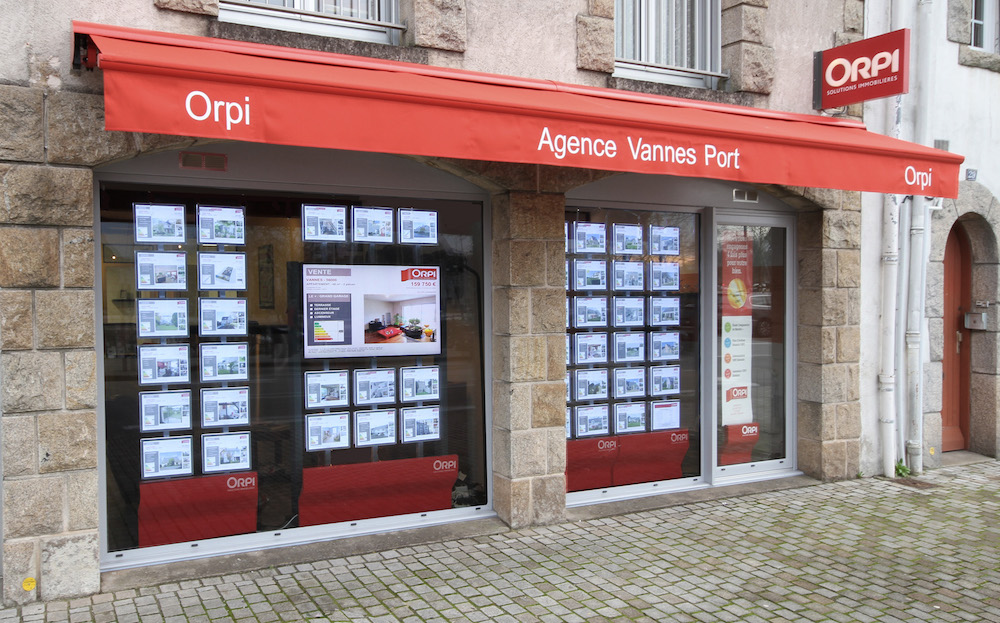 Digital signage helps you make a first impression that your firm is modern, tech-savvy and creative – three characteristics that anyone would look for in a real estate agent, too. If you choose the best screens, your window display will look sleek, clean and sophisticated.
Conclusion
Your window displays may look great right now, but why not make them look even better with digital screens? Not to mention you'll maximize your space, save time updating listings, drive more foot traffic and engage potential clients. The screens will also reflect well on your real estate firm itself, proving it to be modern, cunning and visionary. We certainly wouldn't choose a firm who doesn't embody those values.
If you'd like to try out our dashboard or discuss your specific needs, request a demo of CrownTV's digital signage solution.