Invicta Stores is the official retailer for Invicta Watch Group, who also owns TechnoMarine, Glycine, and S. Coifman. Originally founded in 1837, Invicta has steadily increased the number of store openings each month and now boasts over 50 retail locations within the United States, plus a growing amount of locations internationally.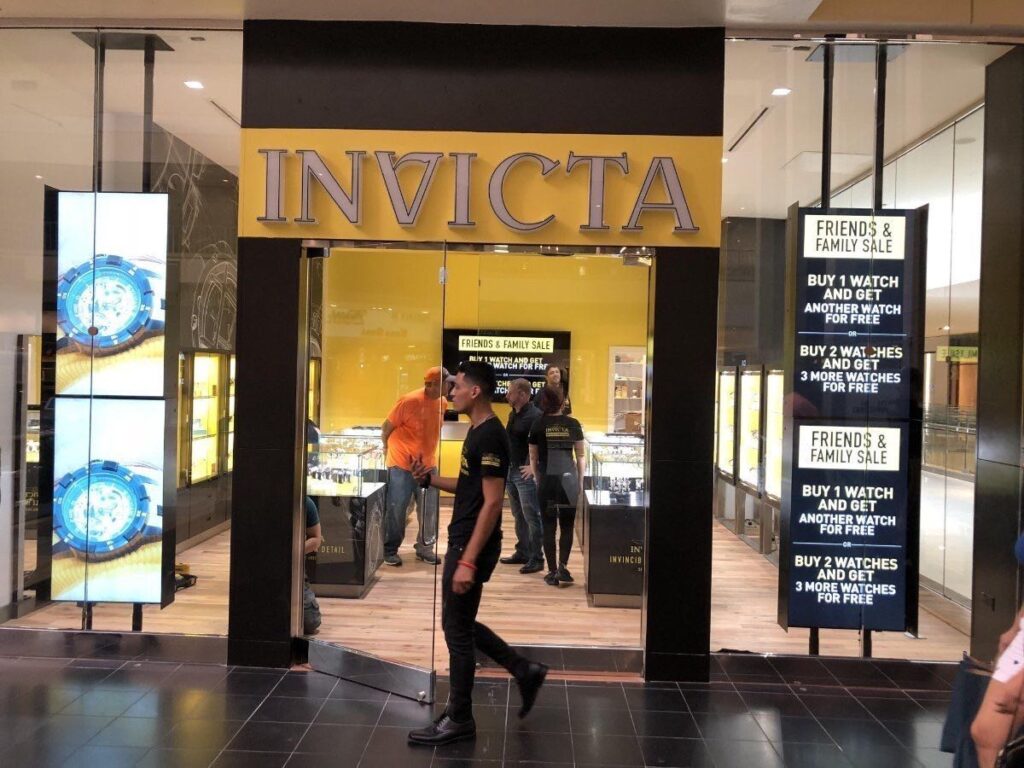 As a top contender in the luxury watch industry, it was important for Invicta to choose the right digital signage company that would replace their DIY (do-it-yourself) digital signage solution. Because of their numerous locations and upcoming campaigns, Invicta was intent on finding a software that would be both easy to deploy and set-up at all of their locations. In addition to turnkey deployment, Invicta was also searching for a solution that would help them effectively attract and engage customers, showcase promotions, and feature the ability to control all of their display screens all on one interface.
Goodbye DIY
It was not by fate that Invicta chose to partner with CrownTV for an all-inclusive digital signage solution. Prior to CrownTV, Invicta was churning out DIY solutions – specifically by using DVDs. You can imagine the headache the company was constantly faced with when having to manually source all of the content that needed to be formatted for the screen it would be displayed on, converted to a DVD, and then mailed out to the retail locations.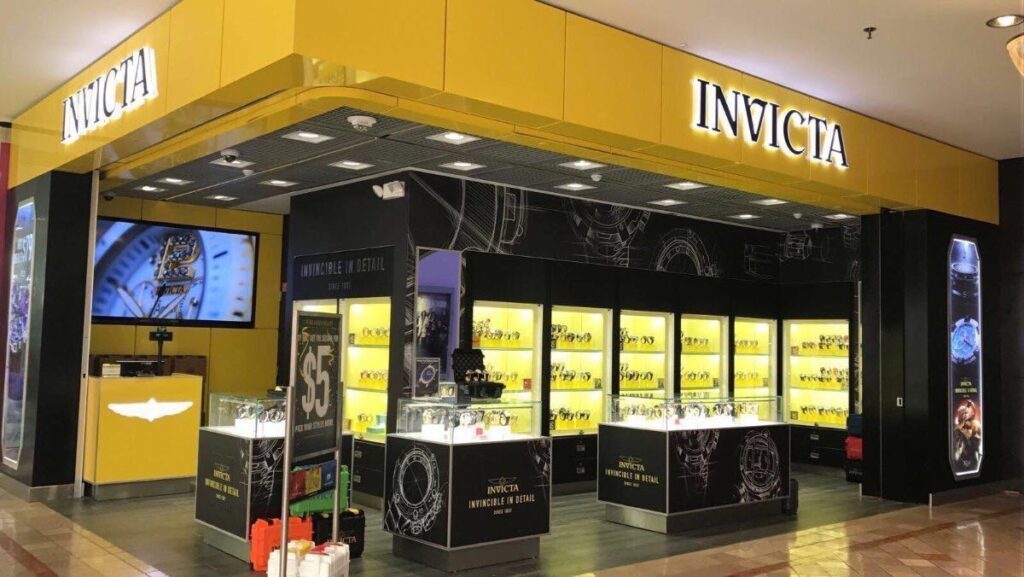 Senior Marketing Manager, Alex Rangel, was relieved when introduced to CrownTV's digital signage solution which features a wide variety of applications and customizable capabilities with an easy and scalable deployment. Unlike most digital signage companies, CrownTV manufactures their own hardware, as opposed to uploading an app using Google Chromecast, Amazon Fire Stick, etc., which gave Invicta the tools to create an exclusive digital experience for their customers and ensured long-term reliability.
Navigating complex communications
As an industry mogul, it's only natural for the complexity of communication in the organizational chart to increase. When Invicta transitioned to CrownTV's digital signage solution, it narrowed the communication pathway down to the corporate team which allowed for streamlining campaign rollouts and turnkey distribution.
The technology CrownTV provided Invicta during their deployment phase was imperative to developing their overall marketing strategy. Within just a few short weeks of the initial consultation, players were deployed to each retail location (including kiosks), and were ready for immediate use.

Creating and managing a digital experience
A crucial role of technology is crafting a retail experience. Customers are used to the online, digital experience, often involving plenty of screens. Invicta was able to mimic that experience in their stores with the help of modern retail software technology – digital signage.
Parallel to creating a digital experience is managing it. An important aspect when crafting and distributing content is the ability to set-up and control all of the screens by using one single dashboard. Thus having the possibility of assigning content groups to multi-dimensional screens such as a video wall, video blade, vertical screens, horizontal screens, as well as LED panel screens – all on one cloud dashboard. Invicta was able to strategically take advantage of the CrownTV dashboard by assigning campaign groups in real-time based on store location(s), screen orientation, and language. Another way Invicta fully utilized the capabilities of the cloud-based dashboard was by attributing screens in each location, including kiosks, by location and screen content. At their Times Square location, they used an LED panel screen to promote the brand's new line of watches in a big, bright way and paired it with a more subtle video blade displayed to the side in the window to showcase a sale. Each serves the same purpose, to attract attention, but do it in two different, dynamic ways.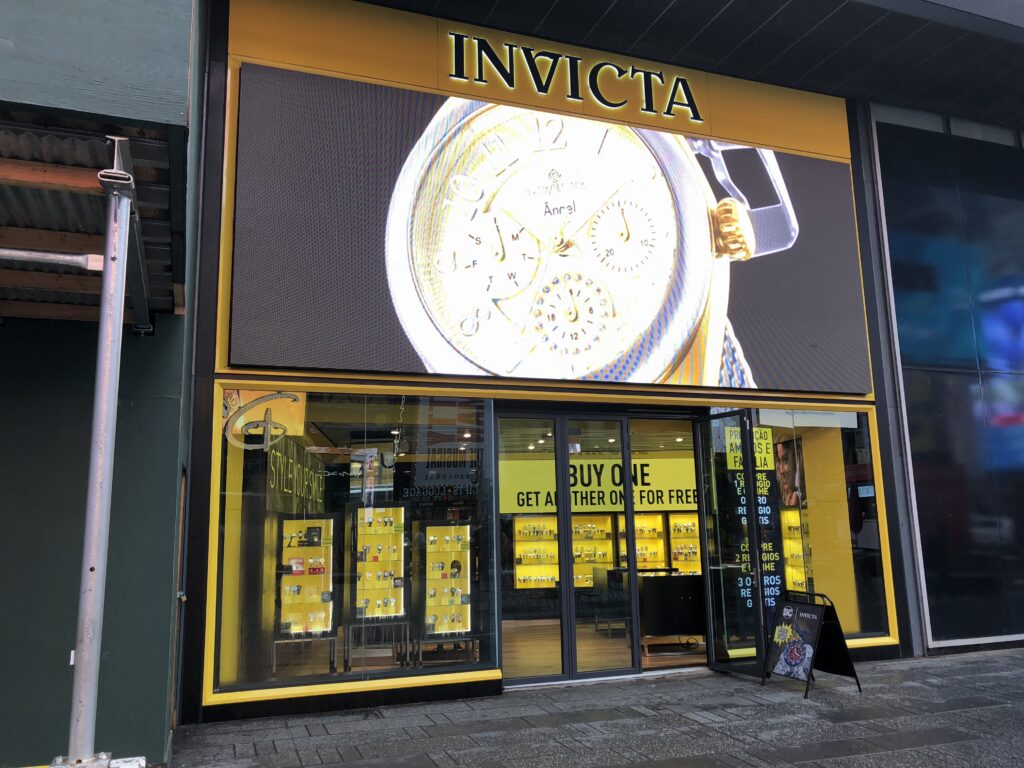 When CrownTV asked Rangel about how digital signage has transformed the experience, his answer was simple, "Digital signage allows us to easily and quickly update our promotions and showcase new products. With the click of one button, we were able to manage content, and also monitor the functioning of the installations in real time and address any problems as they arise."
Attraction
Invicta is no stranger to attracting that which is different. When searching for a digital alternative, they realized the importance of having a dynamic, vibrant, and modern solution.
Not everyone who walks into a store knows what they want to purchase, just like not every person who walks into a restaurant knows what they want to eat. To give them a little help, Invicta got visual. Using the power of persuasion, Invicta took advantage of CrownTV's solution and effectively showcased one of their newest product releases, thus increasing the product release sales margin.
While printed signage can be used for the same purpose as well, it cannot beat the efficiency and dynamics that digital signage can offer. For Invicta, going fully digital enhanced the customer experience by providing interactive and dynamic imagery tailored specifically for the needs of both the customer and the brand.   

Success
In all, CrownTV was able to enhance the digital dynamic and efficiency of Invicta's retail and kiosk locations by providing them with a digital signage solution that allowed them to take control of their branding and provide an effective customer experience. Take it from a top leader in the industry – sourcing a professional digital solution is the best route to take for any modern retail store who wants to stand out from the crowd.
Download this case study directly to your computer or mobile device.
Want to learn more? Let's talk about how digital signage can transform the customer experience, look and feel of your retail store – or other business. Request a demo of CrownTV's digital signage solution today.