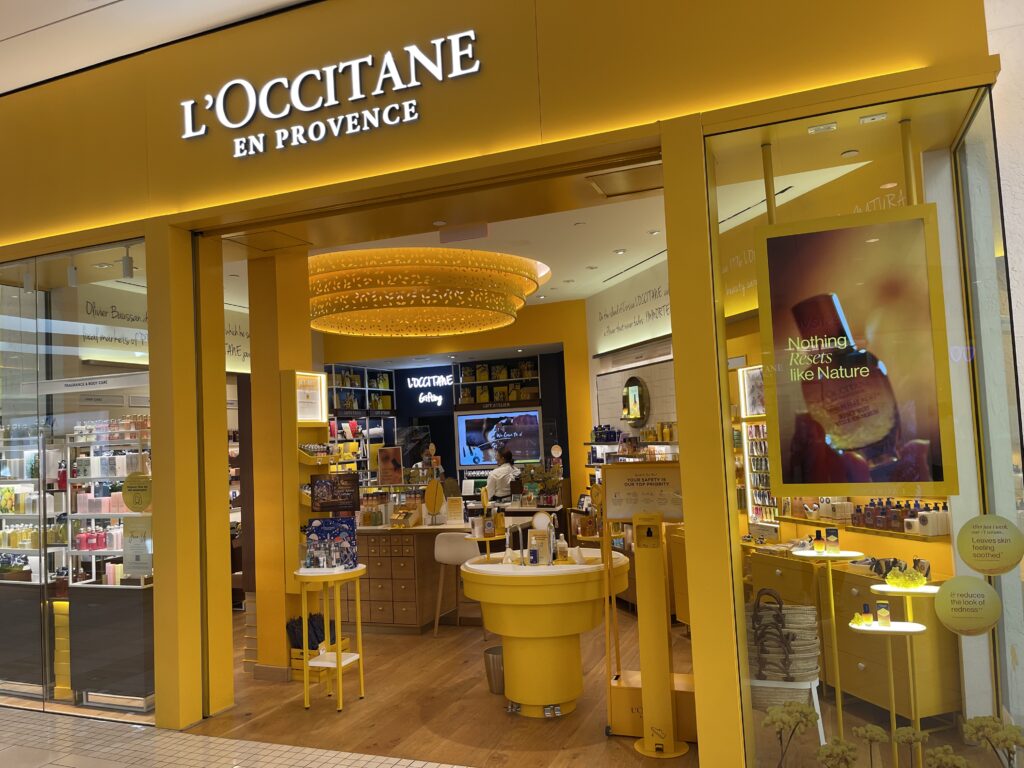 Nothing says luxury like L'Occitane en Provence, the French retailer of body, face, and hair products that graces five-star hotels, high-end shopping destinations, and blissful spas and salons all over the world. With some 150 locations in the United States and Canada and growing, enhancing the in-store experience is vital to L'Occitane's bottom line. And the brand's previous digital signage solution wasn't cutting it.
Here's how CrownTV stepped in and completely transformed the way L'Occitane uses digital signage, from the product itself to the service behind it. It was a switch that benefitted the brand as well as its thousands of employees and customers.
The problem
L'Occitane needed a whole new digital signage system to replace a solution that caused many issues. Videos often would not play, and the number of support tickets sent to their IT team on a daily basis was overwhelming. Some screens were also damaged and needed replacing. Store managers would turn off the digital signage when it wasn't working, meaning L'Occitane was losing valuable opportunities to market products to customers. Their screens had plenty of potential, but L'Occitane needed a company like CrownTV to help unlock that potential and utilize it to the fullest.
The company needed a solution that was reliable, first and foremost. Security was another major concern, as L'Occitane had specific requirements for their network. To top it all off, the project needed to be completed over a very short period of time, with many moving pieces across numerous stores.
L'Occitane wanted to work with a digital signage provider that could organize and deploy technicians to install the solution in its many stores. They also wanted to have a platform allowing them to centrally control and upload content, and one that was robust and would allow them to scale their digital signage in a secure manner.
The solution
CrownTV was able to meet all of L'Occitane's needs – and so much more.
To start, CrownTV specialists completed a full survey of each store with the corresponding store manager, finding out what each location's issues and needs were. CrownTV then sourced the optimal displays for the necessary configurations: video walls, store windows, etc. Next, CrownTV coordinated a rollout of technicians to install the digital signage in each store, working with store managers directly to find the best times to complete the job. The technicians documented everything and created detailed reports of the work performed to send to the L'Occitane team.
Despite a complex network setup, CrownTV was able to make its digital signage solution work in all of L'Occitane's 150 stores in North America, hand-in-hand with the L'Occitane team. CrownTV was also able to address L'Occitane's security concerns, working with their network configuration to ensure all devices could acquire a proper internet connection while maintaining the network architecture.
The details
CrownTV installed digital signage in numerous configurations, demonstrating the versatility of its solution and ability to cater to the needs of any business. Not to mention, the same CrownTV media player can power a single screen or a multi-screen video wall!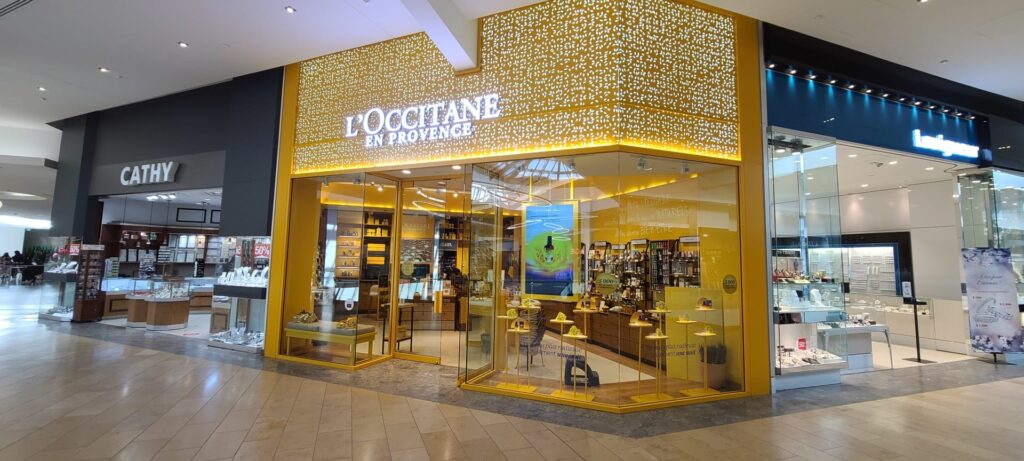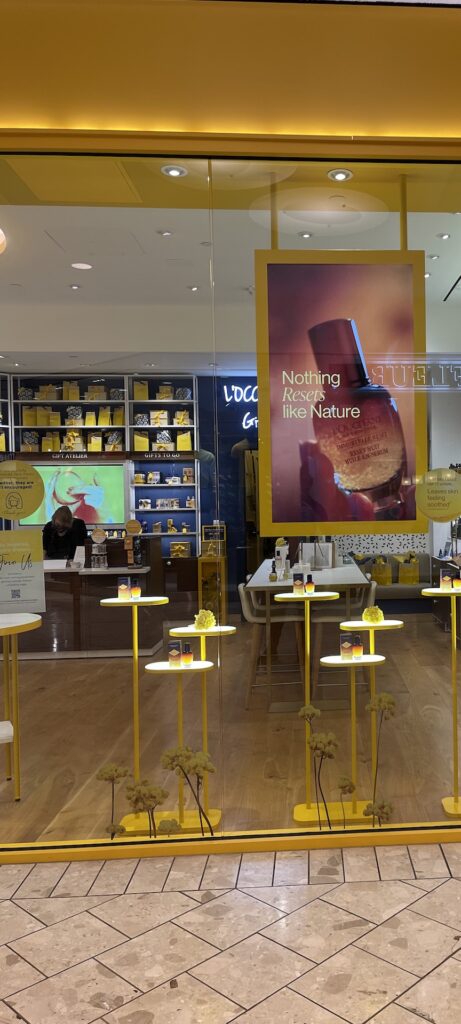 L'Occitane wanted to display "videos that showcase our brand and values," according to Thuy Lan Le Viet, Senior Director of Business Transformation and Retail Operations at L'OCCITANE Group. "We also like to add movement either in our windows or inside our boutiques."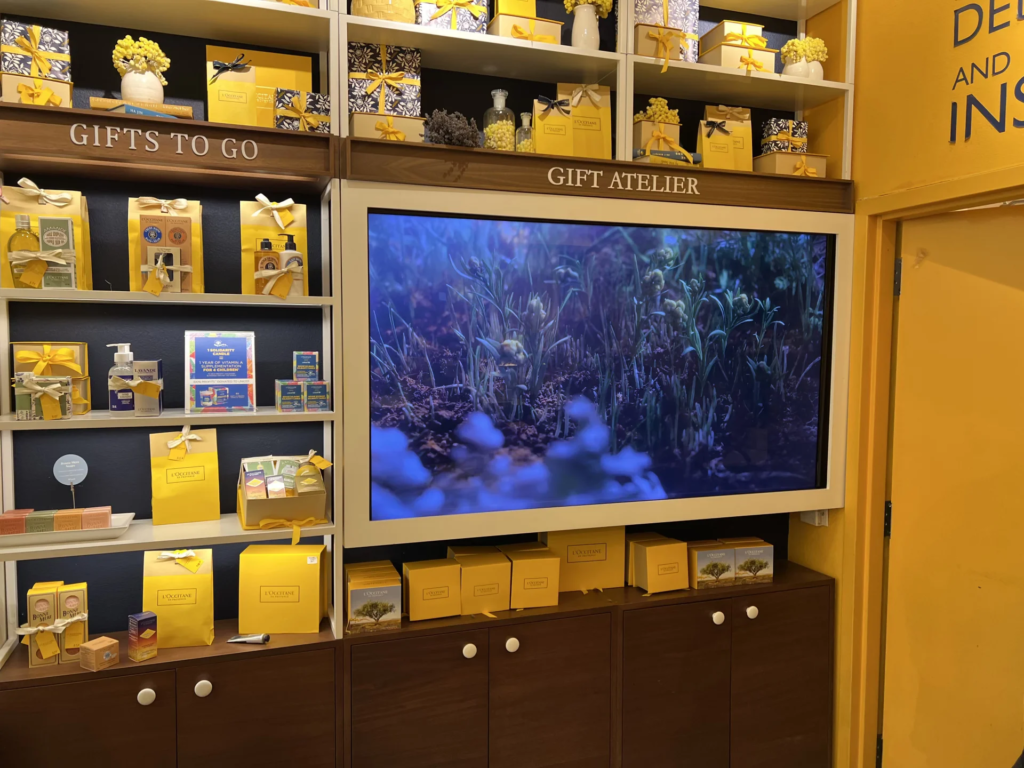 Some of the video walls utilize a 3×3 vertical setup, while others use a 2×2 horizontal setup. Singular screens were also set up both vertically and horizontally. In the back end on the dashboard, various playlists of content were created to match the type of screen, the store, or the location within the store – for example, vertical or horizontal, video wall or single screen, window display or cash register area, regular store or outlet store. In other words, the playlists cater to different needs depending on where the customer is in the store.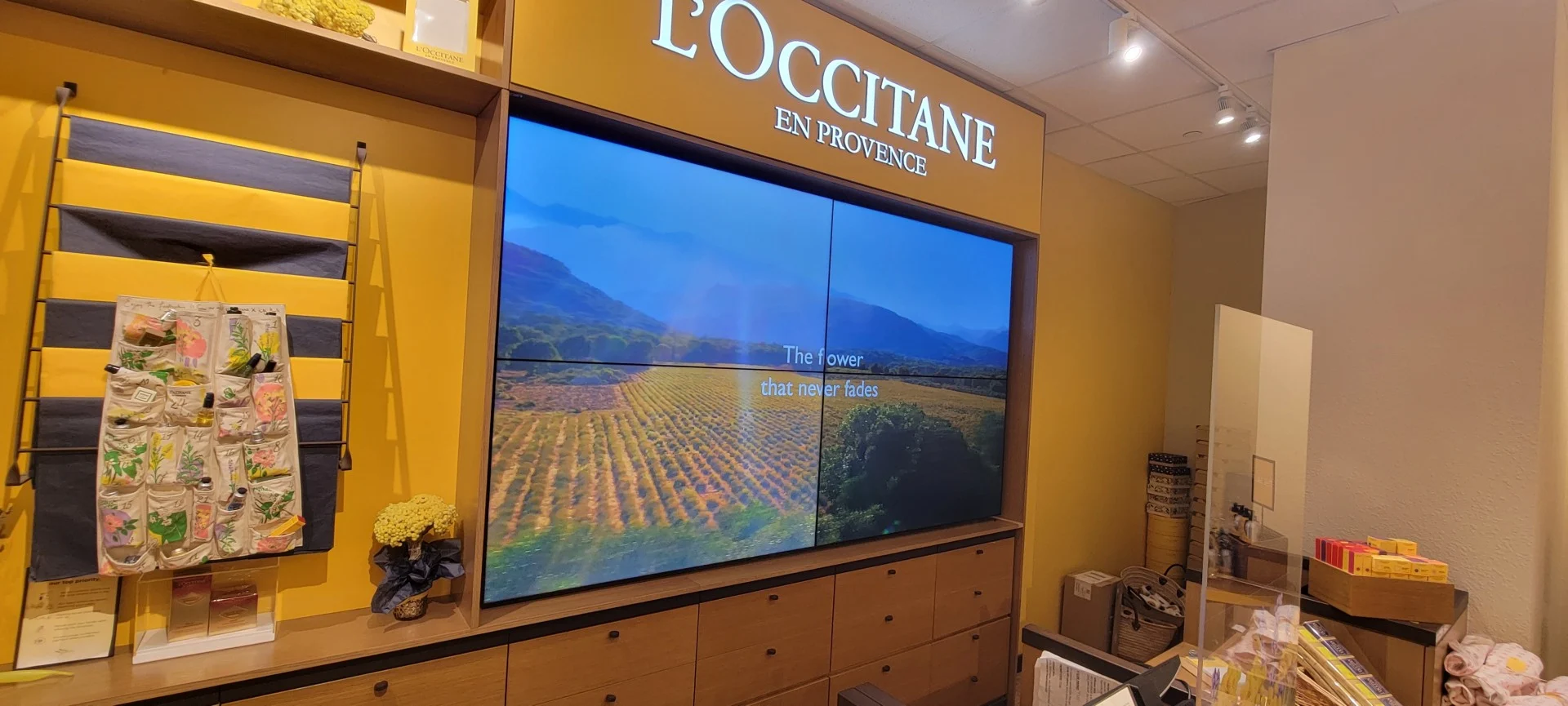 The dashboard also allows L'Occitane to assign different levels of access and permissions to users, and group them into teams. For instance, L'Occitane's IT team has certain access and permissions relating to functionality, while the marketing team has the full ability to upload, manage and schedule content. CrownTV's nationwide technicians have only the ability to see if a media player is connected, and to take a screenshot of the content currently playing to assess if it's displaying properly.
Moving forward, CrownTV has taken control of everything related to digital signage for L'Occitane, from broken screen replacements to technical support. Local L'Occitane store managers can alert CrownTV's support team of any issues via a ticketing system, with no need for L'Occitane to bother its own IT team for these purposes. CrownTV provides local on-site maintenance technicians as well.
Thuy Lan Le Viet described the partnership with CrownTV as an "excellent and friendly experience, from the planning to communication and deployment. We are very happy with the outcome and how we have worked together."
Jacob Layani, CEO of CrownTV, is thrilled with the partnership as well. "We see so many retail brands with brick-and-mortar stores investing tremendous money in high-quality displays, only to show a frozen image, blank screen, or little more than a logo," he says. "They come to us and say 'Here are all of our stores. Get it to work.' And we're good at strategizing, at overhauling their digital signage and getting it to run smoothly. That's why they need a partner like CrownTV."
What's next?
Due to the success of the project, CrownTV's partnership with L'Occitane will soon expand to France, Luxembourg, London, Germany, and Belgium.
L'Occitane has even begun using the solution for internal communications in its New York office, as well as in the lobby for visitors.
Look out for L'Occitane's dazzling displays in its stores across the United States and Canada, and soon, the UK and Europe! But chances are, you won't need to keep your eyes peeled – the attractive stores will effortlessly catch your attention.