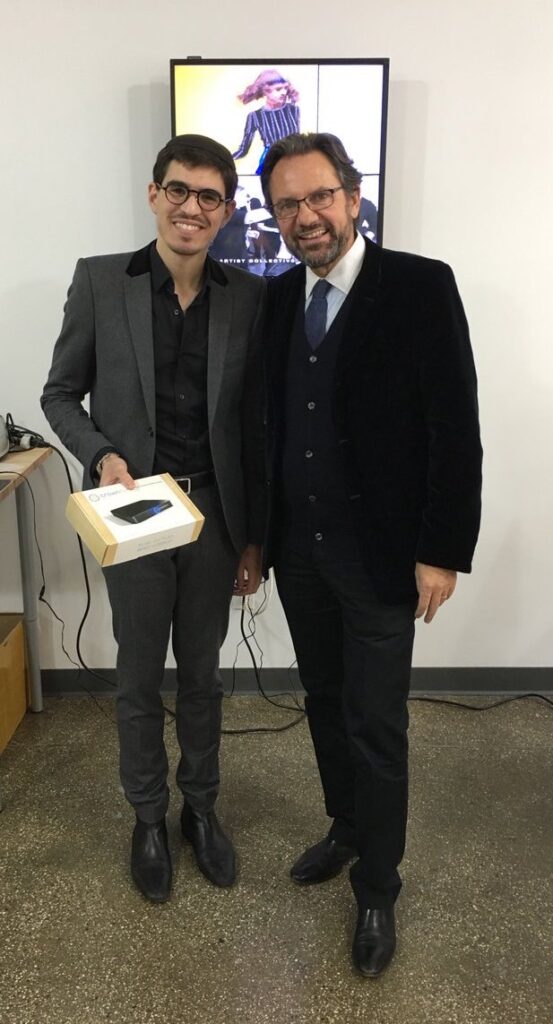 New York, NY, February 21, 2017 (crowntv-us.com) – Frédéric Lefebvre, French National Assembly member and candidate in France's 2017 presidential primary election, paid a visit to the CrownTV office in Brooklyn, NY to discuss technology, innovation and the French-American business landscape.
As Deputy of the French of North America, Lefebvre serves as an advocate for French-American businesses like CrownTV, whose parent company Crown Heights Communication is based in Lyon, France.
Lefebvre had earlier come across a profile of CrownTV, a visual communications technology company specializing in digital signage, in French Morning: New York and saw an opportunity to fulfill his duties as Deputy. He invited CrownTV CEO Jacob Layani to a holiday event at the French Consulate in New York City, where the two agreed to later have an in-person meeting at CrownTV's office in Brooklyn.
Layani gave Lefebvre an in-office demo of CrownTV's digital signage solution, with Lefebvre being impressed by its scalability, high level of user control and versatility in usages. He sees the technology being especially useful for businesses or nonprofits with a multi-national presence, having the need to manage content on screens located all over the world. The two also discussed the future of digital signage, where Lefebvre sees much room for growth. He believes eventually retailers will integrate mobile purchasing, allowing shoppers to use their smartphones to instantly purchase items they see on a digital signage display.
Lefebvre also enjoyed a tour of Industry City, the 35-acre co-working facility in Brooklyn's Sunset Park neighborhood that is home to CrownTV's North American headquarters. Industry City, which calls itself an "innovation ecosystem", houses over 350 tenants and growing, including Design Within Reach, the Brooklyn Nets, Time Inc. and West Elm. The facility boasts amenities like a cafeteria with rotating vendors, an athletic club, a yoga studio and a 10,000-square-foot communal space.
"I can feel the energy here," he remarked.
Amazing place in #Brooklyn ?? #startup

Visite d' @IndustryCity avec @Yaacovla de @ItsCrownTV #FrenchTech

???? pic.twitter.com/GQ1XHLFMIR

— Frédéric Lefebvre (@FLefebvre_RF) February 13, 2017
Lefebvre was also impressed by CrownTV's success marketing its digital signage technology, which is developed and manufactured in France, to a new audience in the United States. As a visionary and advocate for French people everywhere, Lefebvre believes French innovation should not be limited to the country's borders. He embraces businesses like CrownTV who are furthering the French presence and influence in the American technology scene.
Frédéric Lefebvre and CrownTV look forward to developing their professional relationship, helping each other reach their shared goal of stimulating French innovation and creativity across North America.
---
CrownTV is a visual communications technology company giving businesses the power to broadcast interactive, dynamic, customized content on digital displays. Our digital signage solutions enable businesses to attract attention, engage audiences, increase their bottom line, build brand awareness and enhance internal communications. For more information, go to crowntv-us.com/request-demo.