In a world where nearly two-thirds of us are visual learners, visual communications have always been important. They're currently having a moment among businesses, however, with infographics, video and other visual content becoming increasingly popular as promotional and informational tools. In a 2016 industry report by Social Media Examiner, 37% of marketers said visual content was the most important form of content for their business, second to blogging.
As effective as visual communications are, no one should be using them just for the sake of using them. Many forms of them exist, and it's important to choose them with reasoning and objectives in mind. Here are nine ways to incorporate more visual communications into your business, both internally and externally.
1. Infographics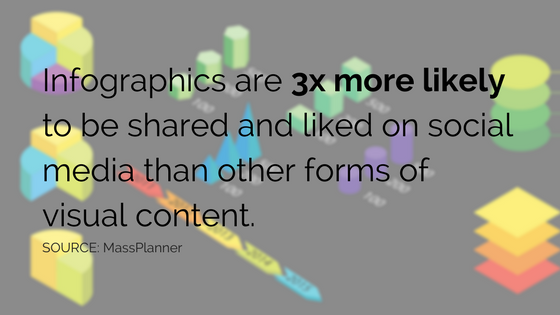 You can find an infographic on almost any topic these days. There are infographics about infographics, as well as ones on how to feng shui your home, Facebook psychology or how books are made. CrownTV has produced a few, such as How to Choose Digital Signage Screens or 5 Internal Communications Trends for 2017.
Despite a huge increase in Google searches for the term "infographic" since 2010, designer Francesco Franchi believes infographics are more than just a fad. He points out something he calls "infographic thinking", an immersive, interactive language of design that lets viewers interpret information for themselves. They're attractive but also encourage critical thought, he emphasizes.
Design theory aside, infographics present information in a way that's entertaining, concise and easy-to-consume. If you don't have a graphic designer to help you create one, check out Canva or Piktochart, which provide free templates and a simple drag-and-drop interface.
2. GIFs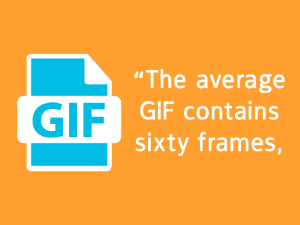 If you've used the internet in any capacity over the last decade, you've probably seen a GIF (pronounced "jiff"). GIF stands for Graphics Interchange Format, an image format that moves in a loop, like the one above. In October 2016, leading GIF-sharing site Giphy announced it had reached 100 million daily active users, exchanging over 1 billion GIFs per day.
Although primarily seen as casual conversation enhancers, GIFs have a place in business as well. Marketers love them for their low cost, mobile-friendliness, brevity, storytelling ability and compatibility with social media platforms. They're especially popular in email marketing, with top brands like Dell seeing increased opens, clicks and conversions from GIF-centric campaigns. Internal communications tools like Slack also allow users to send GIFs to one another within the app.
Don't be afraid to use comical, lighthearted GIFs in your business campaigns to make them more entertaining and edgy. More serious, straightforward GIFs are great for showcasing products and services, or other informational purposes.
3. Newsletters (Internal & External)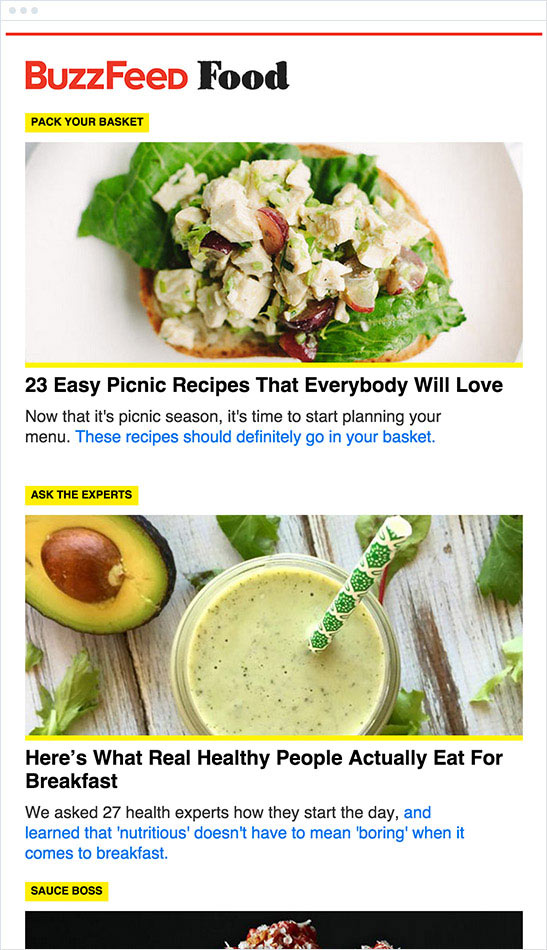 Like many other forms of content, newsletters have become highly visual. Read any recent list of newsletter tips and you're likely to see "use visuals" (including GIFs!). In fact, many of today's successful newsletters consist of little more than images and headlines.
There are right and wrong ways to go about using images in your newsletters, however, and it's a hotly debated topic. The widely agreed-upon best practices seem to be the following:
Aim for a good overall balance of text and images. Email marketers call this the text-to-image ratio. MailChimp recommends an 80:20 ratio (80% text, 20% visuals), while others recommend 70:30. Do what looks and feels best for your particular newsletter.
Don't make images too large, in terms of both file size and pixel dimensions. No more than 600px wide and 1MB in size is a good standard.
Don't send a newsletter that is one giant image, or all image files, and nothing else. It will go to the receiver's spam folder.
Don't forget about the value of internal newsletters for connecting your team! Follow the same best practices as you would for an external newsletter.
4. Quote Graphics
Quotes may be made up of words, but turning them into visuals can make them even more powerful.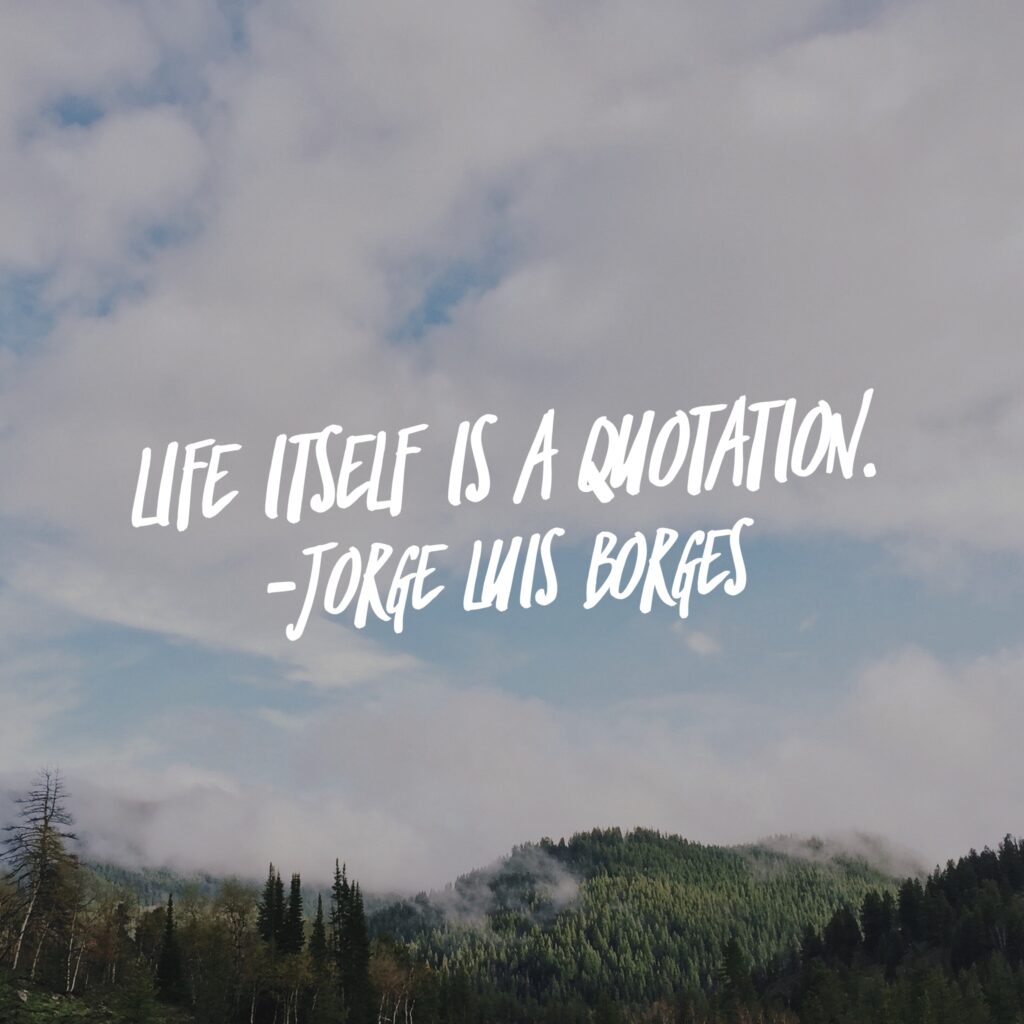 Quote graphics are a hit on social media, as they're relatable and easy to share. You can also incorporate them into your blog posts, website or newsletters.
Internally, use them to motivate your team. Find entrepreneurial or inspirational quotes to turn into graphics, then share them with your team. Your internal newsletter is a great opportunity to do so. Startup Vitamins also makes great products containing motivational quotes and phrases to keep your team on their toes.
To find quotes, regular old Google is a good start, but check out Goodreads and BrainyQuote. Both sites allow you to search quotes, allowing you to find ones relevant to your business.
To create quote graphics, Canva is the way to go — browse their templates if you need a place to start. Another useful tool is Word Swag, a smartphone app that allow you to create amazing quote graphics in just minutes.
5. Video
A 2014 article in Forbes called video "the premier communications tool of today". The following stats back up this notion:
Including video on a landing page can increase conversion rates by 80%
Emails that contain video see a 200-300% increase in click-through rate
64% of users are more likely to buy a product online after watching a video about it
87% of online marketers use video content
80% of users recall a video ad they saw in the last 30 days
"Since video appeals to both sight and sound in a quick burst of stimulation, it captures the attention of the viewer immediately and makes a lasting impression," wrote Richard Tiland in the aforementioned Forbes article. "The messaging is concise and easy to understand, reaching people of all demographics."
Be sure to use video on your website, social media pages, blogs and the like, but don't forget about internal communications. As pointed out by internal communications company Enterprise Strategies in our interview with them, business leaders like video because it's authentic, intimate and quick to create.
6. Social Media
Social media would be vapid without visuals. There are even entire social media platforms, like Instagram and Pinterest, that are almost completely image-centric. As Socially Sorted points out, somewhere in social media's history, we "made the shift from Tell to Show."
#digitalsignage displays can't defy gravity. Welcome to the world of digital signage mounts. How to choose them: https://t.co/KcMEbEcRU9 pic.twitter.com/6uiXdaXzwt

— CrownTV (@ItsCrownTV) May 31, 2017
Tweets with images receive 150% more retweets than those without images. Facebook posts with images see 2.3 times more engagement than those without images. You get the picture: use visuals in your social media.
7. KPI Dashboards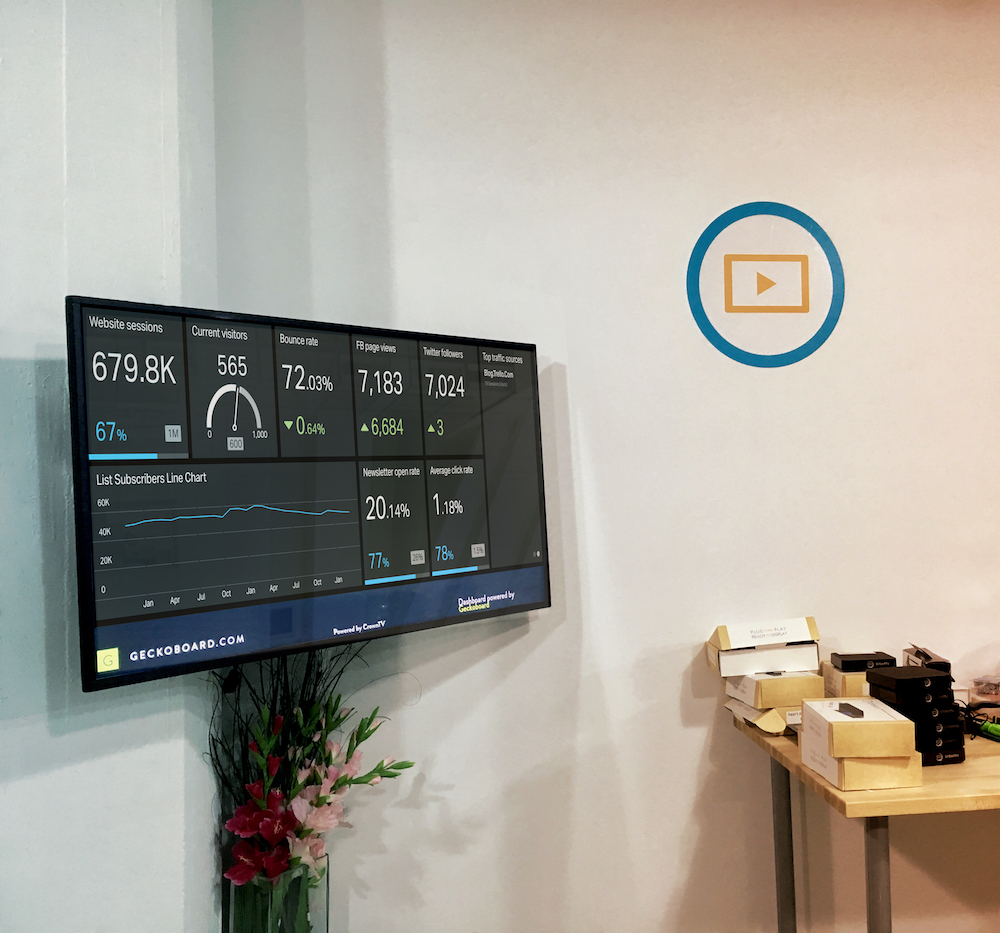 It can be difficult to derive meaning from data when it's represented as just numbers and symbols. Data visualization solves this problem by making it easier to understand and showing patterns. One of the best forms of data visualization is a KPI dashboard.
KPI stands for Key Performance Indicator, a measurable value that demonstrates how a business is performing. A KPI dashboard is a visual, real-time overview of a chosen set of KPIs. It allows businesses to track the data they want to track, all in one place.
KPI dashboards are an effective internal communications tool. They allow your team to visualize their goals, performance, progress and victories. It's rewarding to see good numbers up on the dashboard, and it holds everyone accountable for their work. It also reminds your team of the importance of data and can foster a data-centric culture.
8. Emoji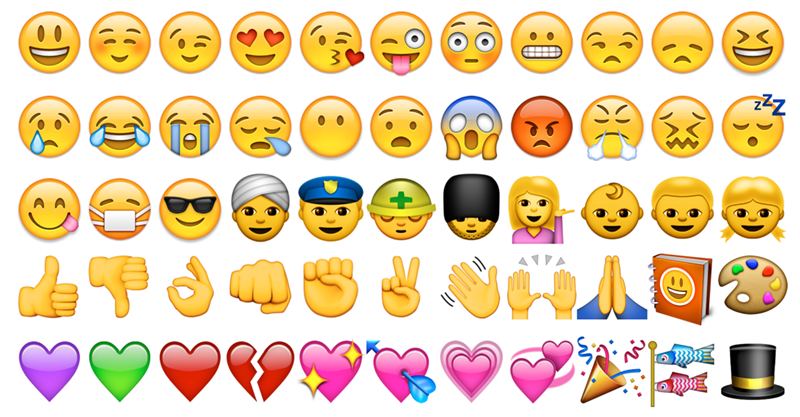 Do you speak Emoji? Although they're tiny, emoji can have a big impact and jazz up otherwise ordinary text. There's a time and a place to use them, but don't be afraid to take a risk and see how it goes. They look much better on mobile than they do on a laptop, so keep that in mind when choosing how to use them.
Email and social media are the most appropriate platforms for emoji, because they're often viewed on mobile or tablet devices. They're becoming increasingly popular in email subject lines to capture attention and increase open rates. In fact, according to a report by Experian, 56% of brands who used emoji in their email subject lines saw higher unique open rates.
9. Digital Signage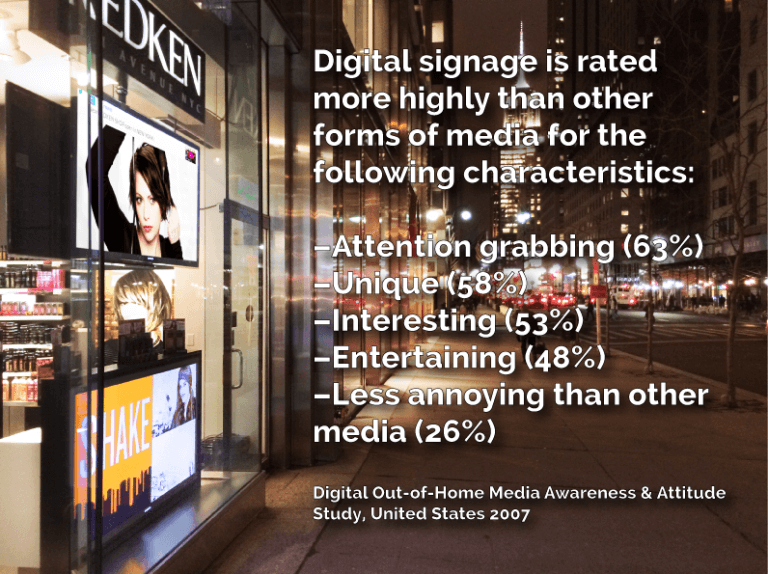 So you've followed some of the ideas above — now how do you display them? Digital signage.
We may be a bit biased, but digital signage is a powerful visual communications tool. It allows you to display almost all of the aforementioned visuals in a way that's dynamic, attractive and highly customized. It does more than just communicate visually — it creates experiences. In our book, there's no better way to appeal to the visual sense.
Start taking your visual communications to the next level. Request a demo and *see* it for yourself.