Digital signage is everywhere, but that doesn't mean we all know what it really is. If someone asked you to define the term, could you? Chances are you've come across it countless times, perhaps even on a daily basis, but never recognized it as being "digital signage". So what is it? (Click to jump)
What is digital signage?
Common uses and applications
What goes into digital signage?
Digital Signage Software / Content Management System (CMS)
Where the line gets blurred
Conclusion: Why it's more than just signage
What is digital signage?
Digital signage is a form of signage in which content is displayed on digital screens. It occurs outside of the home with the intent to inform and persuade audiences.
A "digital screen" or "digital display" may be a TV, monitor, tablet or projector. The size and scale of the display can range from small tablets to video walls to giant jumbotrons seen at sports stadiums.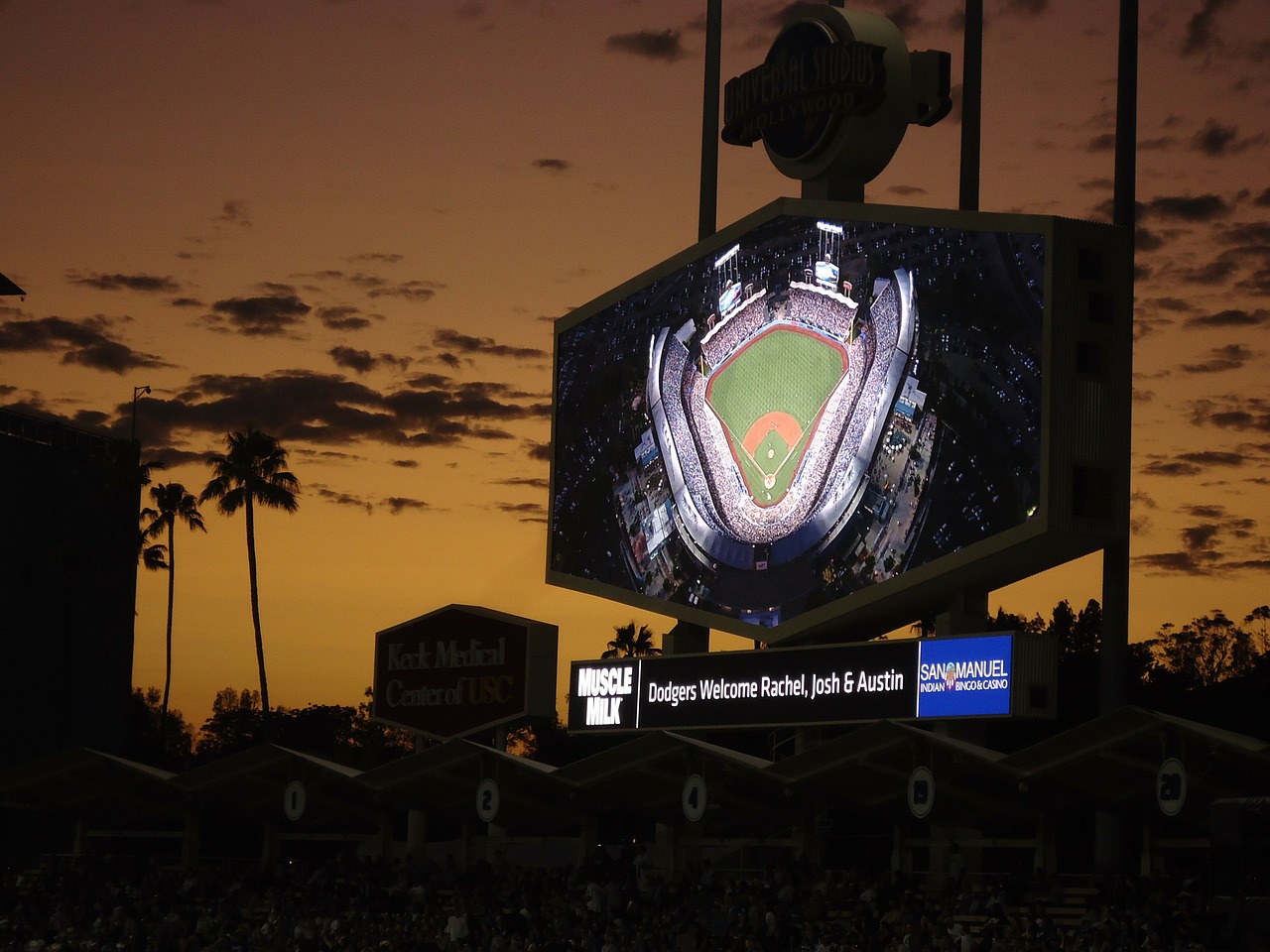 Other terms for digital signage include dynamic signage, electronic signage and Digital-Out-of-Home (DOOH).
It has a diverse range of uses, which will help you recall where you've seen it before.
Common uses and applications
Digital signage is used in various industries, within both the public and private sector. Those industries include:
Retail
Transportation
Government
Banking
Education
Real estate
Offices
Salons and spas
Healthcare
Hospitality
Restaurants
Events
Auto dealerships
Fitness centers
According to Grand View Research, shares of the North American digital signage market (past, present and projected future) by industry break down as follows: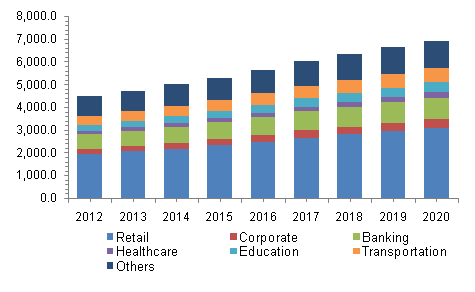 As we mentioned, digital signage is characterized by the intent to inform and persuade audiences. More specifically, this information and persuasion may take the form of:
News, announcements and reminders
Wayfinding (maps and directories)
Advertising and promotions
Product information
Branding
Social media
Weather
Trivia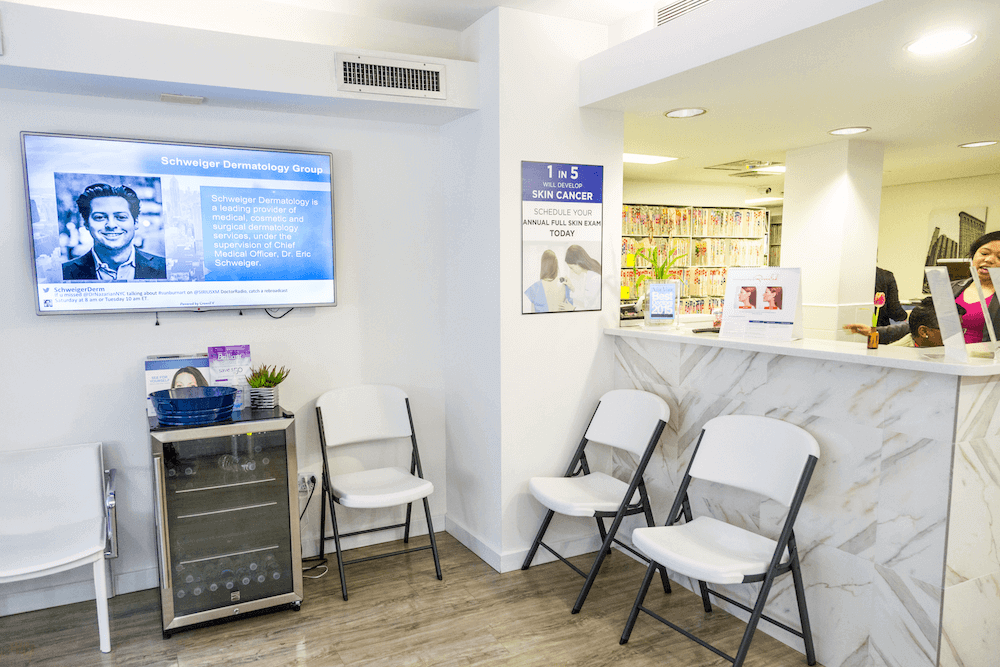 Content may consist of graphics, text and/or video, with or without sound. It may also be static or dynamic.
Digital signage may also be used to entertain audiences, usually with the intention of reducing perceived wait times. However, if the sole and/or primary intention is to entertain, it wouldn't make much sense to call it digital signage. If that were the case, a TV playing a movie in a waiting room would be considered digital signage.
In addition to being functional, digital signs add aesthetic value to any establishment. But as with entertainment, this is more of an added benefit and not the primary purpose of most digital signage.
What goes into digital signage?
The term digital signage doesn't refer to just one thing. As we wrote in this blog and illustrated in the infographic below, there are five components to a complete digital signage solution.

The third component, digital signage software or content management software (CMS), is not necessary but a crucial component that we highly recommend.
Digital Signage Software / Content Management System (CMS)
Digital signage differs from printed in that it can display a wider range of both static and dynamic content. There are a few ways to manage that content, one of them being through digital signage software or a content management system (CMS).
Digital signage software is the "back end" where you upload, configure and manage the content you'd like to display on your screens. It usually consists of a dashboard that can be accessed online from a computer, smartphone or tablet, allowing for remote content management. Data may be stored on "the cloud" – a fancy way of saying it's stored on the web – leading to the terms "cloud-based digital signage software" or "cloud-based dashboard".
Digital signage software makes your solution smarter and easier to manage. You can schedule content ahead of time, group your displays, configure apps to broadcast, see real-time connection statuses and more. It's what enables you to use your digital signage to its fullest potential.
Where the line gets blurred
What distinguishes digital signage from printed signage is obviously the digital part. But what about differentiating digital signage from other technologies?
In this day and age, because so many elements of our daily lives are digitized, it can be difficult to draw the line where digital signage ends and other forms of technology begin. With smartphones, tablets, smart TVs, smartwatches and basically anything with the word "smart" in front of it, one may think all of it fits the definition of digital signage. But does it?
Firstly, it's important to distinguish which technologies are built with consumers in mind versus businesses. Of course consumers can use business technologies and vice versa, but the functionality and utility won't be ideal.
Signage, when used with the purpose to inform and persuade, is meant primarily for businesses and organizations. This is the case whether the signage is printed or digital. Picture a digital signage unit operating in someone's home for personal use. In such a case, it's more like a smart TV than digital signage. But picture it operating in a business or organizational setting, and the term digital signage seems much more appropriate.
When asking yourself "what is digital signage?", think about the purpose of the technology. The line should become much clearer.
Conclusion: Why it's more than just signage
Hopefully you now have a better understanding of what is, and isn't, digital signage. But it's also important to see it as something beyond another form of signage. Just like your smartphone isn't just a phone, digital signage isn't just signage. It's an interactive, multimedia, engaging technology that can grow your business and transform the customer experience. It informs and persuades, first and foremost, but is by no means limited to these purposes. Can a printed sign do that?
Now that you know what digital signage is, how about giving a try for yourself? Request a demo of our solution today.