OUR INTUITIVE DASHBOARD GIVES YOU FULL CONTROL
OVER ALL ASPECTS OF YOUR DIGITAL SIGNAGE, FROM WHEREVER YOU ARE
YOUR SIGNAGE, YOUR WAY
Your CrownTV dashboard allows you to manage all of your displays from one place.
Remotely control your content, scheduling, settings, user accounts and more.
Access it from anywhere using your computer, smartphone or tablet.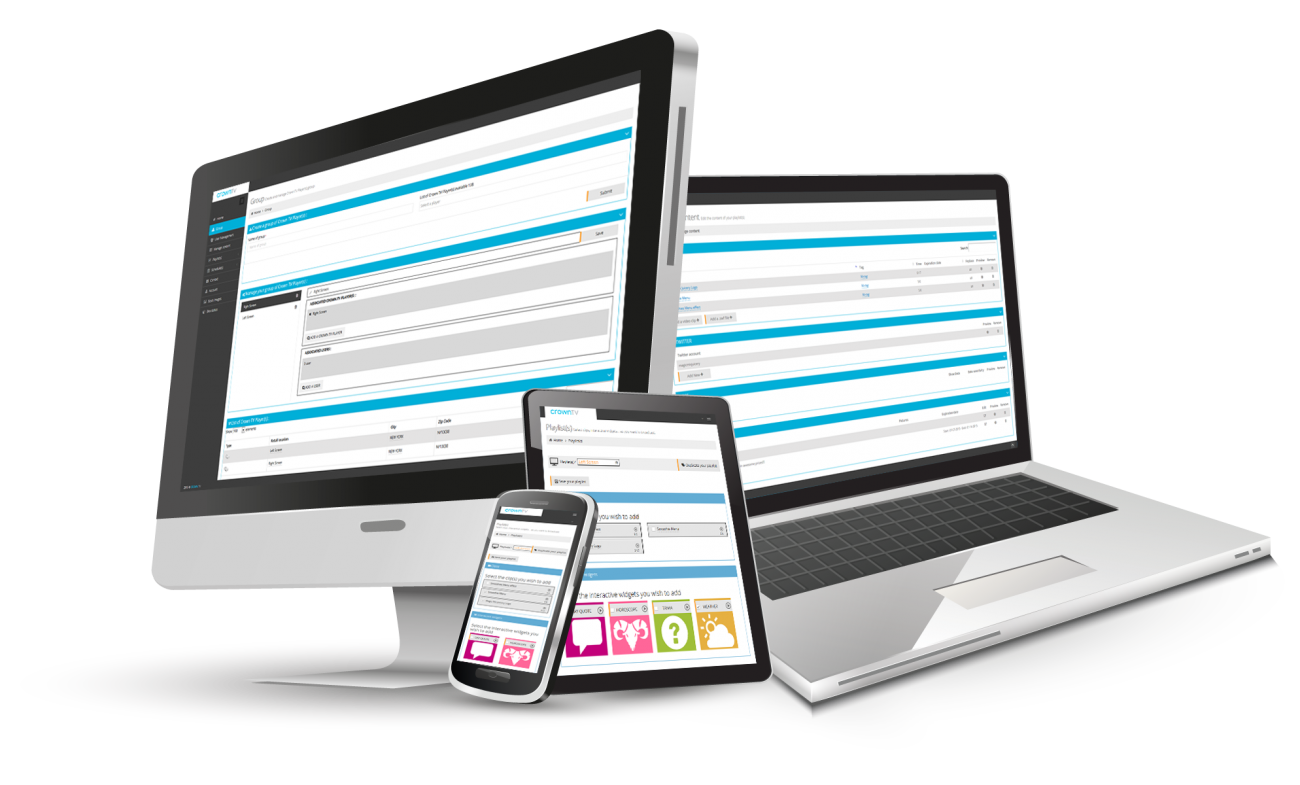 group your displays
Stay organized by sorting your displays into groups. It's a convenient way to manage displays in various locations. Also allows you to update multiple displays at once.
content scheduling
Schedule your content and enjoy an automated operating experience. This nifty feature allows you to program content to be displayed at specified times to assigned screens.


user access control
Need to give multiple users access to your dashboard? No problem – specify rights per user, giving specific permissions for display, content and scheduling management. Sort your users into groups for even more ease of use.
Graphics & Video
Easily integrate images, animations or video to display. Choose from your custom-branded templates, use the provided stock photos or upload your own files.


real-time player status
Real-Time Player Status allows you to view the connection status of all your displays in one place. Our system will flag and notify you if a display is down, allowing you to remotely troubleshoot. We provide network health monitoring for you, so you can focus on what you do best.
operating hours
Program your displays to automatically turn on and off at specific times according to your operating hours. It's automation at its finest.


brightness & sound control
Remotely control brightness and sound settings on any display right from your dashboard.
Unlimited Cloud Storage
Store unlimited uploads of images, videos and animations on our secure servers.


Secure, Private & Reliable
Our custom and proprietary OS means your data is secure. Each client gets a dedicated server.
Your CrownTV Account
Log in online to control your content, schedule and settings. Make adjustments in real-time to multiple screens at multiple locations.


Automatic Updates
Software updates will load automatically as long as your player or tablet is connected.
L'Oréal

"Digital signage has improved our quality of service at all levels. Displaying information about the salon, its expertise, brands and innovations draws clients in. We highly recommend digitization. It's impactful and attractive."

SEE CASE STUDY

Uptown Flats

"Our clients love our display, and we're getting a lot more foot traffic. It's increasing our bottom line on a daily basis. We love the rotating images of our listed properties, which keeps our clients interested and hungry for more."

Vivaldi Boutique

"In a crowded marketplace like New York City, it's hard to drive foot traffic into a retail store. Placing CrownTV displays in our storefront windows has helped us stand out and meet that challenge. We also love the modern aesthetic it adds."